María Teresa Campos: when staying still is not an option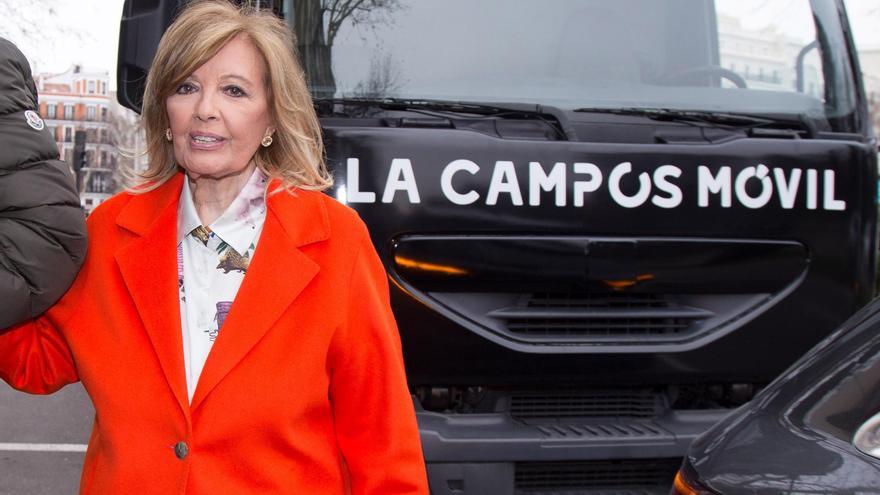 Standing still is not an option for her. Not even at 79 years old. Maria Teresa Campos She needs to be active to feel alive and that is why she did not hesitate for a moment when Telecinco proposed to her get on a truck for his new program, 'La Campos Móvil' a new format that will be released this Wednesday.
"You always have to do something, which doesn't mean always having to do a television show. You can go out for a walk, exercise, have friends, play cards … but life without doing anything, just watching the sunrise and sunset, is a sadness. That is not living, "he tells Efe in an interview conducted by written questionnaire.
That is why he decided to say yes to Telecinco's proposal to get on a truck, get into a transparent fish tank-set in motion to interview different characters. Because "Sometimes things come out to meet you, without you looking for them", assures the presenter of iconic programs such as "Day by day" or "Pasa la vida."
'La Campos Móvil' has been created by Óscar Cornejo, one of the founders of the production company La Fábrica de la Tele. "I really liked being offered it because nothing like this has ever been done in Spain. It takes place on a mobile set, very beautiful and that at a certain moment allows you to stop, go down and feel the heat of the public while having an interesting conversation with someone interesting ", explains the presenter, winner of two Onda awards in race.
Campos opens with the president of the Community of Madrid, Isabel Diaz Ayuso, "A character who is talked about a lot, who has many things to say and who has done many things, that some will like it and others will not," he points out.
On the day of filming, the images of the two in the Puerta del Sol generating a great commotion went viral on social networks. Campos decided to debut at kilometer zero, where the radial highways of Spain start, under the headquarters of the Presidency of the Community of Madrid.
After Ayuso will come characters of another nature, such as artists. "I also want to support, as I have supported all my life and more at this time, the actors, the theater world and the singers., that they tell us about their projects, that they act inside the truck… I would like to be able to give them the visibility they need at this time ", adds Campos.
'La Campos Móvil' still does not have an established periodicity. The first program opens this Wednesday but there is no set schedule for the following. Of course, they have programmed it in 'prime time' (at 8:00 p.m.) and at the same time that Antena 3 broadcasts its most watched program, the 'Pasapalabra' contest.
Why did the network's programmers decide this? Is María Teresa Campos the perfect formula to overshadow the program presented by Roberto Leal? "Each one has its audience. I never believe myself capable of doing things until I can do them. I don't set any goals. I have an audience that loves me and 'La Campos Móvil' is a new, beautiful format. I go out to do my job as well as possible ", assures the journalist.
With 'La Campos mobile' María Teresa Campos returns to Telecinco after a few years without having her own space and he approaches one of his favorite journalistic genres, the interview.
A gender that has not been separated even in recent months, despite the restrictions of the coronavirus. Campos opened his house and set up "Enredados", a program broadcast on his YouTube channel.
"I've never done anything that comforts me as much as 'Tangled'. It has allowed me to interact with people, always of course in safety conditions. Raphael, Pablo López, Dani Martín and Boris Izaguirre have come to my house, who was great the other day, among many others, "says the journalist.
Winner of the Gold Medal for merit at work in 2007, Campos now wants to bring Enredados to Jaime Peñafiel to talk to him about "everything that is happening with the King Emeritus."