María Teresa Campos, about Ana Rosa in 'El hormiguero': "I see the beginning of her program, then I change the channel"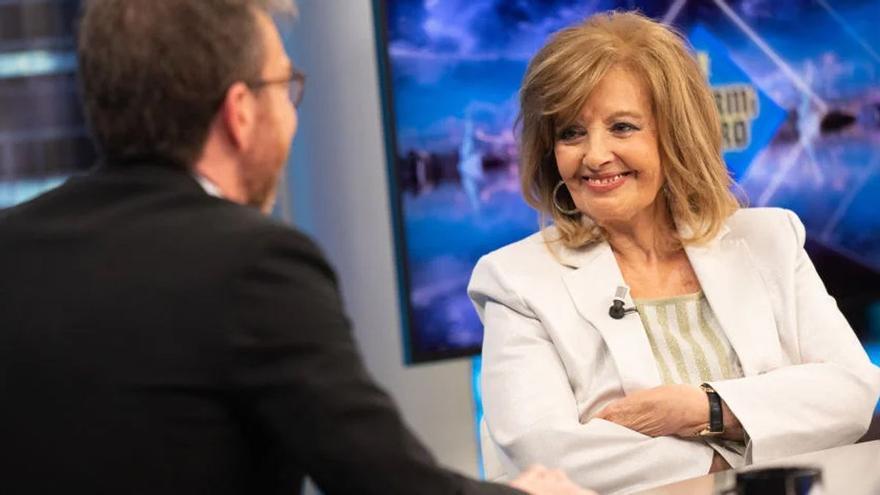 Maria Teresa Campos He returned this Tuesday to Antenna 3 to chat with Pablo Motos on 'The anthill'. The veteran communicator, who is still waiting for Telecinco to resume broadcasting 'La Campos mobile', He went to the competition for one night and talked about his network partner, Ana Rosa Quintana.
The journalist's name came up when Campos detailed her morning routine. As he explained, his mornings begin with some breathing exercises and with the news at 07:00 and 08:00 hours. "Don't ask me which chain, because it's not yours," he said with a laugh to Motos. But what stood out the most was what he said next: "After that, I change chain and have breakfast".
A few words that did not go unnoticed by the presenter: "If you change the chain … do you stop seeing your chain in the morning? Don't you see Ana Rosa?". María Teresa recognized then that she only sees "the beginning" of the program: "It's great and you don't have to value her, because is already overrated. They are people who have a name and will always have it, as long as they want to be on television. "
On the other hand, the guest revealed an anecdote related to the 'queen of the mornings': "A few years ago he told me that he was clear that, with the age he is now, he was no longer going to be on television". "The public withdraws us," said María Teresa, who in this sense, pointed out that "people are free to see what they want." "At one point they liked you and tomorrow they stop liking you. That's right," he reflected.
María Teresa Campos is confident that Telecinco will soon recover 'La Campos Móvil', whose first installment with Isabel Díaz Ayuso signed a discreet 12.6% without reaching 2 million viewers. "I premiered a program, then Rocío came and they stopped it. Now I'm waiting for them to get it going again. We are not going to keep the truck, with the money it is worth, "the presenter dropped in 'El hormiguero'.