María José Goyanes: "Pardo Bazán's letters to Galdós show the irony of both, something very juicy"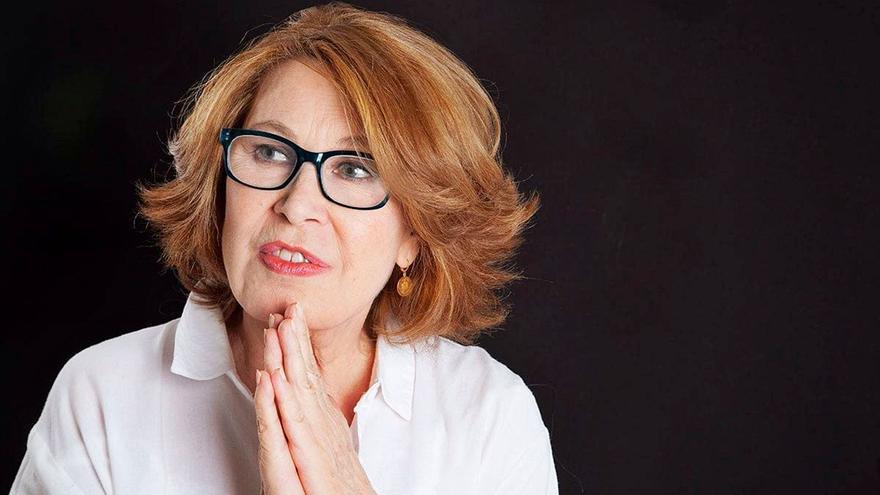 Is it fun to play Emilia Pardo Bazán in her sentimental and epistolary relationship with Benito Pérez Galdós?
Yes, very funny because it was a lady of arms to take. He had a grace and a sarcasm, in short, a sense of humor, impressive. I think that the whole show is full of these ingredients and that Alfonso Zurro has done something comedy that may surprise some when it comes to Galdós and Emilia, where you can expect a much more brainy and more serious event, but comedy is as legal as any other genre and we represent two very attractive characters. From her letters you can see two agile minds that continually used irony, which is very juicy and appetizing.
Is it the first time you have played this role?
Yes, but as historical roles of real people I have played Teresa de Jesús in a version of Ana Diosdado, about five years ago, which premiered at the María Guerrero on the occasion of her centenary. It is an added weight, a challenge and an added responsibility to everything that goes on stage involves, where you have to act the best you know how and with respect. If you incarnate characters that have existed, much more, because everyone has in their imagination how they should have been, which loads you with an added backpack, but it is also more interesting.
Have you frequented Galdós's dramatic work?
I know all of Galdós's work. Maybe I am missing a National Episode or some I liked more than others, but it is exciting. From his texts I interpreted Casandra, a novel that Paco Nieva adapted and that we premiered at the Pérez Galdós and then went to Madrid for the Fine Arts. That was a tremendously dramatic story. Galdós has many powerful female characters that any of them, like his Fortunata, are very interesting for all actresses.
His records include comedy, which in this show includes intrigue and fiction …
I love comedy, and besides, I think I had great teachers when I was very young, 17 or so. I remember doing a comedy with three protagonists, with Alberto Closas and Julia Gutiérrez Caba, from whom I learned a lot. I am the granddaughter of actors. I have always heard in my house that whoever does comedy well does any other genre well because it is tremendously difficult, much more than drama or deliberately funny things, with a thicker salt, because they are on the edge and always reach more audiences. . Comedy is debated in the margin of the middle line that goes from one side to another and is more sizzling than full laughter, although it can lead to a great laugh more because of the situation than because of what is said, but it is difficult because it has a rhythm, a tempo and a truth to be said from it. You don't have to do astrakhan, which is another cheaper genre of humor.
"Emilio and I play the two writers, but we also play four more characters"
Describe the argument of this text by Alfonso Zurro …
I perform with Emilio Gutiérrez Caba. I fall in love again to go on stage with him because a few years ago we spent a season doing a recital of erotic poetry, however it has been a long time since we got together in a play. We had company together when we were very young, with 18 years of mine and a little over twenty of his. It makes me very happy to join again and we had a great time. On this occasion, we are not only playing Doña Emilia and Don Benito but four other characters. It is very funny because there is no characterization, we only use one element on what we are wearing (a hat, glasses, cane, shawl …) and we compose another character in view of the public. At first, we are Emilio and María José, then doña Emilia and don Benito, and then we play other roles. The argument is based on the text created by Zurro based on the letters that are known from Doña Emilia to Don Benito. Through them, the very important relationship between the two that lasted for years is discovered.
He tells me that he has acted more times with Emilio Gutiérrez Caba… How do they complement each other on stage?
On television, a lot and in a movie. We complement each other wonderfully as we have worked together from a very young age. In the first Study 1 I did with him, I was 16 years old. We know each other inside out. In addition, we have maintained friendship all our lives. It is part of my family.
Are the guidelines of the show's director, Alfonso Zurro, inspiring?
This is the fourth function that I do with it. The first thing was, Oscar Wilde's ideal husband. Then, a very peculiar Tenorio with older people and later, Casa con dos doors, bad is to keep by Calderón with a version and direction by Adolfo Marsillach.
Why was the premiere of Galdós enamorado postponed?
It should have premiered on December 16, 2020 for its centenary, but I had an accident the day before. It was not delayed by the pandemic. When leaving the Pérez Galdós Theater, I fell down a staircase and broke the radius of my left wrist, the humerus in my right shoulder, my nose through the bridge, and I injured my leg, which was operated on the 24th of February because it could not be anticipated further as it was a wound that needed a previous healing process.
And how is he now to return to the stage?
I am still a bit convalescent, but recovered enough to go back to work. I have had a bad time these last three months, with great anguish, not only because of the pain and difficulties due to a large multiple trauma with the subsequent operation, but because of the terrible feeling of thinking that, somehow, I was responsible for this pause. In addition, we were not very clear how it was going to be, if it was going to be able to work soon. It was a cancellation of a national premiere where we started from the Canary Islands as a first for being the land and the theater of Don Benito, just as we did at the time with Casandra. On the 25th we will fulfill what we left incomplete. I am very happy to say that all that is in the past and that I can lead my normal life and act, without a doubt, what moves me the most in life.
Do you find this incorporation of two great 19th century intellectuals accessible to all audiences?
It is a work quite accessible to all. If you read the letters from Doña Emilia to Don Benito, the Miquiño book of mine, you can see risque missives. Part of them are made known in the work. Anyway, although there are parents who can see them very heavy, I consider them very light.
"These are authors who were ahead of their time, with much more relevance from the time they lived"
What has been your most important role in your 50-year career?
Everyone has given me something, a deposit. I remember with special affection Chekhov's Seagull, Tennessee Williams's The Cat on the Tin Roof or Bernarda Alba's House as Adela, which I carried out with my company. They all make you better, they give you more possibilities to enrich your interpretive and emotional capacity. They mean learning, an experience, in short.
How hard is it to run your own company?
I do not have it already. On this occasion, Salvador Collado is producing, my brother-in-law, brother of my ex-husband Manolo Collado, who was also a great director and producer. I am an actress hired by him. And I am not going to produce more because it is very difficult to simultaneously go on stage. I don't want to live it again. It seems too harsh and stressful to me.
What peculiarities would you highlight about this work compared to the rest of your repertoire?
The maximum peculiarity is that I have never faced five characters. Also, to embody that wonderful woman who is Emilia Pardo Bazán, who along with Galdós was ahead of her time in every way. They were two intellectuals of great height. I think they were much more relevant than the time in which they lived. She even states in one of her letters that: "without you the 19th century would have been a secarral de aupa", that is to say, that he was by far the best author of the century. Authorized minds say that if Cervantes had not written Don Quixote, perhaps Galdós would have been considered our greatest author of all time. I also think so, without a doubt, for his versatility, great diversity and modernity, for his enormous realism in his writings and for his description of people's characters. I consider him a Dickens or a Dostoyevsky for the world, who no longer belong only to his homeland. There are galdosistas all over the planet.
She is a veteran of theater, film and television series. Which of these genres is most related to you?
I started on television at the age of 9 with my first show. I really like this medium, but also, from time to time, making a movie. The best of all is to alternate genres, it's more fun. The theater is very tiring because you have to study a lot more, be at full capacity every time you get on stage, while the shootings do not have to be every day and there is the possibility of resting. For me, all media, anyway, have their charm and if I only dedicated myself to one, I would miss the other. I am an interpreter. Being able to do your work in various contexts is great. We actors have that possibility that does not depend, on many occasions, on us. Maybe we do more theater because they don't offer us something on TV or cinema that interests us at that time. If everything that arises we feel like it, then better.
What would you highlight from the rest of the production of this show: music, scenery, costumes, etc …?
We have a great team because Alfonso Barajas is a teacher who has created a scenic space that, as we change characters and places, becomes neutral, simple and minimalist. Luis Delgado has created us the music specifically for this show. Salvador Collado is one of the few producers that interest me in Spain. The costume designer, Laura Ferrón, has elaborated what is needed with great success because, many times, less is more. It has been quite a process. I've had such a bad time that I really value getting back on stage, back to normalcy.