María Guerra: "Awards are very important because they act as prescribers"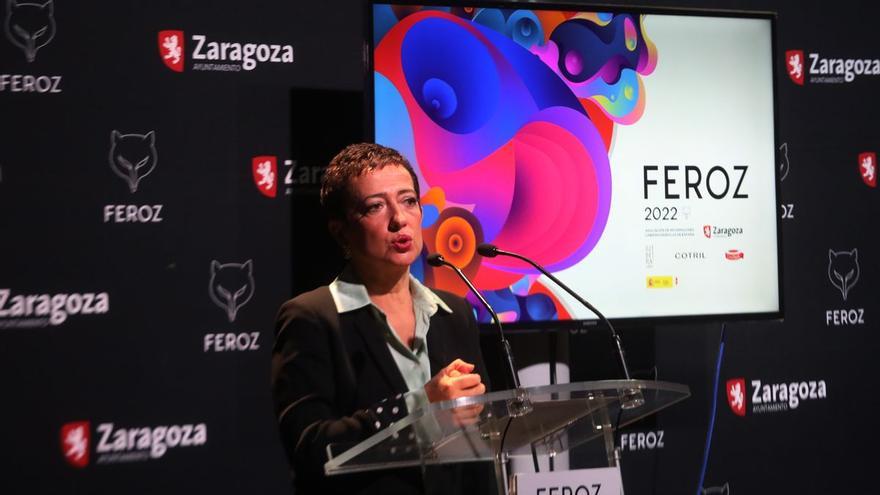 The awards are very important because they act as a filter, as a prescriber, they put the films in contact with their viewers and the awards of the academies like the Goya give a vision of the sector of that industry but journalists and critics have other different opinions. At Los Feroz our intention is to recognize the good movies and series of the season and our desire is to do a bit of searching for new artists. And, furthermore, in these times when there is an ocean of cultural products, series and cinemas, the awards make much more sense because it means that a group of 230 professionals has seen all the films and series that have been released and a selection that is not definitive, but it is authorized.
Prescribers, precisely in this 21st century with an overdose of information, are more important than ever.
The platforms are facing the problem that their algorithms are not working, they are having problems because people stay on the entrance carousel and that is why it is important that there are specialists who act as a transmission belt between the films and the people. We must vindicate the responsible professionals who are the journalists who think that something has to be recommended for the artistic and political values ​​they have.
The Feroz awards and the association of informers were born not long ago, but they are already fully consolidated. What balance do they make?
The association and the awards celebrate nine editions with this ceremony and the truth is that we were born with the vocation of being second. We have no vocation to prescribe above the Goya, far from it. The Goya is the industry itself gathered and our desire was to have another look, a critical and discoverer angle. And then also, of course, being more irreverent, not being so institutional. We are second by nature, we copy the good of the Golden Globes. Now they are in question for being a very closed society but ours already has three times what they are and is open. What we ask of them is that they are working and can demonstrate it. We are professionals, we are not amateurs and our desire is to provide a more critical look, with the most twisted fang and to make a freer and more shameless gala. We are not linked to any power either because we do not have a channel that broadcasts us, we go on YouTube. What may seem like a weakness is a strength because it is much more widely distributed and is finding the place we were looking for, a place from freedom.
"Zaragoza has chosen us. And it is normal because it is a very cinephile land, with a link to the brutal seventh art, it is not necessary to name Buñuel or Saura"
In the Feroz there is also room for productions that have no place in the Goya.
What holy spirit. In fact, we have two Outburst categories that are films with a singular artistic language, small productions but that seem very important and relevant to us. New creators have tremendous problems getting their films released and reaching the public. We don't have many prizes, however we like those special prizes in honor of Zulueta with the desire to discover to put new creators in the showcase. For example, Paula Ortiz won many Feroz awards, not Goyas but she is one of the great filmmakers or Los Javis with The call. We try to have diverse themes, more transgressive, we are not afraid because we do not depend on the industry. We are small but that gives us freedom and independence, which is what the press should be. It also has its drawback, which is that we don't have a penny but for that the Zaragoza City Council has been there to support us because holding a gala is very expensive and very complicated and, for that, sponsors are needed. The cities are the ones that are committing themselves to true culture.
Why did you choose Zaragoza?
Zaragoza has chosen us. And it is normal because it is a very cinephile land, with a link to the brutal seventh art, it is not necessary to name Buñuel or Saura. The city council has that sensitivity and they asked us not to be just a gala, what they wanted was to have events throughout the year in such a way that the movie-loving appetite of the people of Zaragoza would be fed. That has been wonderful for us because we have been able to bring in nominees, we have done retrospectives at the Filmoteca, which is municipal! Zaragoza is a unique city in that sense and, for us, it is as if we had won the lottery.
And on top of that, the public has responded.
It has been wonderful. It has been like going to Canada, when you go to a Canadian city there is a cultural atmosphere that often does not happen in Spanish cities. It has been very successful to create that hubbub in which there were people from the industry and many students. Young people must be put in contact with reality and cinema is an art that is also industrial. In fact, Berlanga said that he had to depend on the Ministry of Industry. So, these meetings have been held from a very pragmatic and idealistic point of view, such as cinema.
I know you shouldn't but… Any favorites for the gala?
I shouldn't, I shouldn't, but I'm happy because I always look at the themes of movies and series and it seems to me that one more year the great harvest of Spanish cinema is back, which has had a very bad time at the box office and in series. It is reflecting very well and making a mirror of what our society is and its pains and joys. I can't say more.