María de Juan: "The goblin must be awakened in the last rooms of the blood"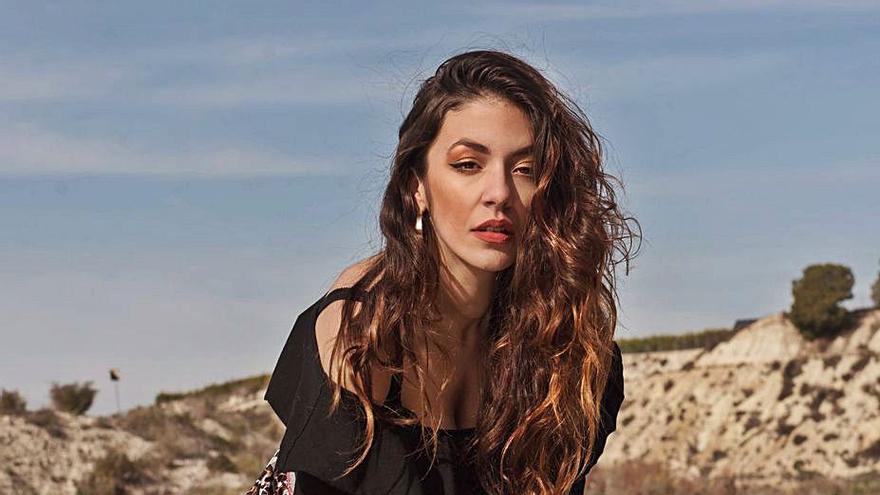 Sao Paulo was the beginning of his promising musical career. Can you explain it to me?
Composing my first solo songs without having yet started writing my debut album 24/7, the Spanish embassy in Brasilia offered me a series of performances in various Brazilian cities, in which apart from singing those own songs, I paid homage to the union between Spain and Latin America singing a repertoire that I made myself. I joined artists like Violeta Parra, Caetano Veloso or Mari Trini. I grew up listening to great Brazilian artists and that trip was a dream come true.
'24 / 7 'is a concept album. How was it born? It seems that it is divided into two parts.
When I met my producer, he told me that he wanted to work with me, but that he didn't have a date for a year. I knew that I had to make the first album that I had always dreamed of, and for that Manuel Cabezalí had to produce it. I interpreted what happened as a sign from the universe, and I decided to overcome the millennial impatience and dedicate that year body and soul to composing new material; the disk to start from scratch. Rereading texts a few months later, I realized that the first thing I do whenever I start writing is to write down the time when I start, and that those hours were directly related to the themes of my texts. There were feelings that flourished every day in the same time slot. I always woke up more lost, I found myself as the hours passed. The night was divided into my wild side and my more melancholic side.
What have you been interested in delving into? And that idea that the songs have an associated time?
Delving into those biorhythms on an anthropological level has always been exciting for me, but it has also served as self-therapy. Music has always played that role in my life. Putting the hours in the titles was a way for those who listen to me to enter into context and start the journey with me.
What is the most difficult time of the day? Did you analyze it? What's 18.45? Is it your magic hour?
A question I asked myself for months. The most difficult time of the day for me is the morning, so I start with 10:41 I don't want to see the light. The freedom I feel when I wake up from not having to be in the same place one day in and another is also my reason for living, but at the same time it generates a terrible sense of guilt and confusion. The pressure of a society that blames artistic impulses: "... and apart from singing, what do you work on?" I decided long ago to live off my creativity, and this song vindicates that choice and my desire to end the guilt that accompanies me first thing in the morning. Rereading those texts in my notebooks, I realized that most of them were written between 6:00 p.m. and 7:00 p.m. I guess it is my magic hour.
What are your main musical influences?
My passion since I was little has been discovering and listening to music. I also think that to compose it is interesting to listen to a lot of music, without prejudice or labels, that is why I can tell you that my favorite band since I was little has been the Red Hot Chili Peppers, that I went to live in Manchester when I was 18 years old in love with Joy Division and The Smiths, that one of the concerts that I have enjoyed the most has never been that of Blur, but the truth is that for this album I have drunk a lot from Disintegration by The Cure, by Jorja Smith, Kate Bush, Massive attack, St Vincent, Ratatat, Moby ..., but I grew up with Morente and Silvio Rodríguez, and to write I listen a lot to Antonio Arias, Christina Rosenvinge and Ricardo Lezón. Come on, long live the music!
"Since I was little my father would read Lorca and Shakespeare to me before going to sleep. I compose all my music with poetry books"
Manuel Cabezalí and Víctor Cabezuelo, by Rufus T. Firefly participate in the album. Did you look for them or did you find them on the way?
I looked for them and found them. I made a list of all my favorite national albums and their respective producers. Manuel was always the first on the list; I wanted someone different from me and who knew a lot more than me, someone who would take out of me that which otherwise would not have come out on my own, who would teach me to do what I have always wanted to do and have never known how, give coherence, bring out the best version of myself and someone to learn a lot from. Manuel suggested that I offer the keyboard job to Víctor, and I automatically said yes. I have admired him for a long time, and having someone like that with me in the process of recording my first album has been incredible luck from which I have learned a lot. I also have to mention that they are both wonderful people. That in the end is everything.
Was the work around '24 / 7 'very elaborate or somewhat spontaneous?
It was totally spontaneous. When you forget about the ego and let yourself be carried away by the music and the soul, wonderful things happen.
Lorca has a notable presence in his songs. What does it mean for your work? Are literature and cinema your main sources of inspiration?
Since I was little, my father read to me Lorca and Shakespeare before going to sleep. I compose all my music with poetry books, and one of the millions of things that Lorca has taught me is that "the duende must be awakened in the last rooms of the blood. And reject the angel and kick the muse, and lose the fear of the fragrance of violets that the poetry of the eighteenth century breathes and the great telescope in whose crystals the muse sick with limits falls asleep. The real fight is with the goblin ".
"I had several difficult moments writing this album, and I came to the conclusion that I was blocked because I was happy and I was not used to writing from happiness"
His music gives off a sincere feeling, with a point of controlled rapture, but in this work it gives the feeling that it has made everything more vital. Do you have that same feeling?
Can be. I had several difficult moments writing this album, and I came to the conclusion that I was blocked because I was happy and was not used to writing from happiness. I suppose that addiction to suffering as the main source of inspiration is something that we all have to fight to overcome, especially at my age, because I think it is something that is worked on over the years, and one of my goals as a singer-songwriter. To compose this album I have analyzed my biorhythms a lot, but I have also tried to do it in a way that anyone can feel identified with them. And above all to open up the channel, since sincerity is my highest priority as an artist.
How has singing live again made you feel?
Well, I almost cried with excitement at the sound check. I know that we are going to spend a long time without playing, and that, as the government does not help the halls of our country, the emerging musicians, the halls and the wonderful culture that we have in Spain are going to be in danger of extinction.