Margarita del Val's resounding response to Ana Rosa about the second dose of AstraZeneca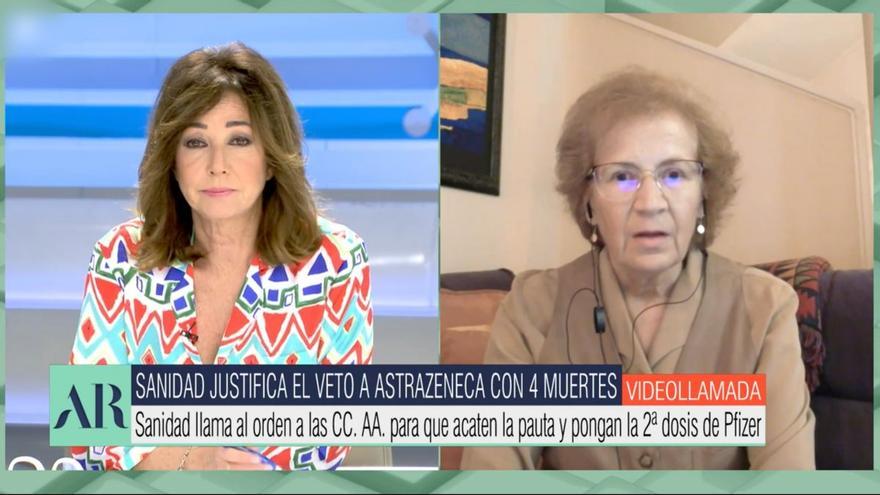 The announcement of the Ministry of Health of the four deaths from thrombi after injection of the AstraZeneca vaccine and the possibility of completing the regimen with Pzifer for people who received this antidote in the first dose have also been highlighted topics in 'The program of Ana Rose'. The presenter spoke this Friday with Margarita del Val, a CSIC researcher, who was blunt when asked about these questions: "Authority emanates from EMA, in the leaflet of the vaccine AstraZeneca recommends the second dose of AstraZeneca".
"I do not feel morally authoritative to recommend that people get a second dose of Pfizer after the first of AstraZeneca without having comparable safety data, "said del Val, also referring to the studies that have been carried out on the combination of both vaccines and on the complete regimen with AstraZeneca.
On the other hand, the virologist was also clear and forceful when Ana Rosa asked her moments later if not "it would have been more logical for them to ask your consent to mix vaccines": "Yes".
"There is no need to extend the question of choosing which vaccine to get.. because they are putting the decision in the hands of people who do not have all the information. Who has it is the EMA. They cannot put that weight on us to choose because that distorts the vaccination campaigns, "added Margarita del Val during her speech on Telecinco's morning show
In addition, the journalist also wanted to ask the researcher what she thinks people might think when they read the headlines of the four deaths from blood clots after the injection of AstraZeneca doses: "Fear, clearly. That is a major problem. We must be transparent and explain that this can happen and not hide it, but beyond that, what we have to be afraid of is not the vaccines, but the Covid ".