Margarita del Val warns of the dangers of the fifth wave: "Young people have long-term consequences of covid"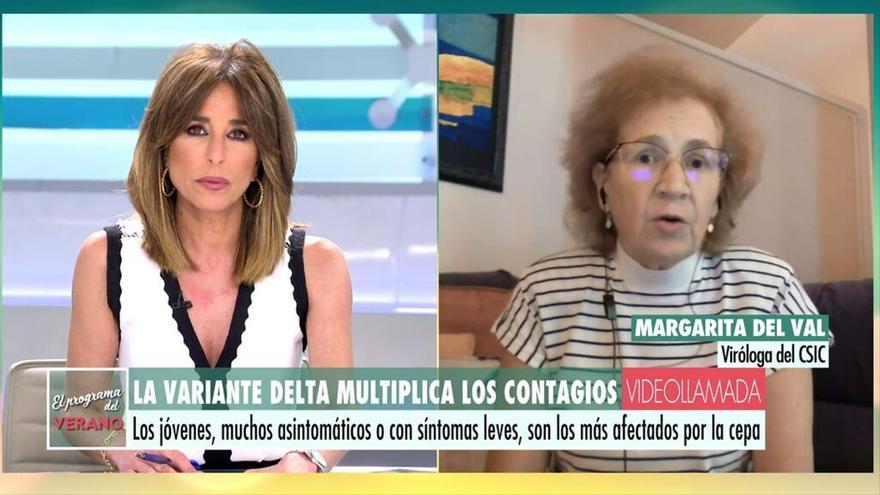 'The summer program'has connected today with Margarita del Val to talk about the rise of infections in this fifth wave of the coronavirus. The CSIC virologist affirms that this stage of the pandemic: "This new phase is really different, there can be many infections and it is true that there will be few hospitalizations and few deaths among young people. But we must protect them, "he began by saying.
"Young people have problems with sequelae covid long-term and we are trying to learn a little more what this means because it is very disturbing. These sequels indicate that, perhaps, one in ten people between 15 and 30 years old ends up with problems with concentration, memory … This prevents work and study and produces fatigue and breathing problems ", the virologist has warned.
Ana Terradillos has asked Del Val about one of the most controversial issues, the elimination of outdoor masks, to which she has been more relaxed: "The important thing is that it is worn indoors, that is the place of greatest contact . Inside is the problem. We trust the family members and we take them off, the hotel industry does not have technology to measure air quality levels, there are many people, the gauges are not respected … ".
The presenter also wanted to know why more and more people already vaccinated are infected, even with the complete guideline: "I've been saying it for six months. Vaccinated people are protected from symptoms, not contagion ", explained the virologist, who added: "Vaccinated people can be infected. Recently we have learned that people are infected three times less than if they were not vaccinated, in the case of the elderly and young, about ten times less" .
"And the symptoms are always less than if they were not vaccinated. And the viral load of people who are infected despite having been vaccinated, whether or not they have symptoms, is high, almost as high as that of unvaccinated people. that it is likely that these can infect others. That they do not fear for them, because the symptoms will be benign, but we did know that ", he had an impact.