Marcelo moves Raúl in his goodbye: «You have always been my example»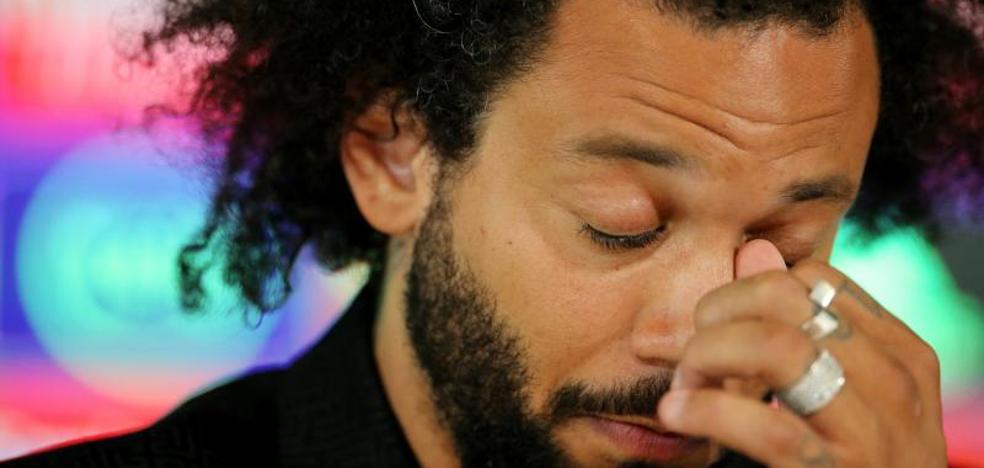 Tribute
«The legacy I want to leave is humility; I have treated everyone the same", proudly proclaims Real Madrid's most successful player
During his farewell tribute by Real Madrid, the club in which he has become the most successful footballer in its history, with 25 titles, Marcelo Vieira managed to move Raúl González this Monday at the Valdebebas Sports City, where the The Brazilian defender revealed the gesture that today's Castilla coach had when he signed for the club at just 18 years old and when his son Enzo was born 12 years ago. Marcelo's first son, a forward for Infantil B, is already a star in the Madrid academy , of which the left-back has always felt a part, even though he joined the white club in the winter market of 2006, from Fluminense, when Raúl was then facing his thirteenth season.
"I am going to tell something that I have never told. When I arrived at Real Madrid you helped me a lot and you had a very big detail. When my son was born I will never forget that as a captain you taught me a lot and you gave us a basket with many things for the baby and you gave me a lot of advice. I always wanted to follow your example. I have had a very strong example that has been you, "Marcelo told Raúl. The legendary striker then shed some tears when he listened to Marcelo, who also burst into tears at some points in his speech and remembered "everyone who does the dirty work at Real Madrid", including kit men, physiotherapists, security guards and members of the press department.
«The legacy I want to leave is humility, always knowing where you are. I have treated everyone the same. I've won five Champions Leagues, but I didn't play in the last final and it was the one in which I felt the most important. The nicest thing was the talk I had with the youngsters, like Rodrygo, Militao and Valverde, which I didn't have in other finals. Today is my happiest day at Real Madrid, because I have done everything I had to do and I leave a legacy for the kids," Marcelo said. The Brazilian left-back even acknowledged that he may have been selfish in asking Zinedine Zidane and Carlo Ancelotti for more opportunities on the pitch. "I saw that I could contribute more things, but each one has their way of seeing football and this season I have understood that the leading role is not on the field, but that it belongs to everyone", confessed Marcelo, who at 34 years old will not retire from the active football because he considers that he can still play "and do it well".
As the foreign player who has played the most seasons for the white team (16), thanks to the last League Marcelo managed to beat Paco Gento's record in his last year, who won 23 trophies. and as Florentino Pérez pointed out, the Brazilian is "one of the greatest legends of Real Madrid and one of the greatest full-backs in the history of world football." «I do not feel like a legend, just as I never wanted to be the substitute or replacement for Roberto Carlos, but to make my story. I arrived as a child and I leave as a man," said Marcelo, who would never have agreed to continue another year at Real Madrid "out of pity." "We decided that the best way out was now, walking out the front door and looking everyone in the face," he proudly proclaimed.
Marcelo claims to have "felt very useful, despite not playing much" in his last season. «I felt with a great weight and responsibility and I got very angry with Ancelotti. We argued, but the next day we were giving each other kisses and hugs. To win you don't need to play, but to team up and understand the coach », insisted who wants to transfer his philosophy to the kids. "I want young people to understand that when you know where you are, it is much better than we think. In everything he has achieved, a gigantic part is played by my grandfather Pedro (now deceased), who when I was little took me to train, always bet on me and left me very free, which made me mature earlier than normal, "he revealed .