Marc Márquez's hundred laps of hope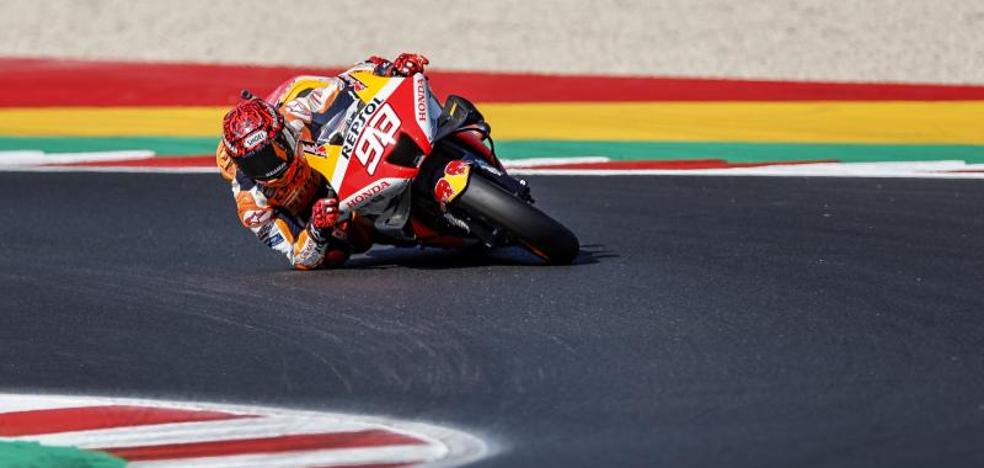 MotoGP
The Cervera rider did not expect to feel so good in the Misano test and in the next few days he will evaluate his return to competition next week in Aragón
"Much better than expected." This is how Marc Márquez assessed these two days of training that he has completed at the Misano circuit. In the first he rode alone in the morning and finished with 39 laps. In the second he lapped morning and afternoon to reach 61. In total, one hundred on his MotoGP Honda. Many more than he a priori had in mind. And above all, in times that show that he is already as fast as he was before his last operation and that he only has hours left on the track. Márquez finished with the thirteenth fastest time, half a second behind the fastest man in the test, Fabio Quartararo, and being the best Honda of the five on the track.
Every day that passes, Márquez is closer to returning, although he maintains a conservative discourse. "If tomorrow was the race, I wouldn't finish it." But he does not hide that his goal is to compete again as soon as possible, and if it can be in the Aragón Grand Prix, which takes place next week, much better. He is given a free hand by his personal medical team, who consider that the work of healing his bone is already completed. Now it is the rider who must assess his physical condition and the best rehabilitation is to be on the bike, which is where the specific muscles are worked. The next two or three days will be key. If after this beating of a hundred laps on a MotoGP the discomfort appears, he will stop. But if the evolution of the arm maintains an upward trend, he will gain strength in his return to racing.
The negative news was carried out by Aleix Espargaró, who finished the test earlier than expected due to a fall that caused a small fracture in the little finger of his left hand. Although in principle he will not require surgery, he will be a handicap in the Aragón race for the third-placed MotoGP rider.