Marc Márquez: «I take it more calmly, but with the same mentality»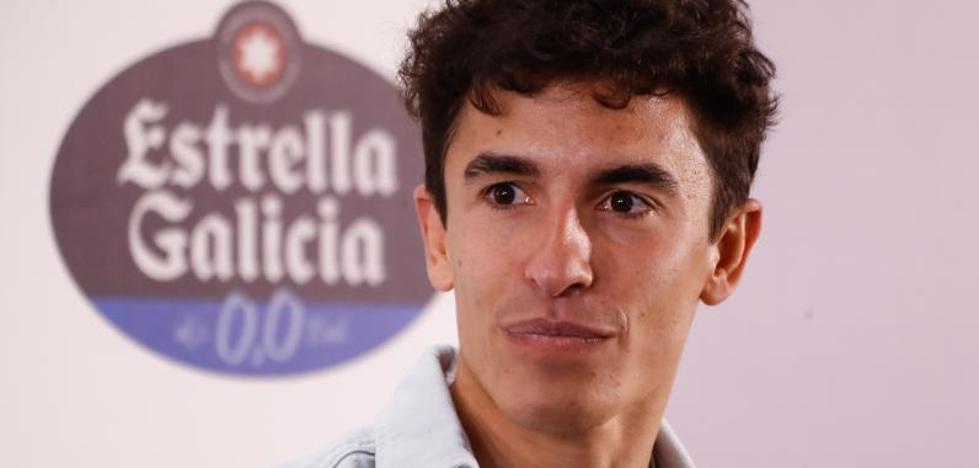 Interview
"In Qatar I didn't feel any pain, and it's a relief for the future and one less thing you have on your mind," acknowledges the six-time Spanish MotoGP champion
Marc Márquez smiles and confesses that, now, he is happy, after two hard years "for society and for me." The Spanish rider has started the season with a fifth place in Qatar, although he stays above all with that, with having been able to start, and with having done it without feeling pain throughout the weekend. A year, 2022, in which he does not want to obsess over his ninth world title, which would be the seventh in the premier class.
-How about your new life in Madrid?
-Well, I haven't had time to notice the change because it's been two weeks since I came and I've been in Qatar for one… But, for now, fine. I am feeling very supported, for example, by Carlos Sainz Sr., who is helping me a lot. Also people from Red Bull and Repsol, whom I've known for a long time, so I haven't felt the change. In fact, on Wednesday I already trained in motocross here at a circuit, the Bunker, and everything was fine, everything was in order. Before Qatar my father came, and now my mother is at home, they take an AVE and in two hours they are here. And I'm with my brother, with Jose (José Luis Martínez, his assistant and the person he trains with). Come on, the usual ones, who have simply changed places.
-How did you feel doing motocross? Because last year he said that he needed three or four days to recover after a race.
-Last year I couldn't train the way I liked. Neither now. I did it on Wednesday but until I travel to Indonesia I won't ride a motorcycle, because I can't overload my arm, but in Qatar I didn't feel any pain. I didn't feel any hindrance with my arm either during training or in the race, and this was a relief. It is one thing about which, like it or not, I had an uncertainty. In preseason the maximum number of laps in a row that he had done had been ten, and this was 22 in a row with much more tension. And I felt no pain. This is a relief for the future and one less thing on your mind.
-He says "one less thing you have on your mind". After these two very hard years, do you approach things differently?
-I think that in terms of facing the races and dedication in sports it is the same. Dealing with injuries, and it has already happened to me with the last one in sight, or if there is one in the future, then it will be different. I'm going to take it easier. But the rest is the same, you have more years, more experience, but the same mentality.
-What taste in your mouth has Qatar left you? There are those who thought that he was going to fight to win...
I haven't read much or watched much. My feeling in Qatar is good. It's good because I have two or three very weak circuits on the calendar, and Losail is one of them. And to be able to start that way, to be relatively close to the winner, to see that the bike works, not only with me, but also with the teammate who had a great race, all of that gives you peace of mind. And starting, being there, scoring points and having a good race, within the objectives we had set for ourselves, is positive.
-He does not hide that he is one of the candidates for the title, in a group that includes Fabio Quartararo, Pecco Bagnaia and Joan Mir. Doesn't it mean anything to him to have ended up in front of them in a place he doesn't like like Qatar, and still in this process of readjustment?
-It doesn't tell me anything about the other world, because it could be that they start as favourites, but I'm not sure that they will be the toughest rivals this year... For now, if I take the preseason and all the rivals and the rhythms in training, the most complete have been Bastianini, Pol Espargaró and I would say Rins. These have been the three fastest and the three most consistent during the preseason. And two of them in Qatar were ahead. Yes, Bagnaia wasn't ahead and scored a zero, Quartararo wasn't either... but in preseason they haven't been one of the fastest either. Although later in the season it changes, there are 21 races and it changes a lot. But why can't Pol Espargaró and Bastianini be rivals for a World Cup? At the moment they are being very fast.
-Indonesia, and then come Argentina and Austin. In training in Indonesia he finished satisfied, and Argentina and Austin are particularly good at it.
-There are three circuits that are more suited to my riding style. There we will really see what level I am at, where I am. I am not at the level of 2019, far from it, but there we will have clues, and also from the others, who is there and who is not. Hopefully we come out of these races in a good situation for Europe, but for now I'm going like Cholo, race by race.
A more patient Marquez

At the time of this interview, Marc Márquez had not yet been able to review his first race of the year. Last Sunday, in Losail, the Spanish driver showed a more cerebral version than he usually offers, with a less fluid way of driving than usual or, for example, that taught by his teammate, Pol Espargaró, third in that big prize. «No, I did not make the race very comfortable. I have to see it, I haven't seen it due to lack of time. And when I had it, I saw the Madrid game… This weekend I will watch it, although I did see a bit of the race when I finished, and I was uncomfortable. And he knew before starting the race that he would be uncomfortable, because he had been uncomfortable all weekend. There was a front tire, the medium one, with which that feeling was saved a bit, but with this I have had problems in the past and I crashed in the 'warm up' on Sunday. I could get a little more, but not much more, so together with the team we decided to play it safe, to the soft front tire that I never use, but that you know is safer », he reveals.
And it is that the 2022 Honda has changed a lot compared to the 2021, which is forcing him to adapt his riding while working on taking the bike more to his terrain. «In Qatar there were 22 consecutive laps for the first time and there I do see where I win and where I lose. For Indonesia that works and there you can try things and look for direction. Honda has the virtue, advantage or potential to be able to go in several directions, but we are not very far. A reflection that he makes at the same time that, with a smile, he asks himself how long this patience will last. On Sunday March 21 in Indonesia we will have another sample of this new Marc Márquez.