Marc Márquez doubts in his favorite territory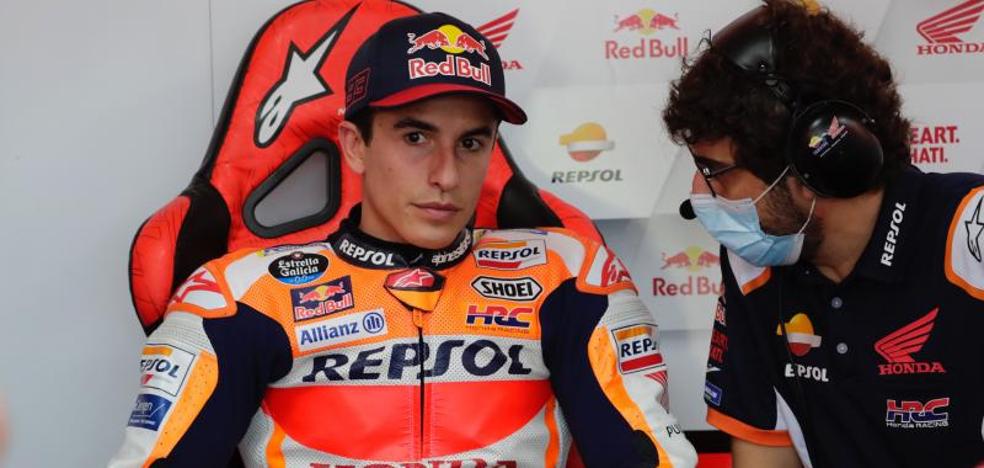 Americas GP
The MotoGP World Championship faces its fourth round with a leader who had never been before, Aleix Espargaró, and pending the return of the usual dominator in the United States
The MotoGP race in Argentina went down in history for being Aleix Espargaró's first victory in the Motorcycle World Championship, Aprilia's first victory in this displacement and the first overall leadership of a rider in the queen class of the Italian brand. A classification, yes, very tight after three races, with the leader only ten points ahead of the fifth and with 45 of 75 points added. "I am leading the championship right now but everything is very tight. In three races the maximum points you can have is 75 and right now I have 45", reflected Espargaró in the preview of the fourth round of 2022, the United States Grand Prix that will take place this weekend at the circuit of the Americas.
It is one of the favorite venues for Marc Márquez, who returns to competition after recovering from his second episode of diplopia in six months, and after missing the Indonesian race and the Argentine Grand Prix entirely. "Marc has every chance of fighting for the title, because he's not far away", continued the rider from Aprilia, who has second overall, Brad Binder, seven points behind; ten to fifth, Fabio Quartararo; one race to tenth, his brother Pol, and 34 to Márquez himself. "He has won many championships and is a very strong driver. This World Cup is the longest in history and everyone still has a chance of winning it. Marc even more, because he is one of the strongest », he concluded. And it is that when Márquez arrives in the United States, the rivals are put on alert.
The one from Cervera has won on eleven of the twelve occasions in which he has competed in American territory in MotoGP. Three at Indianapolis, the only time he was at Laguna Seca, in his debut year in the premier class, and seven at Austin. Only in 2019 did he fail, and it was after suffering a crash when he was leading the test with great solvency, with more than three seconds ahead of the second, Valentino Rossi. Furthermore, he only failed to get pole position twice, at Laguna Seca, when he started second, and last year, when he did it from third position.
These are devastating numbers that make him the favorite to win this year as well, although he arrives with the question mark generated by his recent injury and his absence from the circuits in recent weeks. "I am not at my best moment for this grand prix, but we are going to try to have a great first free practice session and go forward from that point," said Márquez, who wants to clear up his doubts from the first day to understand how far he can go. And there are doubts about the behavior of his Honda, which in Indonesia and Argentina suffered more than expected, about his physical condition after the injury and about how to face the risks inherent in his sport with the awareness that a strong impact can take him back to the start box.
Prudence

«It is not the way to face the weekend to think about winning. First you have to gain confidence and see what happens. Compared to Qatar my physical condition is a little better, because in Qatar I suffered more, but in terms of confidence here I am much worse. This is obvious, coming back from another injury that affects sight. That is something that makes me afraid », she confessed yesterday, after having traveled to the United States on Wednesday. «I can't start here thinking about the victory, also because I don't feel it. All I want is to regain confidence. The week after Indonesia was very hard, I decided not to think about Argentina and stay calm. And now it's time to rebuild confidence, and if I don't feel it, I'm not going to push, because I don't want another unexpected drop like in Indonesia to come », he added.
Be that as it may, Márquez's rivals will continue to keep an eye on his performance these days in a category that is still looking to set its script for 2022, in a year in which three different riders with three different bikes have already won, and in which there have been nine different names on the nine distributed podiums. Because no one rules out that Marc Márquez's is the fourth winner of the course, or that he at least adds his to that list of those who have already been able to take home a trophy.