Marc Gasol wins the duel against Ricky and Willy Hernangómez continues to grow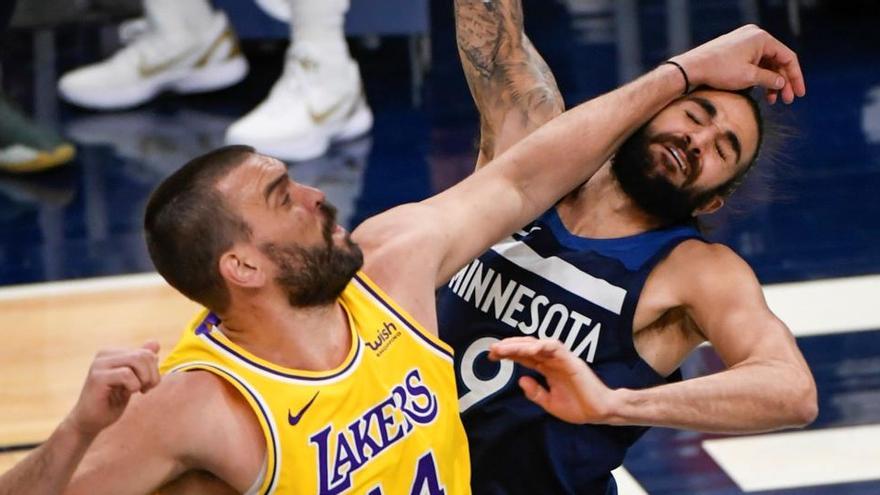 Marc Gasol has taken the Spanish duel of the night of the NBA with the victory of the Los Angeles Lakers against the Timberwolves of Ricky Rubio Y Juancho Hernangómez (104-112), while Willy Hernangómez has once again set a good performance in the resounding victory of New Orleans Pelicans against the Memphis Grizzlies (113-144).
Anthony Davis' injury, who will be out for a while, forces his score to be shared among other less common players and among them is Gasol, who took the baton contributing 11 points, 5 rebounds, 2 blocks and 1 assist to the hard-fought victory of the Lakers.
The Los Angeles team did not manage to detach itself during almost the entire game of the combative 'Wolves', the worst team in the entire NBA and that in the final minutes ended up surrendered to the power of LeBron James (30 points, 13 rebounds), whose squire this time It was the German Dennis Schroder (24).
As for the visitors, Ricky Rubio completed a remarkable game with 13 points, 8 assists and 4 rebounds, while Juancho Hernangómez did not play. Rookie Anthony Edwards (28) was Minnesota's best, which continues to sink into the Western Conference's "red lantern."
For its part, Willy Hernangómez continues to consolidate in the Pelicans rotation and leaving behind his complicated start to the season. The pivot left to 14 points and 8 rebounds in 19 minutes of play in Memphis, where his team, eleventh in the West, was far superior from the hand of Zion Williamson (31) and Josh Hart (27).
Spanish players statistics:
Marc Gasol: 11 points, 5 rebounds, 2 blocks and 1 assist.
Ricky Rubio: 13 points, 8 assists and 4 rebounds.
Willy Hernangómez: 14 points, 8 rebounds, 1 assist and 1 steal.