Maradona, admitted for a "general check-up" due to a "low mood"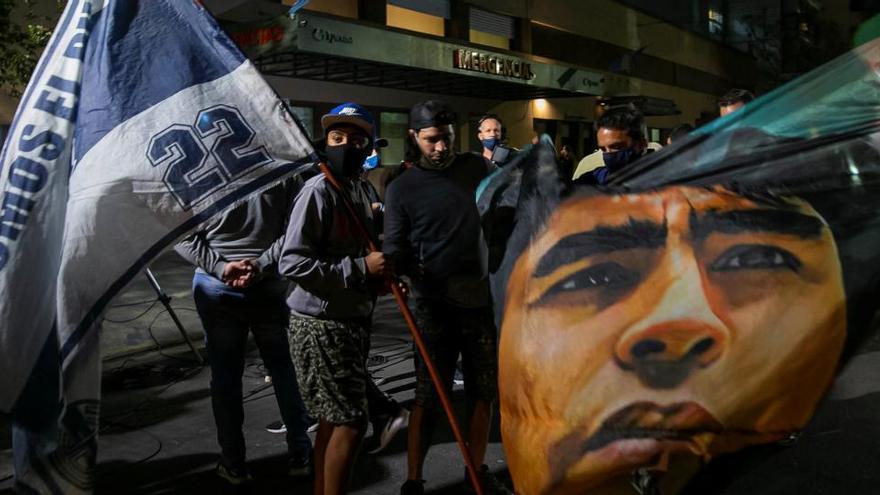 The ex-footballer Diego Armando Maradona was admitted this Monday afternoon to the Ipensa sanatorium, in the province of Buenos Aires, to be subjected to a "general check-up" after a "mood drop", as reported by one of his doctors, Leopoldo Luque.
"It was a complicated half week for him emotionally. A lot of pressure, that generated a downfall. His diet affected him. We saw him with a different coloration and with a different attitude, we decided to study him to make him a little better," said Luque on the wheel of press from the door of the clinic.
"The idea is to leave it (hospitalized) until optimizing it. Diego, if he wants, stops and leaves. It is not a serious picture nor do we come urgently", he remarked.
For Luque, Maradona "may be 10 thousand times better" and the decision to intern was agreed.
"Bringing him here helps him improve. I told him: 'Hey, Diego, you have the bag, we are going to a clinic to improve a little and be better' and after refusing a little he told me:" Well, let's go. "
Luque remarked that Maradona "is an elderly patient with many pressures in his life".
"It is very difficult to be Maradona. I believe that Diego is someone who constantly makes his decisions. He is not here because I brought him, he is here because he wanted to come," said Luque, who denied a contagion of coronavirus.
Maradona, what he turned 60 on friday, was that day on the court Gimnasia y Esgrima La Plata, club of which he is coach, but he withdrew from the stadium as soon as the game began.
The second coach, Sebastián Méndez, took over the team that beat Patronato 3-0.
Before the meeting, Maradona was received and honored by the president of the club, Gabriel Pellegrino, the president of the Argentine Soccer Association (AFA), Claudio Tapia, and the president of the Professional Soccer League, Marcelo Tinelli.
Maradona's doctors explained in recent months that, in addition to having a history of cardiologists, being hypertensive and having undergone surgery on his right knee in 2019, Maradona suffers from insomnia.
"He has been on some prescription anxiolytics for quite some time. They are treatments that we continue because some medications cannot be obtained just like that. The body develops tolerance and withdrawing them drastically can cause problems, "Luque explained in the middle of this year.
"And alcohol. He takes, but we're working on it. Diego is clean of cocaine, completely, but at times he has excesses with alcohol and at times not. This stop, this quarantine and family problems are terrible for him, "he added at the time.
In recent months, Maradona had lost weight and returned to exercise to recover from the operation on his right knee.