Manuel Fajardo shows the wealth of the islands to a delegation of US senators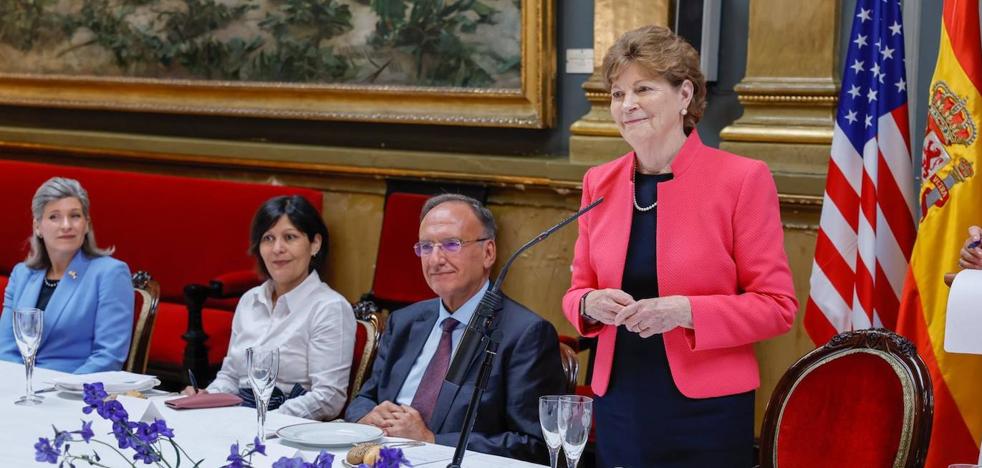 US legislators have shown interest both in the reality and idiosyncrasy of the Canary Islands and in the heritage of the islands
Eight legislators from a senatorial delegation from the United States have visited the Spanish Senate and have shown interest both in
the reality and idiosyncrasy of the Canary Islandsas for the Heritage and the cultural richness of the islandsafter knowing the figure of César Manrique or the cultivation of La Geria by the senator for Lanzarote and La Graciosa, and first secretary of the Table of the Upper House, Manuel Fajardo.
The senator from Lanzarote has highlighted the importance of opening
lines of communication and to share impressions with the US delegation that has visited Madrid on the occasion of the NATO summit in the Spanish capital.
Specifically, the Democratic senator for New Hampshire, Jeanne Shaheen, the first woman in the history of the United States to be governor and senator of her state, who served as head of the visiting delegation on this visit, showed
especially shocked by the images that she was able to observe from the islands and was presented by Fajardo, both she and the rest of the delegation, with several books that explain the history and figure of Manrique.
After explaining the relevance of this universal canary for the island and for the Canary Islands, Shaheen was very interested in
grape cultivation in La Geria and, in terms of climate and energy, due to the possible use of geothermal energy to produce energy.
In this way, Fajardo invited Shaheen to visit Lanzarote, La Graciosa and the Canary Islands with the aim of
strengthen institutional ties that could also serve, later, to open the door to possible economic and commercial connections that would undoubtedly "be of great benefit to the island and the archipelago."
"The NATO summit, in addition to broadly fulfilling the political and geostrategic objectives set by the allied countries, the situation caused by the Russian invasion of Ukraine and the exercise of legitimate defense, has also had a significant impact in other areas, such as the economic one, both present and future, since it has allowed the i
exchange of impressions between representatives of many places that, otherwise, would not have been possible. In this way, and more specifically, I hope that the visit of the American senators can serve to plant a seed of curiosity among them about the situation, reality and opportunities offered by the Canary Islands as a tricontinental platform that serves as a link between America, Africa and Europe» , the senator from Lanzarote has pointed out.
About Shaheen, throughout his political life he has set his priorities around bringing health care to the greatest possible number of people and lowering the price of medicines.
It also highlights his fight against
opiate traffickers and its help to solve the problems of its consumption, as well as its staunch defense of a strategy to combat climate change and the protection of the marine environment and the coasts, with the objective set so that in 2030 the electrical energy produced in America is more than 50% carbon free.