Manuel Díaz 'El Cordobés', a bullfighter, a rebel with a cause for the honor of his mother | Blog The bull, by the horns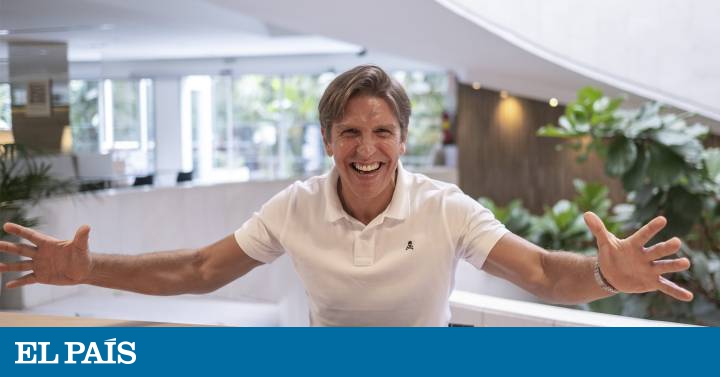 - Is it possible to separate the bullfighter from the popular character?
- "Not. One facet is linked to the other. You cannot separate the bullfighter from the person, and what does not make sense today is that the bullfighter is not popular. Children still know me on the street; people stop me and give me their cell phone to say hello to their mother. I recognize, however, that in the balance of my life the character has mattered more than the bullfighter. I think that if I had dedicated myself only to bullfighting, maybe I would not have succeeded because, perhaps, I did not have the necessary qualities. But I've always had my feet on the ground. I have been clear about the place I occupied, and in that step I believe that I am the best. Come on, I knew my limits. For this reason, I have been happy in my profession, and I have not needed other recognitions ".
The appointment is in a Sevillian hotel, and Manuel Díaz appears there The Cordovan with an open, jovial and funny smile, as if he had known you for a lifetime. His image is still that of a boy, but he is already a man with a full beard - he turned 52 on June 30 - a veteran bullfighter (this is his 27th season), and a father of a family with three children 21, 16 and 14 years old.
He proudly comments that he is already recovered from the serious hip problem that took him out of the ring in the summer of 2018 to undergo surgery; and that only the pandemic has prevented this season from releasing a Nazarene and gold lights suit ready to "show that an injury has not withdrawn me from bullfighting."
He defines himself as a rebel, but he is, above all, a whirlwind that exudes heartiness, speaks without measure, and transmits both naturalness and apparent sincerity. An animal of communication, a born seducer, an endearing person ... It seems, however, that he is a slave of the character, as if he had abducted him and could not park him despite his attempts.
He confesses that he is happy, "eternally happy", he adds; and as such is shown throughout the talk, in which he reviews a life full of events that we have all lived with him, what is the fate of popular characters. In short, talk to Manuel Díaz The Cordovan It is doing it with a close friend, even if you have never greeted him before, with whom we have shared family intimacies, weaknesses and triumphs of someone who is part of us.
He assures that he has been a bullfighter since he was born and it is because of his paternal genes, a detail that his grandmother and mother never hid from him, which became the cause of his rebellion. He explains it best:
"My rebellion stems from my commitment to cleanse my mother's honor; I knew from a young age that she had been injured, and the only way to defend her was by becoming a bullfighter. My main reference has been my father, of course. He has been the mirror in which I have looked at myself. He has been my bullfighting idol, and that is why I decided to follow in his footsteps. I have been formed in his likeness and adopted his style. My goal was to become a remarkable person for him to notice me. I had to defend my mother's honesty, and I made myself responsible for championing that cause ".
- Is that why you have been a bullfighter?
- "That was the main base. Later, this vocation becomes a poison that enters your blood. It is a world of respect and values ​​that allows you to be different from others. When I was a kid, people in my Cordoba neighborhood looked at me differently because I wanted to be a bullfighter. He was already a bullfighter without horses before passing the School Graduate. In fact, I gave a steer to my tutor in Villanueva de Córdoba and asked her to approve me ".
Manuel Díaz hides his smile for a moment and explains that bullfighting "has taken him away from many temptations and distractions, it has forced me to get fully involved, and I have learned to respect people, animals and myself".
And he adds that he discovered what he calls "the psychology of liveliness."
"Yes, the need to like and have an ear. I fought with my ear; if people vibrated in the line, I would continue down that path, even if it meant skipping the bullfighting canons ".
- And what have you contributed to the bullfighting festival?
- "Freshness… I approached a new audience that didn't know her. People came to see me because I was a popular bullfighter, which created more interest and wealth. It is true that, sometimes, doubts assailed me: is this what I want to do or is it that I have no choice? Over time I have discovered that this was the space that I could occupy with my truth and honesty. I am clear that I will have been better or worse, but I have done everything with dedication ".
"Impossible, unattainable", responds the bullfighter when asked if he has savored the proposed goal.
"What's more, I don't consider myself a figure of bullfighting. I have enjoyed, yes, I have been privileged and I owe the public that I have placed myself in the place that I am. Figure, perhaps not, but a beloved bullfighter. Today I am staying anywhere in Spain without a euro in my pocket and I assure you that at ten o'clock at night I am eating a sandwich at the home of an unknown family. For me, that goes beyond being a figure ".
-What could that unattainable goal be?
- "Having given more of myself and not having opted for selfishness and conformity. Sometimes, I have put my life story before the professional one, I have chosen the path of the heart and not that of the head ".
More than 1,000 bulls fought, 18 goring, some of them very serious, a bullfighter of all the fairs during several seasons in which he exceeded 100 celebrations, a judicial fight to legally use the nickname of El Cordobés, another longer to be recognized as legitimate son…
- "My life has not been easy, neither bullfighting nor private. At times, I have felt like a commodity, and I wanted to give up, but it was a tribute that I had to pay to achieve the goal: eat hot and help my mother. "
He has very affectionate words for Paco Dorado, the attorney who promoted him while he was still a bullfighter, from whom he asked, he says, a single favor: "The first money we earn has to be to buy a house for my mother, we are already fed up with to kick us out for non-payment of rent ".
And so it was: with the salary of the run of his alternative confirmation in Las Ventas, on May 20, 1993, he was able to fulfill his wish.
- You have earned money, so ...
- "I had a gold visa that worked every time I put it in the ATM, and that's how I considered paid. I made money, yes, but I also paid a lot. There were a couple of seizure breaks that cost me like a divorce. I never looked at the contracts, because what I wanted was to fight and that my mother did not lack the 200,000 pesetas that she sent her every month ".
His face lights up when he remembers the afternoon of his luxury alternative at the 1993 Seville April Fair, with Curro Romero as godfather and Espartaco as witness. "That day," he muses, "a dream came true."
Later, many more afternoons came, in all the fairs, first, and in the circuit of the second and third squares, later, always branded as a popular and media bullfighter.
"Note that Madrid has never impressed me and I have had beautiful moments there; Seville, a little more and I don't know why. But, perhaps, for being mediaticAt times, I was denied ears that the public asked for. It was as if awarding me a trophy detracts from purity, when purity is only a complement to the truth. Is it bad to be media? No. The bullfighter is a man of the people, a hero of the people. I will not have been exquisite, but loyal to me and to the public ".
- What if he hadn't been a bullfighter ...?
- "I washed cars very well… My family still hallucinates when I get to it. I learned the trade as a kid and worked in a laundry on weekends ".
- You only have to say goodbye to bullfighting ...
- "Surely I will wear that Nazarene and gold costume that I have not yet released. He talks to me every time I see him. I would like to step on some places with which I have a special relationship, but I have not set any goals. It could be a single run or a blackjack, I don't know. I want to see myself in the face of the bull again and convince myself that an injury has not withdrawn me from bullfighting. Besides, I am not a friend of farewells ".
Before saying goodbye, he poses for the photographer as an experienced, funny and jovial model, and disappears, running and smiling, as he arrived ...