Manga Barcelona closes its most desired edition with 122,000 visitors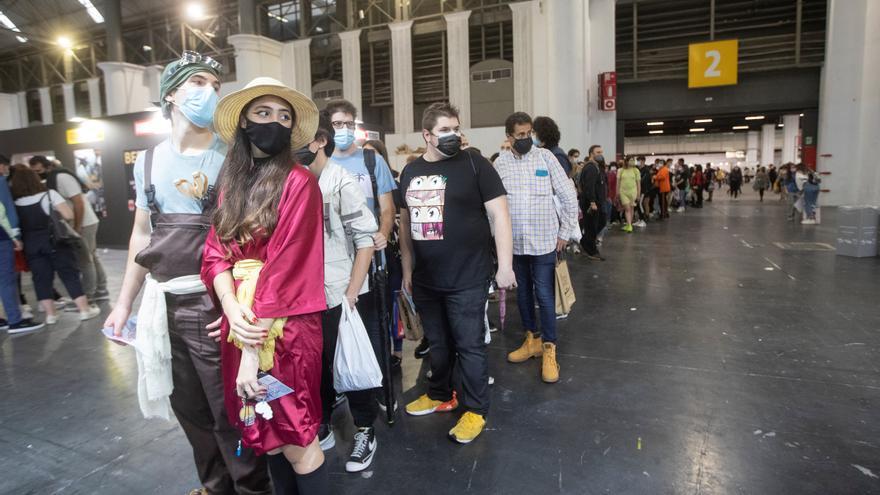 A month and a half ago, in Ficomic, the entity that organizes the Sleeve Barcelona, they still did not know under what conditions they could venture to hold a classroom due to coronavirus restrictions. Finally, this November 1, the 27th edition has closed its doors, in person after the 2020 'online', attracting 122,000 visitors and after having sold out for the first time in its history all the tickets for the four days in a few hours in which the web even crashed. There are 30,000 fewer people than two years ago, in 2019, true, but there have also been one less pavilion at Fira Montjuïc (occupied by the vaccination campaign against covid) and with a lower capacity for, points out to this newspaper its director, Meritxell Puig, "avoid crowds, keep spaces fluid and controlled, seeking to get as many people as possible with maximum health security, because we do not lose sight of the fact that we are still in a pandemic"If they had not kept a capacity lower than allowed and in accordance with the demand they would have made a record for sure.
"The illusion and euphoria mark this issue. The success is, above all, that it has been possible to celebrate"says Puig with satisfaction, after confirming that" a more familiar audience has been seen than ever "and all the activities have been full, especially those held on the Grand Stage, which on Saturday received a surprise visit from Estopa, with the ' cosplay 'and Kpop exhibitions in the lead, but also workshops or talks about manga in Catalan.
Sales records
That there was a desire for a festival and presence, It is also confirmed by some editors, who are more than satisfied. For example, from Norma, Óscar Valiente, and from Planeta Cómic, David Hernando, they have far exceeded 2019 sales, confirming the 'boom' of manga, to which new and enthusiastic generations are joining the usual readers. "People have come to buy, not just to watch. This year we did not know what to expect because even though the tickets had been sold out we believed that with the reduction in capacity they would be calmer, but it has been spectacular, with full signatures and presentations" says Valiente.
"It is unstoppable growth," adds Puig. The organization has already received calls from exhibitors Japanese and others who have never come to Manga Barcelona asking for a stand for next year, advances the director, who also regrets the collapse that occurred with the sale of tickets, which were sold out immediately. "We would have liked to have more space for more people to enter and in fact each of the four days we have put out new tickets on sale as there were people who left the venue freeing up capacity, and they have all been sold. We had to avoid the crowds. queues and crowds in the street to buy them. "
Bestsellers
The editors, for their part, emphasize that despite the absence of Japanese 'mangakas' (there have been virtual connections, such as this Monday with Waka Hirako), Spanish manga authors have generated a lot of interest, and queues. Thus, among the best-selling titles, such as' Haikyū !! ',' Attack on the Titans' or 'Solo Leveling', also works by artists from here such as' Space Drum ', by Eric Cuaresma (Kalathras) and Cristina Jorge,' Blood Moon ', by Wade Otaku and Drawill, or the magazine' Planeta Manga '.
The most anticipated releases
Among the traditional announcements of launches that publishers make in Manga Barcelona, ​​there are some famous ones. Planeta Cómic will publish in 2022 'Team Fénix', the reinvention of Osamu Tezuka's characters by Spanish art Kenny ruiz (the first chapter will be included in the next issue of the magazine 'Planeta Manga'), and of Arechi Manga, also next year, which will publish for the first time the historical classic 'Ashita no Joe', Kajiwara Ikki and Chiva Tetsuya's Magna: The 12-volume story of a young man who finds an escape valve in boxing to his stark reality. Norma will open her mouth this November with the expected 'Tokyo Revengers', by Wakui Ken, and will continue in 2022 with 'Sousou no Frieren', 'Shangri-La Frontier' and 'The Yozakura Family Mission'. Milky Way will bring 'Majo wo Mamoru' and Panini, the new edition of the 14 volumes of 'Rurouni Kenshin' and its continuation.