Mamen Mendizábal loses patience with Esperanza Aguirre: "Have a little respect"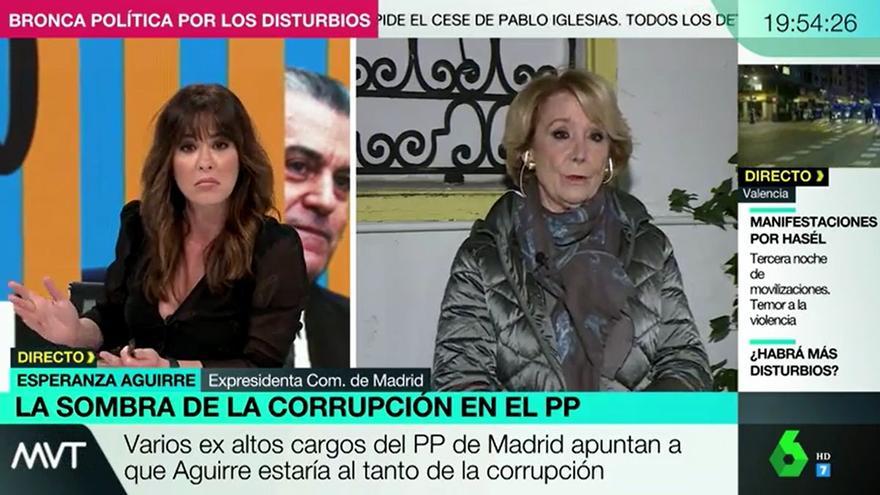 After the disaster of Popular Party in Catalonia and the abandonment of its headquarters in Genoa, Mamen Mendizábal interviewed this Thursday in 'Better late' to Hope Aguirre. The conversation with the former president of the Community of Madrid was not easy for the journalist, who was involved in a loop of complaints and interruptions.
The interview began to go awry when the presenter asked him a question related to the statement he will make Luis Barcenas next week on box B of PP. "You are under investigation …", Mendizábal began saying without being able to finish, since Aguirre defended that the former treasurer is going to testify against her "to receive prison benefits." "Excuse me, I'm talking now!"she exclaimed when the journalist tried to pose her question.
"If sir Barcenas he wants to collaborate with the justice system, he has to say where he got the 40.9 million euros that he told the judge he had in Switzerland, "said Aguirre, who again cut Mendizábal when she reminded him that the mayor of Boadilla and Francisco Granados also pointed it out in their statements before the courts. "Don't make a fuss about me!"the interviewee snapped at the communicator, who was already beginning to lose patience.
"Have a little respect, which is what I'm having with you. If you don't want to answer, I understand, but let me ask you," Mendizábal asked while Aguirre spoke above her: "You have to have respect for me, I am the interviewee ". "And I'm the one who asks questions, and I haven't finished it. I understand that you don't want to hear it"answered her interlocutor.
After this scuffle, the presenter of laSexta was able to express her question: "Did you have knowledge of box B of the match? Have the facts that are being judged caught you by surprise?" "Are you going to ask me many questions in a row so that I cannot answer?" Aguirre blurted out before answering: "On whether I was aware of box B, of course not, because I think there was no box B".