Mamadou's new life in Badajoz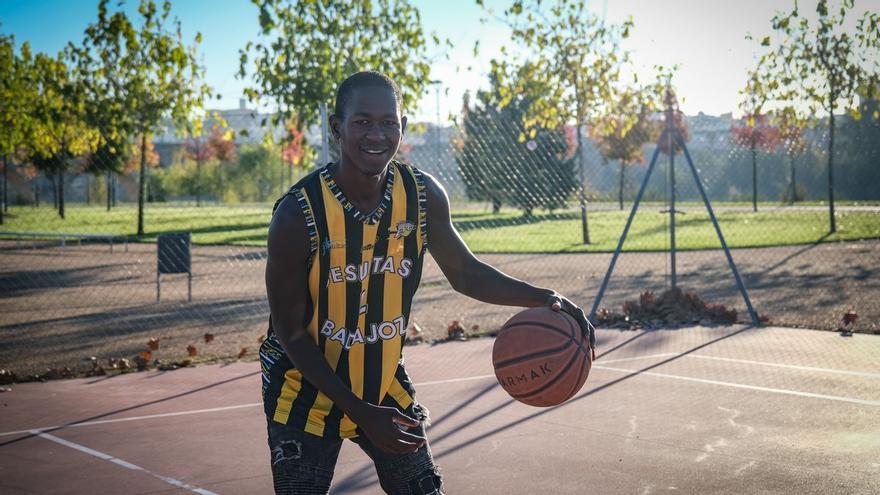 Regulars to the park on the right bank of the Guadiana will have seen him throwing a basket on the tracks closest to the Palmas bridge, where he spends hours training. His name is Mamadou Benteh Jallow. He left the Gambia in pursuit of the European dream and, after a long and difficult journey, always accompanied by a basketball, He ended up in Badajoz this summer, because they told him that there was a public park with tracks where he could train. In this place he slept under a ceiling until an 11-year-old boy who saw him play notified his father, the local policeman Félix Alegría. After that meeting, Mamadou has begun to count the days of a new life with plans for the future.
He speaks Spanish, English and Senegalese. He says he does not remember the exact date he left the Gambia. He did it with his mother. They went to Senegal and then to Libya. When he left his country he was not very clear about where they were going. "I listened a lot to Italy and Europe I work." In Libya he lived for a time with his mother, who lost her life in this country. From the crossing of the Mediterranean in a boat with 120 immigrants remember "very little". He does know that they were "lucky" because Salvamento Marítimo de Italia came to their aid, "because otherwise this boat would not have reached Italy." He ended up in Sardinia, whose inhabitants, he says, "are not kind to blacks." He managed to move to Genoa thanks to a truck driver who allowed him to hide in his vehicle. He reached the French border but had to wait a while until a driver helped him onto a train that took him to Marseille and then to Montpelier, from where he traveled by bus to Barcelona.
He had no money left and he had to beg on the street to be able to go to Madrid. That was his goal, "because Real Madrid was my favorite team when I was little when he played football and also basketball. "" I heard in Italy that in Spain they play basketball very well, the league is very good and Real Madrid has one of the best teams. "His passion for this sport was born in Italy and It was reinforced in Madrid. In the reception center for minors there were balls. Mamadou also brought hers from Italy as a traveling companion. "In the port I had nothing to do and I played to avoid getting bored." In Madrid she lived for a long time in the Street. Remember the cold with the snowfall of Filomena. A friend whose sister works in Badajoz advised him to move to this city "because it has a river with basketball courts". Also, being a small city, there are few immigrants because " where there are many immigrants like me, it is very difficult for them to see you. "
To get to Badajoz, he hid in the bathroom of a train in Atocha. Five hours of locked up trip. When he got to the San Fernando station, he went straight to the park, "to the field, I asked where the river is, down there, they told me." He did not look for a low ceiling to shelter in. He stayed on the slopes and ate what people gave him. One day in July an 11-year-old boy approached him and told him that his father was a local policeman and could help him. Mamadou met Félix Alegre, whom he calls "daddy," who has become his guardian and guardian angel. "I came the next day to talk to him and we brought him blankets, because it happened that it was very cold those nights," says Félix. He spent a week outdoors until he was able to enter the Caritas shelter in Bravo Murillo. Since the end of September, he has shared a tutored apartment with two other people.
In Spain Mamadou has had problems due to a conflict with his age, because while his passport states that he is a minor (he turns 18 in June), in Madrid the Juvenile Prosecutor's Office determined that he is of legal age due to his physical appearance.
Félix's son plays in the Guadalupe Sports Schools (EDG), which have given Mamadou a scholarship, who belongs to two teams. Since he is very modest, he does not want to admit that he is good. Felix insists that it is. In the last game he scored 14 points. In addition, he is going to start going "to the table", for which he is going to take a course. He has also enrolled in the Abril center. In Gambia he studied "very little, because it takes a lot of money." Mamadou is already part of Félix's family and gang of friends, with whom he goes out to eat every Sunday. Now he wants to find a job.
"My future goal is to get to the NBA in five years. I know it will be very difficult." and he also knows that he has to train a lot to achieve it. In the river park everyone knows him because they see him on the track. He also trains in college with basketball veterans. He looks happy. "I have never seen people like the one from Badajoz, in Madrid they see you sleeping on the street and they don't tell you anything, but here they are interested in me and ask me if I'm okay2. They are aware that one day they will have to leave. He wants to be in the EBA league for two years and he will not stop preparing. "I know that I will have this possibility, although it takes time to improve." At the moment he is not considering returning to the Gambia. "Maybe one day, but not now, there It is not well, and although my situation here is still not very good, it is much better than in my country. "He will return, he says, when the Gambian basketball team calls him.