Mallorca Live Festival 2020 closes its poster with Marilyn Manson | Miss Festivals Blog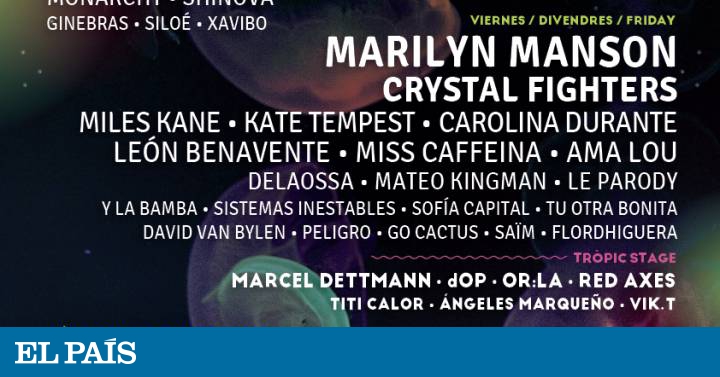 The Mallorca Live Festival He presented on Tuesday his fifth edition in Madrid, where he announced the incorporation of Marilyn Manson to the program, a name that drives the poster and that puts the finishing touch to an appointment that this year is celebrated on May 14, 15 and 16 in the Old Aquapark of Calvià, in Mallorca.
In the press conference they have also celebrated the incorporation of artists such as LIFE, Belako, Panamera Collective, Bronquio, Sofía Capital, David Van Bylen, Xavibo, The Indian Summer and Flordhiguera. Calvià will once again host this event, one of the first of the season in Spain, which will offer other frontline concerts by Pet Shop Boys, Kaiser Chiefs, Crystal Fighters, Leiva, Michael Kiwanuka and Kase.O, previously announced .
After a previous edition that led the attendance to its "record" of 33,500 people, Mallorca Live Festival will offer a redoubled musical offer in 2020, with Miles Kane, Kate Tempest, Natos and Waor, Temples, Nathy Peluso, Leon Benavente, Carolina During and Miss Caffeina.
Alizzz, Maikel Delacalle, Delaossa, Shinova, Guitarricadelafuente, Mateo Kingman, Ama Lou, Austra and Monarchy will also be present on their stages. One of them will have a special format of 360 degrees and more than 2000 square meters and will host electronic sessions such as the star of the techno star Jeff Mills.
The performance of Marilyn Manson, musical icon whose real name is Brian Hugh Warner, is scheduled for June 15 and is expected to anticipate songs from his impending new studio album.
Álvaro Martínez, director of Mallorca Live, attended the festival's presentation in the Spanish capital; Alfonso Rodríguez Badal, mayor of Calvià, and Sebastián Vera, artistic director of the event. According to them, about 48,000 visitors are expected during the three days of the festival, which means another day of public and an increase of 43% over last year that will be accompanied by an extension of the site, which will have a capacity of 18 000 people per day.
Tickets to attend Mallorca Live 2020 can be purchased for € 75 plus management fees in the case of the 2-day subscription (Friday and Saturday) and for € 90 plus management fees in the case of the three-day subscription (Thursday, Friday and Saturday). Starting on Wednesday, tickets for Friday and Saturday will also be available from € 60 plus management fees.
Complete poster of Mallorca Live