Makeup trends of the first century | Culture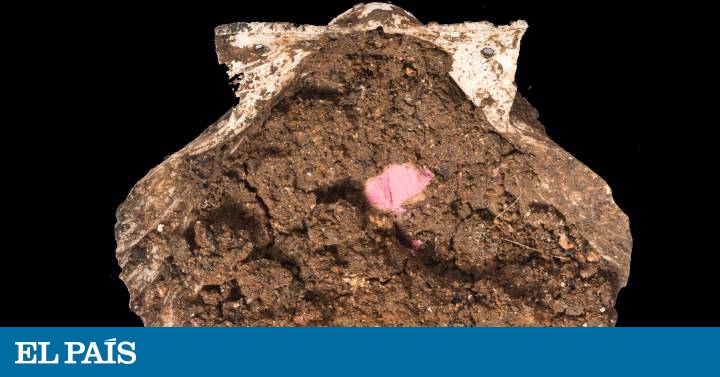 To the woman in the A6 pit of the funerary precinct on which the Princess Sofia industrial estate stands today Mérida (Badajoz) He was very interested in aesthetics. For personal pleasure or by profession, we do not know that, but the remains that accompany his burial reveal that interest. This woman was cremated at some point in the first century. Upon her death, she was placed in an open pit in the ground, without a coffin, although probably on some boards, and was cremated. When all that cooled, the relatives returned and arranged in the grave a small trousseau composed mainly of aesthetic products. All those materials came to light two decades ago, but it has been a few years ago when they have been given attention. And it has been a discovery. There appeared the shell of a scallop, perfectly preserved, which was manipulated to turn it into a makeup case. And inside, a beauty secret of 2,000 years ago, a soft and creamy little ball that has turned out to be a kind of chewing gum pink blush.
Macarena Bustamante Álvarez, archaeologist and researcher of the University of Granada, has been one of the five people who have studied the contents of the grave. A whole trousseau from which some bottles for perfumes and ointments and several jugs and bottles have been rescued. And the scallop shell. None of the bottles, explains the researcher, had remnants of their contents. Only the scallop still housed what its owner put there twenty centuries ago. The fact that all the elements are related to beauty points, according to the researchers, to a woman with a strong interest in aesthetic matters. It could very well be a woman of profession similar to what today would be an esthetician.
At the time when the investigated woman was cremated, a powder, of crushed glass, bluish gray was frequent. But the lady incinerated in the A6 pit of Augusta Emerita was throwing more pink. To save it, it was made with a scallop shell properly handled. For its new use, someone turned the scallop into a case by making holes in the flat area of ​​each of the leaflets.
Bustamante, who has published his analysis in the magazine Saguntum, He explains that at the time of the woman in the A6 pit, aesthetic concern was strong and cosmetic treatments "had a vital role in shaping the female image." As now, in addition, there were two lines of attack: "Kosmêtikon, to slow down or mitigate the passage of age, and kommôtikon, to beautify and generate artificial factions, "explains the publication of Bustamante and his research partners from the Historic-Artistic and Archaeological Monumental City Consortium of Mérida and the Institute of Cultural Heritage of Spain.
And also like now, it was not just a mess of women. According to Bustamante, "men and women had a lot of concern for example with their hair. Men especially with hair loss. " The hairpieces and the powerful emerged, he says; They were looking for fancy and ostentatious hairstyles that marked their social position. Also the hair removal had its peak, in both sexes. There were, in fact, individuals dedicated exclusively to hair removal and this should not be very pleasant: Augusto, explains Bustamante's research, was shaved "using a burning nut shell." For eyebrows and eyelashes, antimony or stibium (blight), applied with a stick impregnated in oil or water. And as in almost everything, the class struggle appeared in aesthetics. Good cosmetics were expensive and, according to Bustamante's research, it was necessary to launch "product lines with cheaper and affordable prices for the people".