Maikel Delacalle encourages the island pique in 'La Resistencia'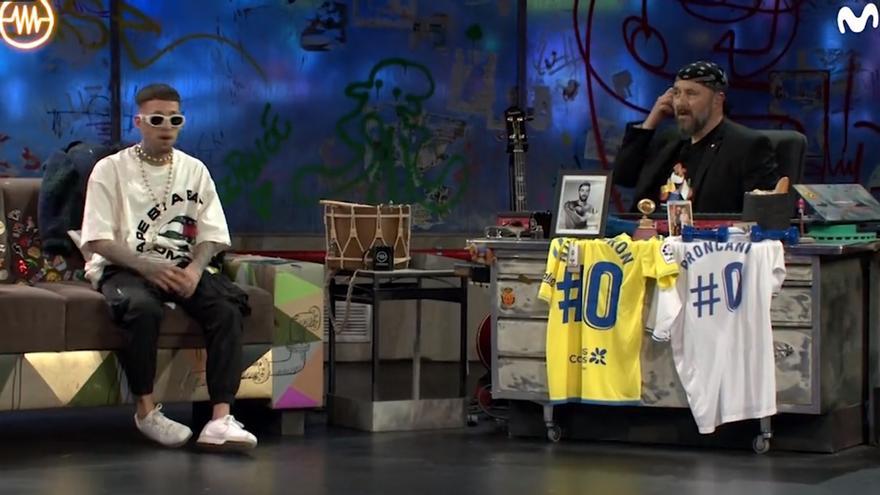 Insular pique between the UD Las Palmas and the C.D. Tenerife in 'The resistance'. The artist from Tenerife Maikel Delacalle was the guest of this Thursday night in the famous program of Movistar+ in which he took as a gift the shirts of the highest representatives of Canarian football.
The singer presented the program's team with a blue and white team shirt with the name of the program's presenter who is sick leave due to Covid-19 with autographs from the entire squad of the blue and white club, while in the case of the yellow team it was accompanied with the name of the Andalusian comedian backwards 'NO-FUCKER'. "The Canary Islanders are a little funnier than us, I think this one was made by Jesé"Delacalle joked.
Once the ice was broken, he wanted to get serious and give a hint to the President of the Government of Spain, Pedro Sánchez, and showed a small bottle. "And this is ash from the La Palma volcano, but it's for the president. So that he doesn't forget the aid he promised," he said to applause from the audience.
One of the most important trap singers
Maikel Delacalle is one of the most important trap singers on the current urban scene. His video clips have millions of views and his songs have been positioned on the charts of platforms such as Apple Music or Spotify. He is only 27 years old and has already managed to work with the most famous producers and artists of his genre.
His full name is Mikel Cabello Negrín, he was born in 1994 in San Isidro, in Santa Cruz de Tenerife. He is named after his grandmother, who was in charge of raising him after the death of his mother, when he was only 7 years old. The boy was so streetwise that his grandmother gave him that affectionate name, and in the end, when he began to gain a foothold in the world of music, he decided to take it as part of his stage name.
Broncano, discharged by Covid-19
David Broncano Count the hours to return to Movistar+'s La Resistencia. Next Monday it is expected that the presenter can return to his program after having had to quarantine due to covid 19. It has been Ricardo Castella the one that has replaced him this Thursday live, not without a few jokes. Throughout the week the presentation tasks have been distributed between grison, George Ponce Y Candela Pena.