Magic Johnson: 30 years after an announcement that changed the history of AIDS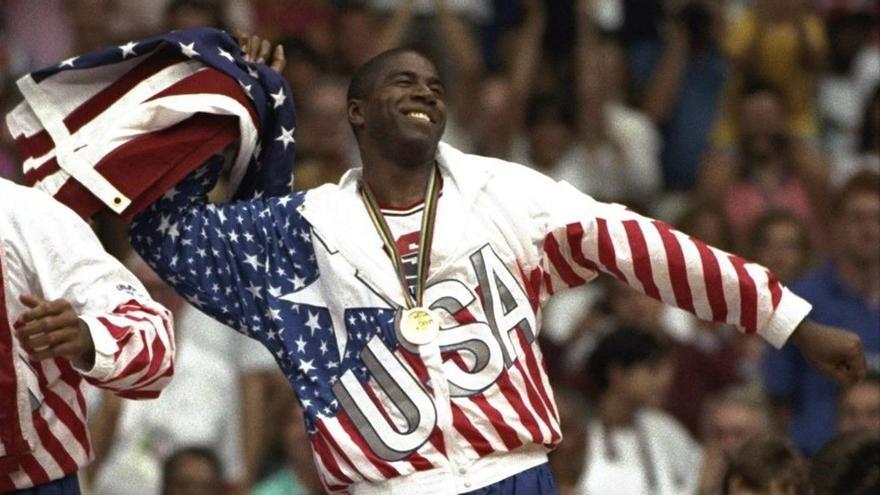 Magic had visited Barcelona in 1990 to score the first basket for Palau Sant Jordi and took the opportunity to train with Barça, among which was Andres Jimenez. The ex-barcelonista He was stunned when he heard the announcement of the NBA myth. "It was a very strong impact, at that time the extent of that disease was not known. When not knowing the case, many people were very afraid of the contagion – says 'Jimix' -. At the basketball level, measures were put in place not to share drinks and there was some hysteria and fear of what might happen. It was not known how it was spread at first. Thanks to Magic, most people discovered that you were contagious not by talking or playing with a person or by touching their sweat but by sexual intercourse " .
First official match in Badalona
After announcing his retirement, Magic played the 1992 All Star three months later, but the first official match he played was at the Olímpic de Badalona. That he played again, and also in the great Olympic showcase with the 'dream team', was a very powerful message. "It served to reassure athletes who might have a certain risk of being in a situation like this. It showed that despite being a carrier of the virus it was possible to continue playing. It was very powerless that he was such a charismatic figure and that he managed it so well" , says Jiménez, who scored 23 points in the duel with the 'dream team', in which Magic was as jovial as two years before in Badalona.
"I could see the fear on their faces. It was enough," he said after suffering a scratch in a friendly.
After the Olympic glory, he came to do the preseason with the Lakers but hung up his boots again before the doubts that players like Karl Malone they expressed publicly and privately and when they saw what happened when they suffered a scratch in a friendly against the Cavaliers. "I could see the fear on their faces. It was enough." But four years later he was back on the slopes. "It is time to go back. I want my son and daughter to see me play. I did not go as I wanted to go before and this is the reason for my return."
I come back four years later
In February 1996, at 36 years old and a few extra kilos, he had a movie return: the point guard started playing power forward, remembering that first ring he won, being a 20-year-old 'rookie', deciding in the paint as an improvised pivot before the injury of Kareem Abdul-Jabbar. At 36 years old, at an age when most players were retiring and in a position that was not his, he averaged 14.6 points, 6.9 assists and 5.7 rebounds in 36 games. But beyond the numbers it showed that neither being a carrier of HIV nor age had not taken away the magic.
A stigma that still survives
"There were two turning points in the fight against AIDS: when Rock hudson doubly comes out of the closet saying that he had AIDS and was gay and when Magic announces that he has been infected by heterosexual means, "he says Bonaventura Clotet, president and founder of the Fight Against AIDS Foundation. "It served to make it visible and normalize. It helped spread the transmission routes of this disease. No sweat, no breath or air, although many people did not want to play with it and rejected it."
One of the world leaders in the fight against this disease explains how "ignorance and fear are conveyed through stigma and distance." "It has been and continues to be a highly stigmatized disease. There are still many people who do not communicate it for fear of stigma. Fortunately, life expectancy is normal if treatment is started very early and with just one pill it can become chronic," he says. Clotet. 30 years after the announcement of Magic, there are 1.2 million infections and 800,000 deaths annually, mainly in sub-Saharan Africa due to the lack of use of condoms, which could be prevented with "pre-exposure therapies". "The day everyone is treated with the correct treatment there will be no more growth of infections."