Maggie Haney: Another scandal in American gymnastics | sports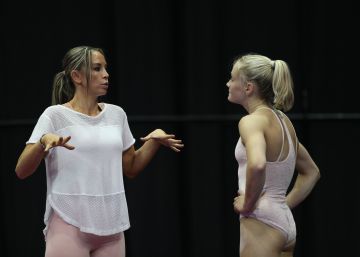 American gymnastics does not find peace. Since the scandal of Larry Nassar, the former doctor of the federation sentenced to a penalty of between 40 and 125 years in prison for sexually abusing at least 265 athletes, three presidents of the federation have resigned. Steve Penny, one of them, was arrested in October last year for hiding information and destroying evidence about Nassar. Kerry Pery replaced him; also had to resign accused by the victims of Nassar of little commitment when making a clean in the federation. His successor, former Republican congresswoman Mary Bono, lasted four days in office: she was criticized by gymnasts such as Simone Biles and Aly Raissman for their relationship with a law firm that advised USA Gymnastics (the federation) to try to limit the scope of the abuse scandal committed by Larry Nassar. Li li Leung, the current president, is now faced with a new problem. Maggie Haney, coach of the Olympic team, is being investigated for alleged verbal and emotional abuse of her athletes.
This is how the Southern California News Group After intercepting some emails. Haney allegedly used pressure methods to force gymnasts to train even when they were injured. Li Leung has confirmed the existence of those emails in which she and Mark Busby, lawyer of the institution, were aware of the allegations since last March.
According to one of the emails, Haney would have shouted, threatened and harassed gymnasts on a regular basis; It would also have forced them to remove plaster so they could continue training and competing. The emails, according to the American media that had access to them, would also reveal the frustration of some parents because of the low urgency of Safeport (a center that functions as a complaint box created by the Olympic Committee in 2017 to fight gymnastic abuses) when investigating accusations against Haney. The coach has had in her ranks, among others, Laurie Hernandez (team gold and bar silver at the Rio Games) and Riley McCusker (world team gold in 2018).
"The safety and well-being of athletes are the main priorities for the Federation and all reports of misconduct are taken very seriously," the Federation wrote in a statement. "Reviewing, evaluating and thoroughly investigating a report (OF THIS TYPE) is vital, which means that it is not necessarily a quick process. While it may seem that an issue is pending or ignored, the truth is that it is being treated confidentially. "
You can follow EL PAÍS Sports in Facebook, Twitter or subscribe here to the Newsletter.