Maestro Joao warns of the presence of a spirit on the set 'Zapeando': "Things can happen"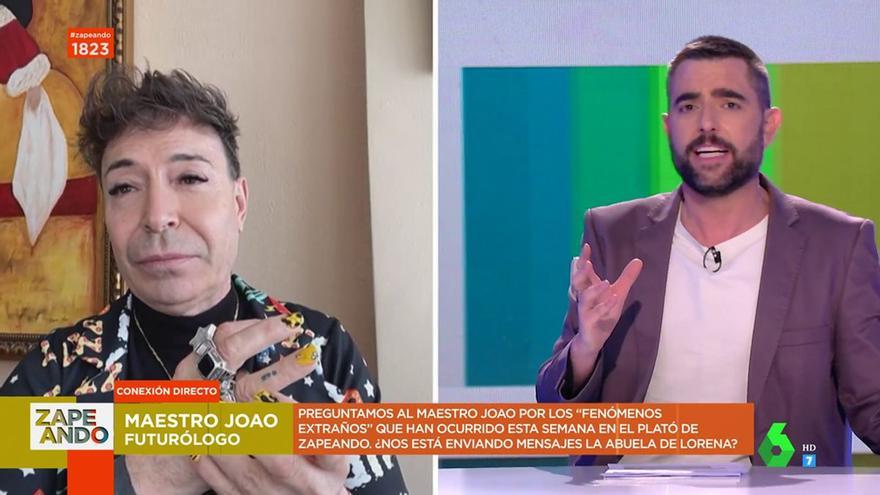 The collaborators of 'Zapping' they contacted this Thursday with Master Joao to resolve doubts about the possible presence of a spirit on their set. After what Lorraine Castell will reveal that he communicates with his deceased grandmother through the lights, in the space of laSexta there have been a series of "paranormal events" that have caused the restlessness of the entire team.
"You have to bear in mind that beings are energy. In places where there is a lot of electricity, such as a television set, it's a wonderful place for them to manifest", said Joao during his speech in 'Zapeando'.
According to the futurologist, Lorena Castell is "a very good channel for the entry and exit of spirits" by his date of birth: "It is a number 11." But in addition, he warned that they should not joke with the afterlife: "There have been something funny around and I think she may be a little pissed off. It is a being of light, but if you don't get it right, it will be able to do outrages on the set. I anticipate that you can have some tremendous days. "
After listening to the explanations of the former contestant of 'GH VIP', Dani Mateo addressed his partner and acknowledged that the audience of the program "is not being very good these days." "I want to make peace with your grandmother, I would not want grandmother to sink the program for us"the presenter joked.
"Do you remember the movie 'Poltergeist'? The materialization was a television screen, it is a fairly strong current. You have had a connection with it for a long time," said Joao while Lorena nodded: "Since he left, real ". "She's not very happy, be careful with the chairs and the microphones. I'm not saying there will be a tragedy, but some little thing can happen"advanced the teacher.