Madrid's lackluster victory over Zalgiris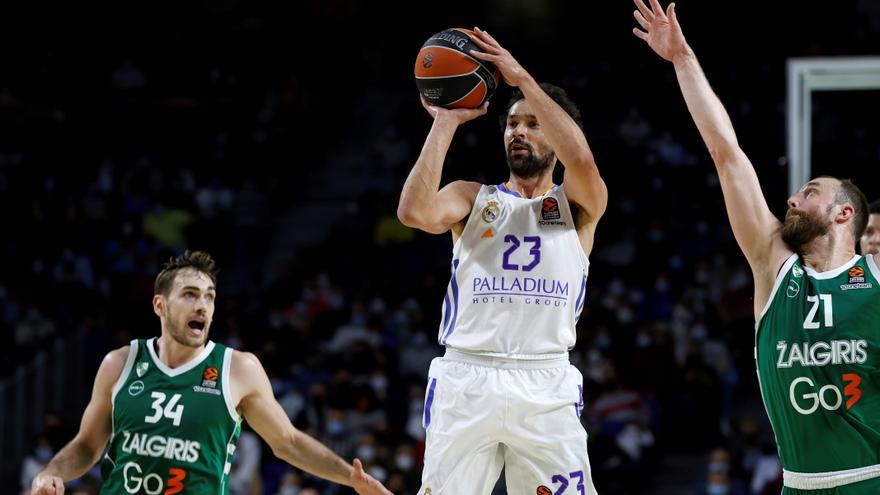 The Real Madrid beat95-82) to the Zalgiris Kaunas this Friday on the ninth day of the Euroleague with more suspense than the colista's visit to the WiZink Center pointed out, to keep your third position in the table just one win behind leader Milan.
Those of Pablo Laso entered with a promising 20-11, but Zalgiris returned to the game with a lot of triple and an excessive permissiveness of the home defense. Madrid tied up loose ends in the fourth quarter to have at least five final minutes of relative peace.
The white box put the 7-2, like Barcelona, ​​for the 0-9 of a Zalgiris who trusted for many minutes to be able to make his debut at the home of the ten-time European champion. Thomas Heurtel (12 points and 5 assists) and Yabusele (15 and 6 rebounds) returned to perform well coupled in their first season at Madrid.
In addition, Tavares and Porier dominated on the inside, but the local problem was defense, a sign of identity without which they endured ahead with few triples, by Llull and Rudy Fernández, but with choral success. At the end of the second quarter the Zalgiris was uncovered, entering the zone at will and endorsing 34 points.
The Lithuanians did not defend well either, but it gave them to be in the game. The triples rained in the local basket and Dragic and Webster, signings to re-float the Kaunas team, gave good performance. Cavanaugh, Giffey and Milaknis added those points from the outside that made Laso uneasy at various times.
In a third quarter monopolized by Heurtel, a 67-65 put the Palace on alert. Two good deeds by Yabusele gave Madrid some calm, but in a bad start to the last quarter the light hit again (75-73). Zalgiris left the triples for a few minutes and Madrid took advantage of the break.
Llull opened that gap (86-75) and the good offensive game brought by the whites closed the victory, with fright as it can not be otherwise in Europe despite being the bottom.
Data sheet:
95 – Real Madrid (20 + 31 + 24 + 20): Heurtel (12), Hanga (10), Taylor (-), Yabusele (15) and Tavares (10) -the starting five-, Causeur (4), Rudy Fernández (10), Vukcevic (7), Poirier (12), Abalde (2) and Llull (13).
82 – Zalgiris Kaunas (11 + 34 + 25 + 12): Lekavicius (12), Dragic (6), Strelnieks (7), Giffey (12) and Blazevic (10) -starting team-, Webster (8), Kalnietis (2), Milaknis (6), Lukosiunas (-), Ulanovas (5) and Cavanough (14).
Referees: Robert Lottermoser, Michele Rossi and Sergio Silva. Without eliminated
Incidents: Match of the ninth day of the first phase of the Euroleague played at the WiZink Center in Madrid before 6,798 spectators. AND