Madrid signs Tchouaméni for 100 million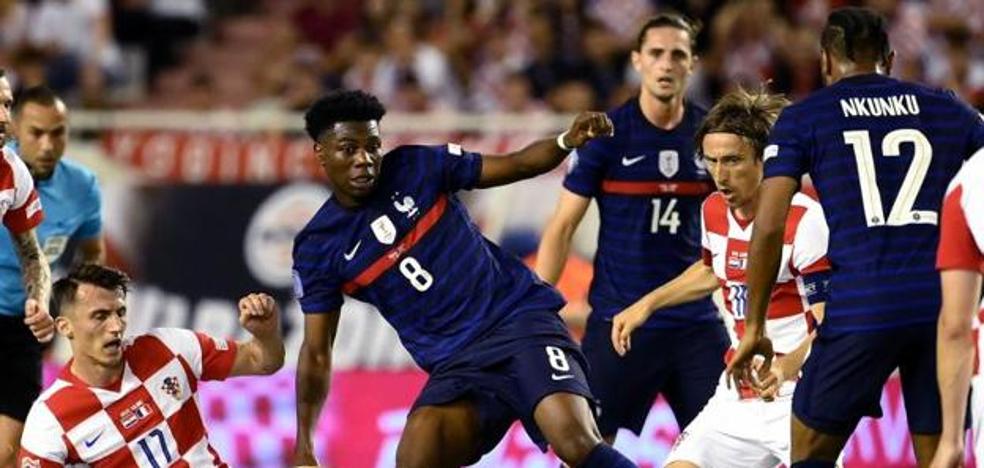 Market
The young French midfielder, who took over from Casemiro as a defensive midfielder, signs for the next six seasons
Real Madrid made the signing of French midfielder Aurélien Tchouaméni official this Saturday for the next six seasons. The white club will pay Monaco 100 million euros (80 fixed plus 20 in variables) for this international footballer and starter with his team at only 22 years old and called to be the substitute for Carlos Henrique Casemiro as defensive midfielder. Tchouaméni is the second signing of the European champion for the next quarter, after that of the German central defender Antonio Rüdiger, who comes to Real Madrid for free from Chelsea.
Intended for by Paris Saint-Germain and by Liverpool coach Jürgen Klopp, Tchouaméni has chosen Real Madrid, which reached a full agreement with Monaco on Tuesday, agreeing to the Monegasque club's claims, although in principle the entity that President Florentino Pérez did not want to pay more than 60 million for the player. Although Kylian Mbappé wanted him in the PSG dressing room, in the end he has outweighed the interest of Carlo Ancelotti and the influence of Karim Benzema. Tchouaméni will be the third most expensive signing in the history of Real Madrid, after Eden Hazard (115 million) and Gareth Bale (101).
As one of the most promising midfielders in European football, he has been signed to dose Casemiro and form part, in the medium term, of a new triplet in the white midfield, along with Fede Valverde (23 years old) and another footballer with a great deployment physical, like Eduardo Camavinga (19), whom the club hired last year once Mbappé was frustrated for the first time. The goal is to take over from the Modric-Casemiro-Kroos trio, the best midfield of the last decade.
"Our club signs one of the footballers with the greatest present and future in Europe. Undisputed at Monaco, last season he played 50 games (with his team and his national team) and scored five goals. Despite his youth, he has already received several awards in his country. The UNFP (Union of Professional Footballers) included him in the ideal eleven of the last two French leagues and he was named best youngster of the 2020-21 championship », the Real Madrid website highlighted this Saturday. Aurelien
Tchouaméni has been compared in his country to Paul Pogba, a footballer for whom Real Madrid was also very interested in the past when it was managed by Zinedine Zidane. He will be presented on Tuesday at the Ciudad Deportiva de Valdebebas after the relevant medical examination.