Madrid shows Antonio Saura's rage against Franco | Culture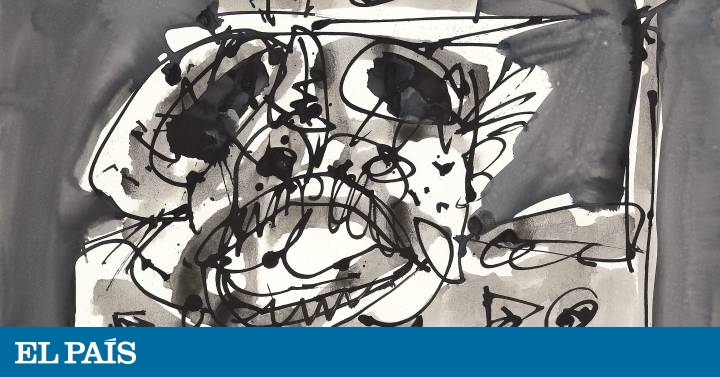 "My hand will be firm, my pulse will not tremble," General Francisco Franco promised, in a 1936 speech. And he fulfilled his funeral promise. Years later, when the dictator prepared the celebrations to celebrate more than two decades of democratic absence under the slogan "Twenty-five years of peace", the informalist painter Antonio Saura (1930-1998) also did not shake his pulse when mocking the coup military, although I did it in privacy and hoping to settle accounts when the regime disappeared. "With the certainty that everything that is not done at the right time will never be done again," the artist wrote with a firm pulse and furious gesture. For four years, between 1958 and 1962, he made 41 drawings on paper that denounced the calamities of war and laugh at the figure that repressed the Spaniards for four decades.
The drawings of this satirical series remained, as Saura himself pointed out, "for many hidden years for obvious reasons." Only some friends saw them and in 2005 five were shown in Toulouse (France). Now the Circle of Fine Arts and the Antonio Saura Archive Foundation —which unveiled the whole set for the first time in a book of 2017, with texts by the artist, Eduardo Arroyo and Bartolomé Bennassar – come together to break the secrecy that has kept this "rage" hidden, as Marina Saura, the painter's eldest daughter, points out. For the first time, the whole Lie and dream of FrancoIt is shown in its entirety, but "not in a large museum."
Three years ago, the Reina Sofía National Museum and the Bilbao Fine Arts Museum They were interested in these works, but they did not reach an agreement. "It is not me who has to ask why it was not done in Queen Sofia. Then Juan Barja called me [exdirector del Círculo de Bellas Artes] to show it here, in the Goya room, "says the daughter, president of the Foundation on behalf of his father based in Geneva (Switzerland). He also acknowledges that he would like to see more of Antonio Saura's work exhibited in the halls of the center, given that he made a donation of 81 works, a gift that turned Queen Sofia into the museum with the most legacy of the informalist painter.
Irreverent strokes
At the death of Saura, the artist's daughter found in her Paris workshop a drawer with these four dozen drawings, of which she had no news. He kept them perfectly cataloged and packed: "Saura was very proud of this work," he explains. "These drawings he made in privacy, because if he hadn't ended up in jail. Franco is the goal of my father's mockery, "explains Marina Saura, who underlines the importance of drawings that recreate graves. The heiress strongly affects that these are not frivolous cartoons and that if they have survived time it is because of their coherence with the rest of Saura's production. These irreverent strokes began to throw them a year after founding the group Step, with Rafael Canogar, Luis Feito, Manolo Millares, Manuel Rivera, Antonio Suárez, Juana Francés, Pablo Serrano and Manuel Conde.
Antonio Saura recognizes in this series an attitude parallel to his work, "in a somewhat marginal way." "Perhaps these drawings could not have emerged at another time and probably not in another place, but it is also true that the restrictedness of their dissemination made them inoperative. A comfort: ni The disasters of warGoya's ni Franco's dream and lie, from Picasso, they effectively helped the fall of despotism, "Saura wrote to console himself. In the tradition of satire, take out the whip and call a portrait of Franco Lord of the Flies, perhaps the most macabre he performs of the dictator.
The dissolved paint drips in the form of black drips on the paper, while the artist applies fast and direct strokes, between the gray and the white ones. Expressive, baroque and urgent political action scenes, with which the painter seems to be relieved, like spittle against Franco. And against the most complacent part of society, which he baptizes as "sleeping beauty" for his lying state. That Spain he draws is a shadow, a ghost guarded by soldiers so that he does not leave his silent state. Police, bishops, military, officials, landowners or gunmen, all Franco's firefighters suffer the punishment of Saura, which now becomes effective. They are monstrous, deformed and barbaric beings, protagonists of a nightmare: "Francoism was certainly a monstrous phenomenon that had to be fought. I did it to the best of my ability, almost always outside my painting, "Saura wrote.