Madrid recovers its most vindictive Pride march asking for more "visibility against hate"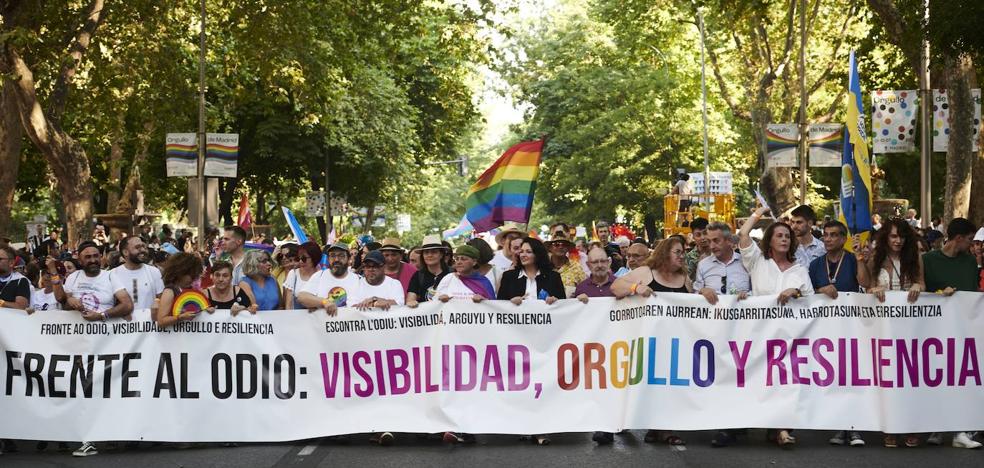 Tens of thousands of people participate in the protests this Saturday, where the popular parade of floats will succeed the most political demonstration
The Pride 2022 demonstration has started at 7:05 p.m. this Saturday, July 9, from the Paseo del Prado, at the height of the Plaza de Murillo.
Madrid celebrates this Saturday the main acts of Pride 2022 and it does so by recovering its most demanding march with a marked political character on the part of the participating organizations. Likewise, in the initial demonstration - which will be followed by the popular parade of floats - several ministers of the coalition government and leaders of PSOE, United We Can, More Madrid and Citizens could be seen.
Behind the header banner, with the slogan 'In the face of hate: Visibility, Pride and Resilience', march the presidents of the State Federation of Lesbians, Gays, Trans, Bisexuals, Intersexuals and more (FELGTBI +) and COGAM, LGTBI + collective of Madrid --organizers of the demonstration--, as well as the European Commissioner for Equality, and activists from the LGTBI collective.
This year, the main demands are the need to improve and approve the current Trans and LGTBI Bill and to promote the Social and State Pact against hate speech. After two years of pandemic, the parade has recovered the filmed format, with 40 floats, and is celebrated without health restrictions.
"Let no one be left behind"

The European Commissioner for Equality, Helena Dalli, has explained that they are here to "celebrate achievements" but also to "protest" with the aim that "no one is left behind in the EU".
For her part, the president of COGAM, Carmen García de Merlo, has said that "nobody, neither people nor institutions" are going to "put them in any closet" and that for this reason, they will continue to demonstrate as long as it is necessary to make themselves "visible".
In addition, the president of the FELGTBI +, Uge Sangil, has criticized the decision of the mayor of Madrid, José Luis Martínez Almeida, not to place the LGTBI flag in the town hall. She has warned him that "it will not be the City Council of all Madrid residents" until he makes public policies for the LGTBI collective, a notice that she has extended to the president of the Community of Madrid, Isabel Díaz Ayuso.
Sangil explained that today they take to the streets to "claim" and stand up "front" against those who want to "repudiate" and "eliminate" their rights "so that they do not govern and, where they govern, confront them."