Madrid receives Valladolid spurred by the return of Eden Hazard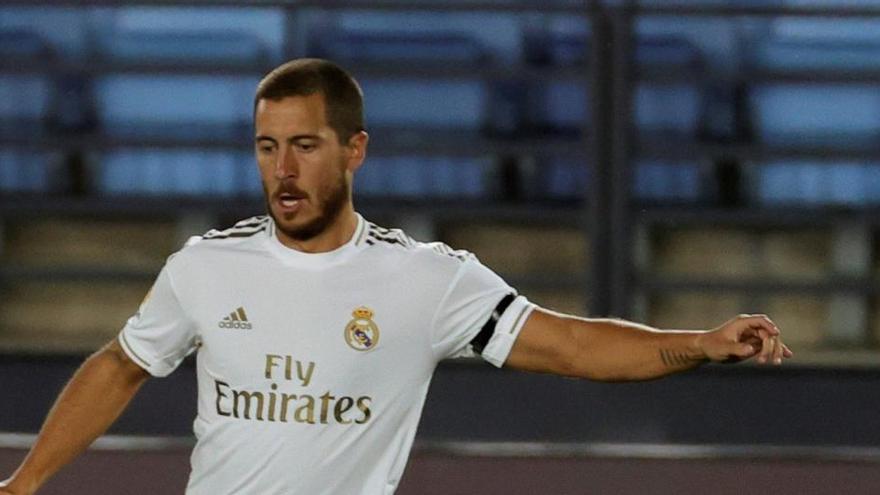 The great challenge of Eden Hazard, lead and succeed in the Real Madrid begins in the meeting of the fourth day of The league Santander, the third in play for the team of Zinedine Zidane, that recovers the Belgian star with a greater demand on his back once he has overcome andhe first year of adaptation and the ankle injuries that held him back.
Hazard's long-awaited return occurs in October. He needed to stop again after forcing to look for the comeback in the Champions League against Manchester City. The outcome was negative for Real Madrid, who were eliminated, and for the player who finished the course with severe pain in the operated ankle. The short vacations, but full of inactivity, caused a return out of weight and with poor physique. He had to go through a training path until his return could be produced one hundred percent. Zidane understands that that moment has come.
The real Madrid debuts at home in LaLiga Santander after his first win of the season visiting a Real Betis that arrived launched. Zidane's tactical tests surprised with a two-pronged system that he is unlikely to maintain against Real Valladolid. If Hazard is ready to play, his status suggests that he will start playing and he will return to the classic 1-4-3-3 of the Madrid coach.
The victim would be Martin Odegaard, dull after two starts, and the novelty would also be the return to the eleven of the Brazilian Vinicius. Zidane adds to the casualties of Militao and Mariano Díaz, that of Toni Kroos in the center of the field due to a muscular mishap. His absence will give continuity to Fede Valverde, who recovered his image full of authority and physique against Betis. He also returns to the call Marcelo, once some back problems have been overcome, and Marco Asensio after knee edema.
The objective of creating a fort in its stadium was born for a Real Madrid that in the conquest of the last League he never fell home and gave four draws. Only eleven goals conceded in 19 days are the ceiling to be overcome by Thibaut Courtois, who conceded two goals in Seville that disturbed his regularity in numbers but not in a regular performance.
Real Valladolid will go to Di Stéfano without fear or pressure to, at least, try to repeat the tie achieved last season with a goal from Sergi Guardiola, who will once again have a leading role against Real Madrid.
The team coach, Sergio Gonzalez, ponders a system change to return to 1-4-4-2, entering Weissman or Marcos André along with Guardiola, or keep 1-4-2-3-1. He warned, at the start of the League, that the first commitments were going to serve to "extend the preseason" and to continue conducting tests and finish recruiting players, since new additions continue to arrive, such as that of The Yamiq, who could live his first meeting with the Blanquivioleta team.
The player considered himself "ready" to play against Real Madrid, although it will be very difficult for him to find a hole in the center of Real Valladolid's rear, in which Bruno González and Javi Sánchez seem to be finding accommodation who, predictably, will start from again this wednesday.
With little time to recover from the last draw against Celta, in a match in which they felt they "deserved more", they face one of the greats with the aim of continuing to take steps in their growth process. Sergio thinks about his team, how to make the best use of the virtues of his players and how to correct mistakes in order to find surprise. He goes into the game with little to lose and much to gain, which is why he tends to play these duels with more courage.
Data sheet:
Real Madrid: Courtois; Carvajal, Varane, Sergio Ramos, Mendy; Casemiro, Fede Valverde, Modric; Hazard, Vinicius and Benzema.
Real Valladolid: Roberto Jiménez; Luis Pérez, Javi Sánchez, Bruno, Nacho Martínez or Raúl Carnero; San Emeterio, Kike Pérez; Óscar Plano, Orellana, Toni Villa; Guardiola.
Referee: César Soto Grado (Riojan school)
Stadium: Alfredo di Stéfano.