Madrid raises the pressure on Atlético and Barcelona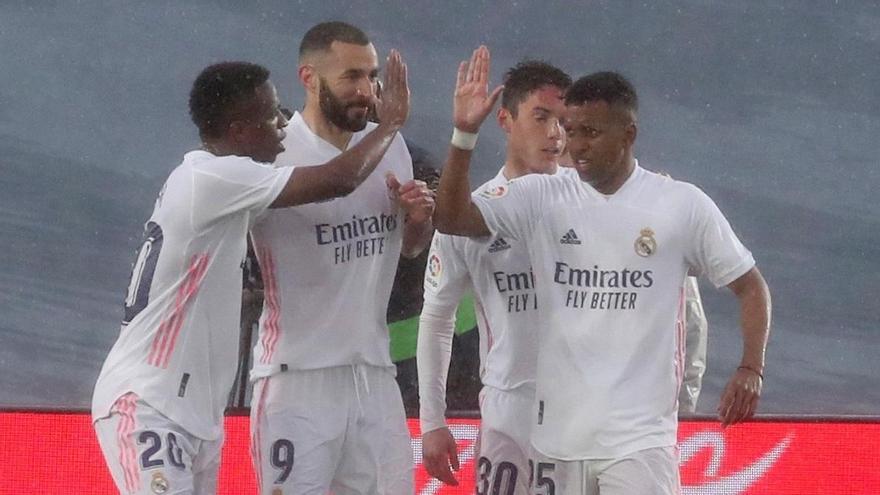 The Real Madrid solved this Saturday a type of commitment that tends to choke him this season, against a lower-ranking rival such as Eibar, with rotations, 'FIFA virus' and at home, and won 2-0 with goals from Marco Asensio (m.41) and Karim Benzema (m.72).
It was a placid match for Zinedine Zidane's team before playing a large part of the options to celebrate a title this season.
Zidane was in a hurry from the start. He did not take a minute to encourage his players to be involved in the game, aware that the sooner they got back on track the sooner they could think about the key duels that are coming to Real Madrid.
Liverpool, Barcelona and Liverpool again, the eight most important days of the season that the Whites have reached in a streak: 11 games without losing with nine wins and two draws.
Against Eibar, the French coach once again opted for the defense of three centrals, with Marcelo as the winger in a position that enhances all his virtues and eliminates doubts. The Brazilian, this Saturday captain of Real Madrid, was the most incisive on the left side that agglutinated the danger in the first half.
It helped that, as José Luis Mendilibar usually does, his team was daring, with pressure up, high lines and self-confidence.
Eibar began to suffer almost from the opening whistle and was about to conceal a goal in minute 3, when Benzema, after a transfer behind Pozo, was left alone before the goalkeeper of the Basque teamBut he was uninspired and missed a great scoring chance.
In minute 5, a cross from Marcelo headed Benzema to a goal, but the referee signaled offside of the French.
Eibar's absence of complexes was demonstrated by Arbilla in the 19th minute with a shot from his own field to try to overcome Thibaut Courtois. That play, together with a deflected shot from Pozo in minute 31, were the only dangerous approaches for a visiting team that received their first blow in minute 20.
Bryan Gil, a recent international with Spain, saw his fifth yellow and will be out for the following day in a momentous game for salvation against Levante. In addition, he could not leave after the break due to discomfort in his right thigh.
In the positional game of Real Madrid Marco Asensio appeared as an agitator and on the third attempt he received the award.
Free kick to the crossbar in the 21st minute, a great goal from the heel that was annulled for offside in the 36th and in the 41st minute he managed to score after a recovery from Casemiro. Asensio made a control oriented towards the goal that left him alone before Dmitrovic and defined with a perfect 'thread'.
Key goal before the break that gave peace to Zidane's men, but did not last long. The storm that fell on Di Stéfano at game time made Real Madrid lose their dominance. Eibar felt like home.
Courtois had to be used thoroughly in the 62nd minute with a loaned ball that picked up faster than expected due to the wind and the heavy rain that was pouring down on the capital of Spain. The Basque team sowed doubts in Real Madrid, but did not cause excess concern.
Casemiro could sentence with a shot from the front, but it was the third goal annulled to the white team.
The one who did not forgive was Benzema, who scored another key goal in one of the arts in which he has become an expert: the head shot. Vinicius signed a perfect cross from the left and the Frenchman rose higher than anyone to score his seventh goal in five games in the 72nd minute.
After doing his homework, Zidane continued with the rotations thinking about the first leg of the quarterfinals of the 'Champions' against Liverpool. A result that, if Alavés scores this Sunday against Celta de Vigo, it would leave Eibar as bottom.
2 – Real Madrid: Courtois; Militao, Nacho, Mendy; Lucas Vázquez, Casemiro, Modric (Kroos, m.60), Isco (Arribas, m.68), Marcelo (Vinicius, m.68); Asensio (Asensio, m.60) and Benzema (Mariano, m.79).
0 – Eibar: Dmitrovic, Pozo, Arbilla, Oliveira, Soares (José Ángel 'Cote', m.81); Pedro León (Kevin Rodrigues, m.76), Sergio Álvarez, Diop (Atienza, m.76), Aleix García (Enrich, m.61), Bryan Gil (Inui, m.46); Kike Garcia.
Goals: 1-0, min.41: Marco Asensio. 2-0, min.72: Karim Benzema.
Referee: Isidro Díaz de Mera. He admonished Bryan Gil (m.20) and Alejandro Pozo (m.93), from Eibar.
Incidents: LaLiga Santander Matchday 29 match played at the Alfredo di Stéfano stadium behind closed doors.