Madrid prevails against a gray Valencia and continues its pursuit of Atlético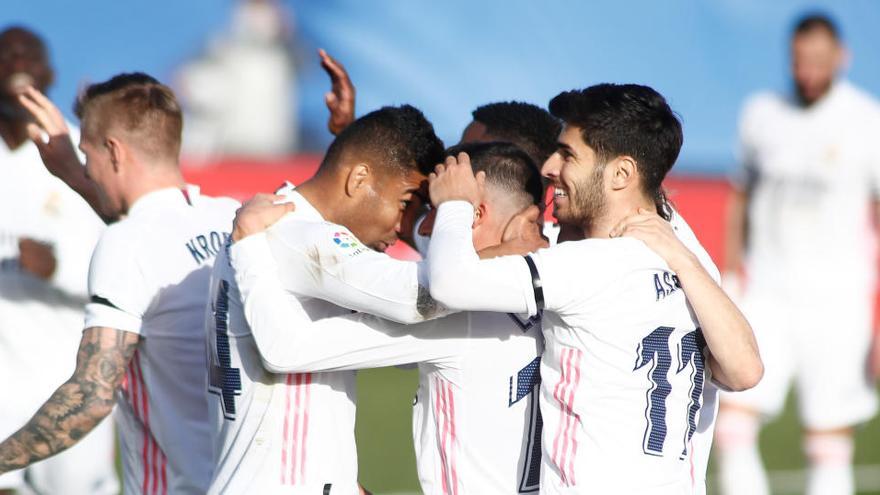 The Real Madrid finds authority in his football, driven by Karim Benzema, absolute benchmark of the offensive game against a Valencia responding the team of Zinedine Zidane to the triumph of Leader Atlético de Madridwith his third consecutive victory in a week that settles convictions.
After the storm always comes calm and the Real Madrid He even enjoys it at times. Valencia was sentenced to rest, with the same symptoms as Getafe four days ago. Fangless rivals, like anesthetized. It is no coincidence, some merit will have the team of Zinedine Zidane, which links a winning streak surviving an endless injury streak.
The first minute of the game was not fulfilled when the worst was feared. Among so much bad news, Benzema fell into the rival area due to an involuntary stomp by Thierry. Without looking, in his fall he took the heel of the French forward. The player on whom the Real Madrid goal depends. A loss for which he would not have solutions at his height. Zidane's face of suffering at the limp, which lasted minutes, spoke for itself.
Under an overwhelming dominance before a Valencia without solutions, with the authority that Toni Kroos radiates in command and spaces of freedom for Luka Modric's imagination to fly, Benzema's recovery unbalanced the match at twelve minutes. He was listed on the edge of the area, with the goal in his mind, without a rival to stand on him. His right hand to the far post with an impossible drawing for Jaume, who had made a strange gesture shortly before to take a centered shot from Casemiro with his foot to corner.
The effectiveness that Real Madrid missed for a good part of the season, the one he has missed since Cristiano Ronaldo left the team orphaned as a goal, Benzema is responsible for resuscitating it. In a state of grace. Install calm in a block that is recovering self-esteem despite continued punishment for injuries.
The return of Dani Carvajal brought light to a defense of circumstances, allowed Zidane to renounce the system of three centrals to return to his classic line of four. It lasted 25 minutes. The worst season of his career has no end with a new relapse. Again Lucas Vázquez as an emergency solution.
The emotional blow did not affect the dynamics of the party. The anger of Javi Gracia from the box where he suffered from the bad image of his team Due to his sanction, it was increasing due to the lack of defensive involvement of Guedes and Manu Vallejo. It would take a toll on them at halftime. Real Madrid played at pleasure, Modric looked for Benzema's spur in a great tactical resource and the Frenchman headed up a Lucas cross.
Everything went through Karim until Kroos appeared with one of those impeccable hits to the net, caressing the ball after an action by Lucas rushing to the bottom line and putting the pass back. It was a punishment before the break for the lack of Valencian tension. He tried to recover it at the restart, after the technician's anger in the booth and two changes with adjustments to a system that was wrecked.
At times the feeling of a friendly match disappeared. In seconds, a kick from Thierry to a missing Vinicius, the high pressure of Valencia. They were details that showed that he did not give up, but he lacked the goal to believe it. Courtois avoided it in a virtue so complex for a goalkeeper. Stuck in a meeting in which he is not demanded and forced to react when they come to him in danger. He flew to Maxi's shoe and took it out with a changed hand.
Real Madrid did not mind delaying their position a few meters, comfortable on the counterattack with the speed of Marco Asensio, who missed the definition. On the run he signed the third, with physical deployment by Mendy and a goal with the right, canceled from the VAR for illegal position. The game was leaden and Zidane pulled from the quarry with Arribas, a different player from Castilla and with a future. Again ahead of Isco. Benzema was looking for his double, heeled, and Jaume avoided it in two halves before responding firmly to Arribas' left-footed shot in the game's epilogue.
Data sheet:
2 – Real Madrid: Courtois; Carvajal (Lucas Vázquez, m.28), Nacho, Varane, Mendy; Casemiro, Modric (Isco, m.79), Kroos; Marco Asensio (Arribas, m.71), Vinicius and Benzema (Mariano, m.79).
0 – Valencia: Jaume; Thierry, Gabriel Paulista, Ferro, Gayà; Wass, Racic, Carlos Soler, Guedes (Gameiro, m.46); Manu Vallejo (Musah, m.46) and Maxi Gómez (Cutrone, m.83).
Goals: 1-0, m.12: Benzema. 2-0, m.42: Kroos.
Referee: Sánchez Martínez (Murcian school). He admonished Guedes (27), Racic (44) and Thierry (46) for Valencia.
Incidents: meeting corresponding to the twenty-third day of The league Santander played at the Alfredo Di Stéfano stadium behind closed doors. A minute's silence was observed in memory of Pachín, a former Madrid player, who recently passed away.