Madrid is imposed by the minimum to a great Baxi Manresa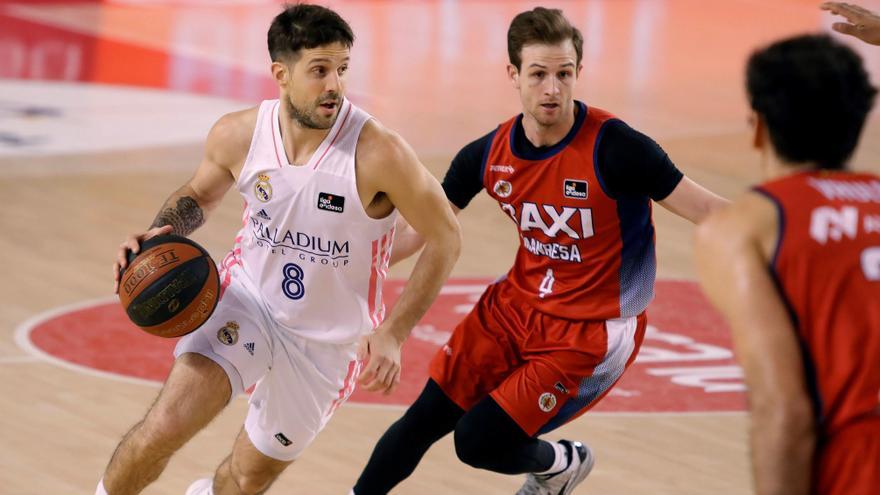 The Real Madrid won this Saturday at the Nou Congost by 76-77 against a competitive Baxi Manresa that celebrated 1,500 matches in the Endesa League.
The men from Manresa surprised the leader and brought the match to an even final in which Matt Janning had the triple of victory. Finally, those of Pablo Laso achieved the victory thanks, to a large extent, to the last quarter.
Real Madrid came out much more aggressive in defense and quickly took command of the game. The locals presented themselves to the encounter with many casualties in the base position and it was noticed in the first attacks (6-12 min 8).
A first quarter with low figures and a lot of mistakes in the field goals by the two teams.
The dynamics were maintained in the second quarter and Manresa took a slice of the white mistake, especially from the triple (23-19 min 15).
At Real Madrid the lights went out in attack and, on the other hand, the Manresa were scoring more and more fluently. The visitors, hand in hand with Causeur, improved in the final minutes to regain the lead at halftime.
The visitors changed the match sign in the third quarter. The Madrilenians improved in attack, but especially in defense drying up the attack of the locals.
The team scored only three points in five minutes (37-48 min 25 min). A Manresa that, beyond Scott Eatherton, missed more players in attack in the first bars of the fourth, but then Ferrari appeared to keep the team in the game before the final assault.
The Pablo Laso's team accused the wear and tear of the last games and Manresa took advantage of this situation by increasing the rhythm of their attacks to tighten the result (62-64 min 37).
In the last minutes, Deck assumed gallons in attack and led his team against a very successful Manresa from the triple. Two free throws scored by Laprovittola, with seven seconds remaining, gave Madrid a two-point lead. Janning missed the victory triple and Garuba sentenced from the free throw.
Data sheet:
76. Baxi Manresa (13 + 19 + 16 + 28): Mason (10), Janning (4), Vaulet (3), Seth Hinrichs (8), Eatherton (17) -starting five- Ferrari (12), Dani García (9), Rafa Martínez (2), Eulis Báez (5 ), Sajus (4) and Sima (2).
77. Real Madrid (17 + 18 + 19 + 23): Alocen (8), Carroll (5), Deck (17), Tyus (6), Tavares (10) -starting five- Laprovittola (7), Abalde (-), Jeff Taylor (1), Thompkins (-) Vukcevic ( 5), Garuba (9) and Causeur (9).
Referees: Juan Carlos García, Javier Torres and Carlos Merino. Without eliminated
Incidents: match corresponding to matchday 28 of the Endesa League played in the Nou Congost pavilion behind closed doors.