Madrid freezes against Osasuna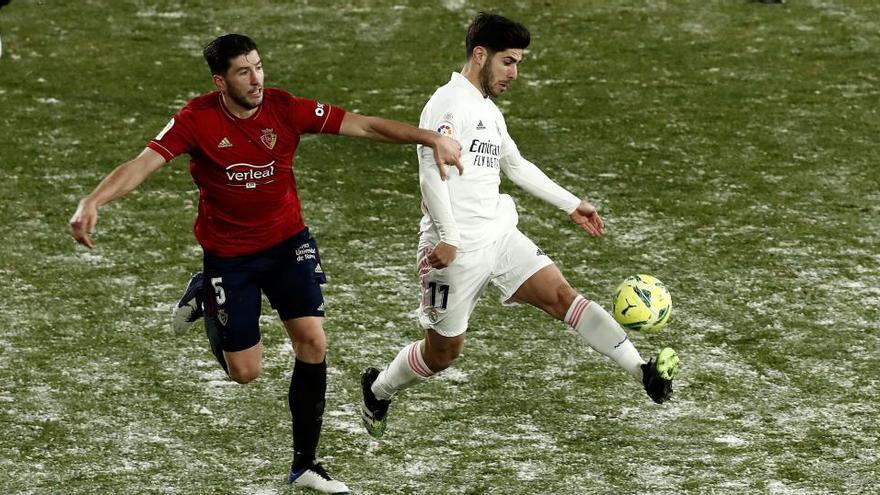 He Osasuna Athletic Club signed his fourth consecutive draw (0-0) at the cost of a Real Madrid who could not show his best version in the cold of Pamplona, ​​in a match marked by few scoring chances and the snow that did not stop falling on the lawn of El Sadar.
Osasuna workers were the architects that the meeting between Navarre and Madrid began at the scheduled time thanks to the great work done removing snow throughout the day.
Between white and green areas, Zidane's players took possession of the ball from the start moving the ball from side to side without clearly reaching the goal defended by Sergio Herrera.
Osasuna stretched until he had the first chance in minute 30.
Rubén García put a precise center from the corner so that Oier finished between the three sticks. Courtois took the ball off him with feline reflexes avoiding 1-0.
Those from Arrasate tried to retreat quickly every time their opponent had the ball in their possession. Benzema failed to connect with a Hazard, who returned to the starting eleven after several days without being able to do so. The Belgian did not have the presence in the match that a footballer of his level should show.
The cold, the fatigue and the state of the grass did not allow to see a good first part, in which Osasuna also made merits to hinder the white game.
The meringues jumped into the second half moving the ball much faster with the idea of ​​surprising their rival. Asensio 'prodded' the ball in an exquisite way before launching on goal without finding the final prize. It was the first shot between the three clubs of Real Madrid at 48 minutes.
Roberto Torres missed a good chance that could mean the first goal. The shot with the left leg could not find the door.
The visitors brought Isco and Mariano onto the pitch to gain presence in the midfield and verticality in attack. Real Madrid could not with his opponent and Osasuna went up. The spaces appeared and those of Pamplona sought surprise.
Finally, Osasuna added a new point before a Real Madrid that did not know how to meet in the 90 minutes that a match marked by cold and snow lasted.
0 – Osasuna: Sergio Herrera; Nacho Vidal, Aridane, David García, Juan Cruz; Roberto Torres, Moncayola, Oier, Íñigo Pérez; Calleri (Budimir, m. 77), Rubén García (Jony, m. 77).
0 – Real Madrid: Courtois; Lucas, Varane, Ramos, Mendy; Modric (Isco, m. 75), Casemiro, Kroos; Asensio (Valverde, m. 66), Benzema, Hazard (Mariano, m. 75).
Referee: César Soto Grado (Riojan Committee). He did not show cards.
Incidents: Match corresponding to the eighteenth round of LaLiga Santander played at the El Sadar stadium behind closed doors.