Madrid beats Fenerbahçe and secures home court factor in the quarterfinals (90-75)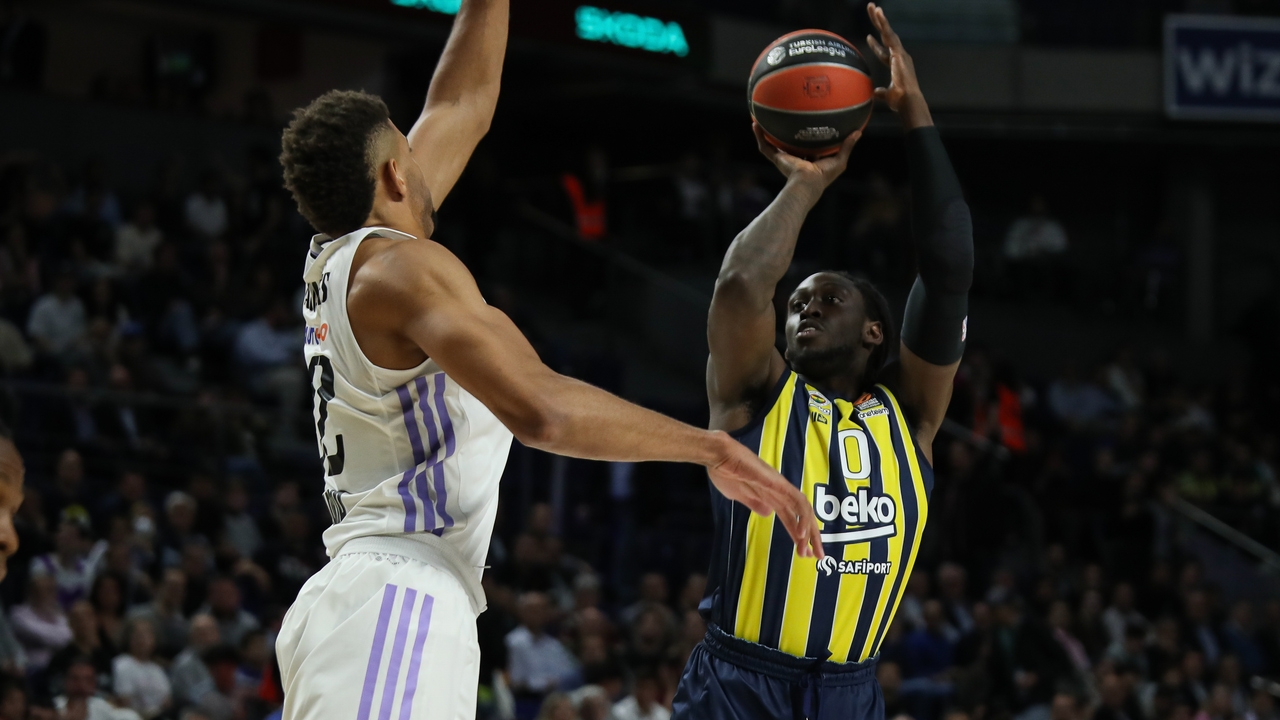 Real Madrid has already guaranteed the home court factor in the quarterfinals after beating Fenerbahçe with authorityone of those who could be his rival in the qualifying round prior to the Final Four. Chus Mateo's team responded to the different scenarios offered by the match against the Turks. He was comfortable in the exchange of blows and when the duel entrenched he was also superior. He was able to command from the outside shot and from defense. Muse (16 points), rudy (9 points, 4 rebounds and 4 assists), hanga (11 points) and Poirier (11 points and 4 rebounds) excelled in a remarkable group game.
Five minutes had not passed and Tavares was going to the bench swearing. The reason? He had been whistled for two fouls in attack that condemned him to the bench for the rest of the first two quarters. Without him, Madrid was forced to resort to the outside shot. The obligation could not be more profitable. In the middle of the game, Chus Mateo's team offered a scandalous 8/11 in shots from three. The six players who had tried from afar had been able to score. With special success for Cornelie and his three goals in as many attempts. That facility to score was also due to the fact that Madrid had been able to move the ball judiciously (14 assists).
The fluidity in attack was not complemented by the work behind. The absence of Tavares is impossible not to be noticed and Fenerbahçe took advantage of that. The only thing is that he did not do it with the, a priori, best arguments in attack. Between Calathes and Hayes-Davis they scored almost half of the Turkish points. The two ex-azulgranas supported the Turks when Madrid threatened to escape. It was in the second quarter and at the beginning of the third. Itoudis had asked for more defense after conceding 49 points, but his players did not obey him. Madrid returned from the locker room and continued to score easily to reopen the gap (56-44). The merit of Chus Mateo's team was being able to adapt to Fenerbahçe's proposals. If the defense of the Turks intensified, that of Madrid did so even more. Far from the initial joy, Madrid was able to feel comfortable. He left the Ottomans at 14 points in the third quarter and faced the decisive stretch leading (68-58).
The last partial was even placid. When the Turks cheered up a bit, a three pointer from Rudy put an end to the threatened reaction.
And now that? Olympiacos, Real Madrid and Barcelona are going to play for first place in the remaining three days. The Greeks have two games pending against teams that do not play anything (Panathinaikos and Red Star) and the visit of Baskonia. Madrid plays against Partizan in Belgrade on Friday, hosts Bayern and ends up in Tel Aviv. Barça faces three teams with no real options (ALBA Berlin, Milan and Valencia). The "problem" of the lead is if Anadolu Efes ends up getting smart and finishes eighth. The Turks are one victory away from Baskonia and Zalgiris and everything indicates that the three of them are going to play for eighth place.
90. Real Madrid (24+25+19+22): Hanga (11), Musa (16), Deck (6), Yabusele (9) and Tavares (4) -starting five- Poirier (11), Rodríguez (5), Hezonja (10), Rudy (9) and Cornelie ( 9).
75. Fenerbahce (21+23+14+17): Calathes (12), Guduric (10), Hayes-Davis (17), Motley (6) and Booker (9) -starting five- Jekiri (6), Edwards (2), Dorsey (6), Bjelica (0) , Tarik (7) and Antetokounmpo (0).
Referees: Radovic (Cro), Vilius () and Nedovic (Esl). No deleted. Technique to Rudy.
Incidents: 9,000 spectators at the WiZink Center. Match corresponding to the thirty-first day of the Euroleague.
31st day: Maccabi Tel Aviv, 111-Virtus Bologna, 80; Anadolu Efes, 89-Armani Milan, 69; Panathinaikos, 86-Bayern Munich, 76; Partizan, 80-Barcelona, ​​89; Cazoo Baskonia, 93-ALBA Berlin, 87; Zalgiris Kaunas, 79-Monaco, 70; Red Star, 92-Valencia Basket, 73; Olympiacos, 81-ASVEL Villeurbanne, 55 and Real Madrid, 90-Fenerbahçe, 75.
Ranking (wins/losses): 1. Olympiacos (22/9); 2. Real Madrid (22/9); 3. Barcelona (21/10); 4. Monaco (11/20); 5. Fenerbahce (18/13); 6. Maccabi Tel Aviv (18/13); 7. Partizan (17/14); 8. Cazoo Baskonia (16/15); 9. Zalgiris Kaunas (16/15); 10. Anadolu Efes (15/16); 11. Valencia Basket (14/17); 12. Armani Milan (14/17); 13. Red Star (14/17); 14. Virtus Bologna (13/18); 15. Panathinaikos (11/20); 16. Bayern Munich (11/20); 17. ALBA Berlin (9/22); 18. ASVEL Villeurbanne (8/23).