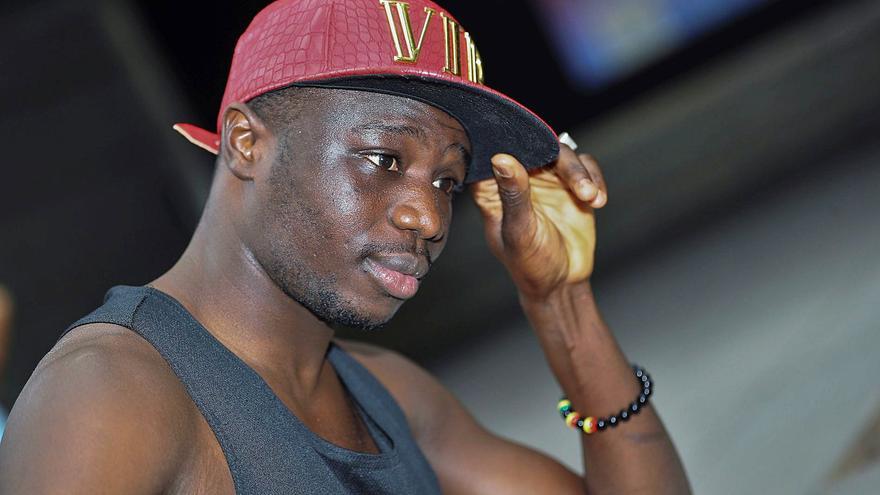 Madala could not qualify for Tokyo 2021 in the Senegal boxing pre-Olympic, held in February of last year, because she dislocated her shoulder "from minute one of the fight," but she had to endure to finish it, about twelve minutes, with only one arm. He could not qualify in that competition by only two points.
Although it is still not clear in which gym he will train from March, the young man from Mali remembers that it was the Gran Canaria Cristian Sicario Pérez who took him to the pre-Olympic event in Dakar last year and, therefore, is a person for whom He "has no words" other than gratitude and much respect.
The preparation of this young Malian fighter for the pre-Olympic in Paris, to be held in July, will begin in February. The pandemic restrictions do not allow him to enjoy proper boxing workouts, with contact, right now, but he will try to catch up with weights and swimming.
Madala has explained to Efe that the one who motivated him to start practicing boxing was one of his friends with whom he had lived in a center after his arrival in Gran Canaria in a boat.
"I arrived when I was fifteen, I lived in a juvenile center and left when I was eighteen," he says. After leaving the center, the young man was welcomed by the Spanish Commission for Refugee Aid (CEAR), which made his story known this week on its Radio Refugio program.
In a CEAR center he spent about a year but did not have the papers that would allow him to work "neither in the Canary Islands nor anywhere", so he had to look for a one-year work contract to be able to change those roles.
"I didn't get it here, I went to the Peninsula with my uncle and he helped me change them," said the young boxer, and later added that, once he changed the roles to be able to work, he did not feel very comfortable and told his guy who was going to "go home" to Gran Canaria.
When he was back on the island, he began training with his friend who motivated him to start, but then he changed gym to prepare with Sicario, with whom he made his debut and then traveled to Africa to compete.
At 24, he combines boxing with his job in a pizzeria
Winning a medal at the Olympic Games is "his dream", he says, to point out that he had another dream higher on his list of priorities, that of participating representing his country and that he has already been able to fulfill.
Triumphant return to his country
After representing his native country in the Dakar pre-Olympic in February 2020, where he could not qualify, he traveled to Mali to visit his mother. There he was received by many people, they even gave him a microphone so that he could address everyone and a policeman accompanied him and protected him during the six months he spent there last year. "All this is a source of pride for me and my family," he acknowledges with emotion, remembering that when he left his country he did so at night and hidden from his family. Only his mother knew of his travel itinerary at the time.
Now his plan is to become a professional boxer, because at the moment he is an amateur, and then he can go on to Las Vegas and participate in the mixed martial arts (MMA) championship. However, Madala has longer-term plans and, when her career as an athlete is over, she would like to return to her country and start a business. "I want to create jobs so that people can work and thus help," he told Efe to recall that, for the moment, he has to follow his second dream, qualify for the next Tokyo Olympics.
Madala now combines the preparation for the pre-Olympic in Paris with her work in a pizzeria in Las Palmas de Gran Canaria. He hopes that from March or April the contact can return to training.
"I want to get to a level that I haven't reached yet and until I get there, I can't rest. My eyes are only focused on that, in the future ", he concludes.