Macron visits Notre Dame three years after the fire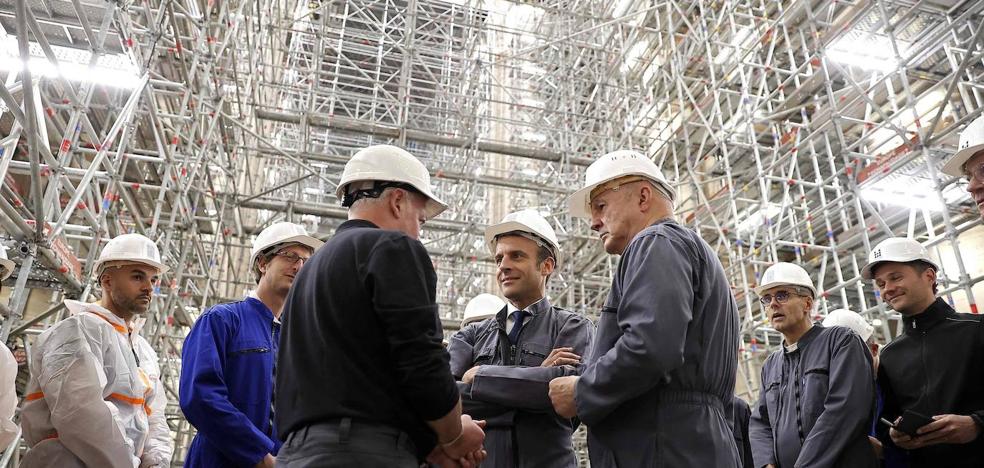 The French president tours the restoration works of the Parisian cathedral
The President of France, Emmanuel Macron, visited the Notre Dame Cathedral in Paris on Friday, where he learned about the evolution of the repair work on the building, partially destroyed by a fire three years ago.
Macron, dressed in work overalls and a white protective helmet, toured the interior of the temple, full of scaffolding, and spoke with those in charge of the repair work, according to images broadcast by the French television channel BFM TV.
The cathedral, more than 800 years old and a symbol of French Gothic architecture, suffered serious damage as a result of a fire declared in the building and which quickly spread due to the scaffolding provided for the repair work that was being carried out. out at that time.
That afternoon of April 15, 2019 left shocking images of the flames devouring part of the roof of the temple and the fall of the needle, built in 1859 to replace a previous one, built in the middle of the 12th century.
Days after the fire, President Macron announced his commitment to rebuild Notre Dame within five years, by April 2024, although it is true that this forecast is likely not to be fulfilled due to the interruption of repair work due to of the coronavirus lockdown. "If the restoration of Notre Dame matters to all of us, it is because it is a symbol of the resilience of our people, of its ability to overcome difficulties," Macron stressed on the first anniversary of the fire.