M-Clan: "We must not lose the ability to recognize the importance of culture, to communicate"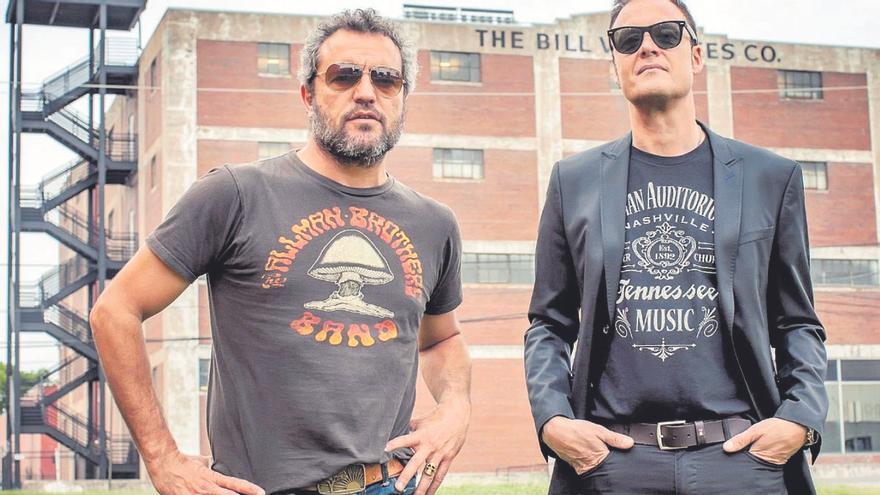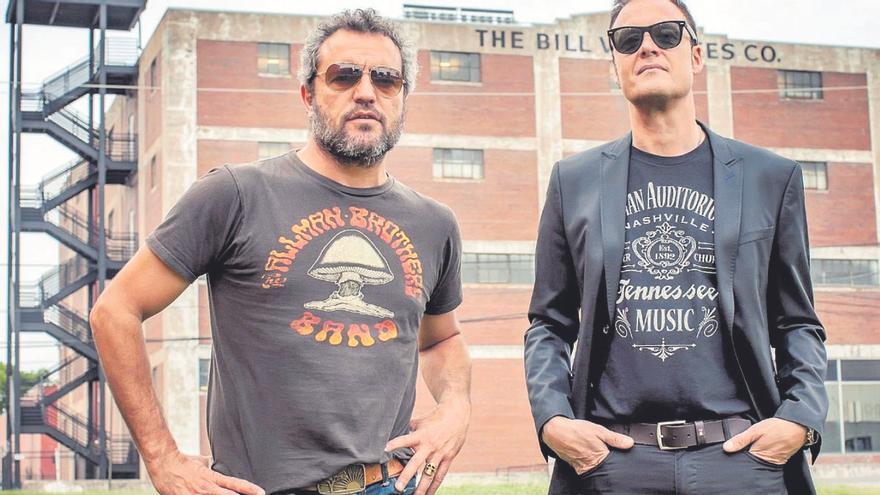 No one doubts that M-Clan is one of the great bands of the spanish rock of all times. In their long career they have gone through different stages and situations, although they have always maintained their unmistakable stamp and their uncompromising attitude, which makes them as honest as they are politically incorrect. Isn't that what is written in the rocker's manual? After having starred in the 'Viva la vida' tour during the pandemic, the Murcian band has reunited, almost splicing one tour with another, to get back on stage. They appear without the company of their usual accompaniment –We are Carlos Tarque and Ricardo Ruipérez–, with a selection of songs from his extensive repertoire in acoustic format, and without record novelties (although the charismatic vocalist is already preparing his second album). A special occasion, and an exceptional situation, to hear his classics reinterpreted from the heart.
Hi Carlos. Enjoying this brand new summer?
Yes. Playing and doing concerts (luckily) throughout the Spanish geography. We are going to visit the Region many times during these months, with which well, I'm happy.
Last year, you and Ricardo starred alone in the Viva la vida acoustic tour through venues with reduced capacity, to meet sanitary requirements, with a repertoire based on great successes. How was the experience?
It was very satisfactory, especially considering how things were last year … Finally, very few of us were lucky enough to be able to work, but it is true that they offered us that tour at a cost that only allowed us to go in those conditions. [solos él y Ruipérez]. And what we are doing this year is a little continuation; there really isn't much of a difference. We are doing our usual songs, but in acoustic format, a format that we have already worked on a lot before. And it works very well.
The good thing is that this time the conditions are a little better; no longer economically, which also (some sites have been able to reopen), but in matters of capacity, restrictions, etc. I think things are starting to open up very slowly, and hopefully we'll get back to normal. And as for what corresponds to the purely artistic section, very well too, because you have to be clear about one thing: we play the songs that people want to hear and that have put us in this place. It's a very honest concept, because if I'm going to see a group that I love, I want them to play the songs that I know; I don't want oddities. That's a bit of the philosophy of the tour, with a setlist made from the audience's perspective.
What name have you given to the tour?
It does not have a special name. If it is that, except for the years that we have stopped for our side projects –because we really had to take a break–, we have always been on tour. How many concerts could M-Clan have done in its history? 2,000? Maybe it's a lot, but 1,700 … It is said very soon … And we are super happy because we continue to make 'sold outs', even selling tickets as bands that are in the front row right now. That is the thermometer to think about what moment you are in. That and seeing that we are passing generations, conserving an audience of older people who are over 60 years old and attracting 18 or 20 year old kids. That is incredible. It makes you think that your music is transcending time.
Rock is still alive.
I think there is a need on the part of society and everyone to communicate again, to feel for example live music, which is one of the best things in life. And the issue of the pandemic has made people value it more: what it was like to go to a concert. Now we see people in the audience who get excited and cry live, and not because they are watching M-Clan, but because they are feeling again something that they could not feel, which had been prohibited by requirements of the script. That's cool, feeling that people recognize the importance of culture, art, live music, expression, communicating, being able to feel again … All of this is something that we should not lose.
Precisely at this time, many think that music has gone to a second or third place within the interests of the people, but now that there are still no festivals, the concerts are attracting a lot of public. Both in the media, and at the level of record sales, it is said that music is losing ground, but live concerts, as you are experiencing them, are enjoying maximum splendor.
First, we already know that the media in general lies.
You already said it in a song.
They lie and say what they want. It occurs to me to say something, I say it in the middle, and it seems to be the word of God. We all know that the media respond to the interests of their clients, in general, and the public media as well. Music is obviously not a basic necessity, but we are beings –and more Mediterranean people– who need to communicate, and music, culture, is part of that. You cannot live locked up in your house without communicating with others. And let one thing be clear: when we talk about 'culture' it seems that we are talking about shows, events, and it is not about that; It is a food for the human being that will make people remember who we have been in 200 years, what this great country was with which everyone's mouth is now full. Spain is remembered for its painters, for its musicians …, for its culture.
Are you vaccinated yet, by the way?
First dose. We are not essential workers, but we have to be traveling, sharing with other people and … But, well, it has worked well and in two weeks I will be out of danger. Well, not out of danger at all, because with the vaccine you can continue to spread and you have to continue taking precautions, but a little more relaxed with this issue.
Don't you miss going out with a band and a super montage? Many other bands are already doing it … I'm thinking, for example, of Los Zigarros, who came to Murcia a few days ago.
Yeah right. But it also depends on the idiosyncrasy and how each band works. We are a group that has its musicians contracted, and right now we are not able to pay them, directly. There are other bands that have other types of agreements, that go to pachas, or that have said: «We are going to do it for better and for worse», but I cannot say to a musician: «You are not going to charge because there is no money, because he will tell me: "I'm not going." But hey, I think that by the end of the year there will begin to be festivals that begin to pay caches a little more similar to what there was before (now we are talking about much less, of the fourth or fifth part), and then we can think about it.
If anything, it seems that you two feel comfortable. How are you looking forward to this tour, having spliced ​​one with the other?
I'm looking forward to it, because four friends are in the 'van': a road manager, a technician (Antonio Casinello, who is from Murcia and sends you greetings), Ricardo and me. It is a comfortable tour, there is not too much paraphernalia; everything is done very quickly, and the concerts are, to see, 'brilliant' in the sense that everything works like clockwork. But playing with a band is missed. The day I hear a drums and an electric guitar behind me … I need it.
Have you modified the tour in anything, is the repertoire different? How are you living the concerts of this, let's say, new normal?
The repertoire is very similar, if not the same, that we did last year in Murcia. I play the flamenco cajon (replacing the rhythmic part), the harmonica, the tambourine, I play the guitar a little bit …, but Ricardo supports the whole show.
There are some songs before the pandemic that, seen from the perspective of the present (it is happening with other artists as well), seem to be premonitory. It could be the case of Fear.
They are metaphorical songs, very interpretable. The streets are burning, when things happened for example in Catalonia … There are a lot of songs that are current. Scary, at the peak of the pandemic, we made a video with the health workers because we continue to want to thank these people for the extreme work they are doing: we take it for granted, and it is a sector that has had all the weight on it. Very hard.
Those of us who already saw M-Clan in Las Noches del Malecón, what reasons do we have this time?
Well, I shit on God! You have to go see us. We are M-Clan, we are from Murcia, and you are going to have a great time. Songs that are already part of our history, have a good time with some friends, have four beers by the river … and enjoy.
Not a bad plan. Now you can almost make plans, but what projects have you been left in the drawer with this coronavirus?
Our album Sin Plug 2 remained in the drawer, which was an idea to celebrate the birthday of Sin Plug (2001), but I think it would be out of time … We almost waited for our 30th birthday as a band , which will not be long (three years). For now we are going to finish these concerts that take us until January. And I'm preparing a solo album, by Tarque, which I suppose will be out next year. Very powerful rock, notice.
You had already advanced it with Carlos Raya.
Yes, I have things. And with M-Clan there are things for the future, huh? But without rush.
Are there new M-Clan songs too?
No, but we have participated in several tributes. We have, for example, a version of Barricada in homage to Boni; A song that we recorded in Murcia, by the way, at Arde El Arte, a studio that is fucking great, by Raúl de Lara. And more things. I am always doing collaborations. However, for later there will be things for M-Clan, but in a while.
You are in a thousand and one initiatives, and some have to do with your concern for the environment. This same week an initiative in defense of the Mar Menor, Sol y sal, in which you have participated is presented.
Yes, but who can not be in favor of doing things for the environment? It is an initiative of Nunatak, and they involved us along with a lot of artists: Shinova, Miguel Ríos, Rozalén, Sean de Second … We sing a song claiming that brutal space that we have in Murcia and that we have destroyed. Thats the reality. If that is not going to matter to us and the economic interests are going to be above, in a few years it will be a green pool to which no one will go. In addition, they have made a very nice video clip with images of memories that we all have from when you went to the Mar Menor and caught cockles with a bucket.
Have you also spent the summer in the Mar Menor?
Yeah right. When I came to live in Murcia, in '77 I was 7 years old. I came from Galicia, from Chile previously, from my parents' journeys. We went to the Mar Menor, to San Pedro del Pinatar, and I remember many years of going as a child to spend the summer in Lo Pagán, and it was incredible. It was curious because I came from an ocean, from knowing the sea in a different way, and it was like a peculiar lake, and that is what you have to conserve.
And the white spa of Floridablanca, which I imagine you will remember, is no longer there either.
I have memories. It is true that I have not been to the Mar Menor for a long time; I've been to Los Alcázares sometime to play, but to Lo Pagán… I haven't done that tour that we did as children to Santiago de la Ribera for a long time. I remember going to many child concerts at the Claima nightclub, which did heavy metal concerts; that was in San Javier, but hey, all that area. There we had many experiences, and that must be vindicated.
What will Tarque's solo album be like? You already commented that it has classic, rock roots.
It is continuation. We are not going to do something so different from Tarque's first album, which is the classic rock of a lifetime (Deep Purple, Black Sabbath, Led Zeppelin …), but we do want to give it a twist, make it a little more modernized. in terms of sound, looking at bands like Rival Sons, Queens of the Stone Age, Jack White, the Black Keys … We are in those, eagerly too.
Do you already have a title for that new album?
No, but there are quite a few ideas, and it promises to be powerful.