Lychees: «If La Cabra Mecánica continued after this tour we would become pillars of salt»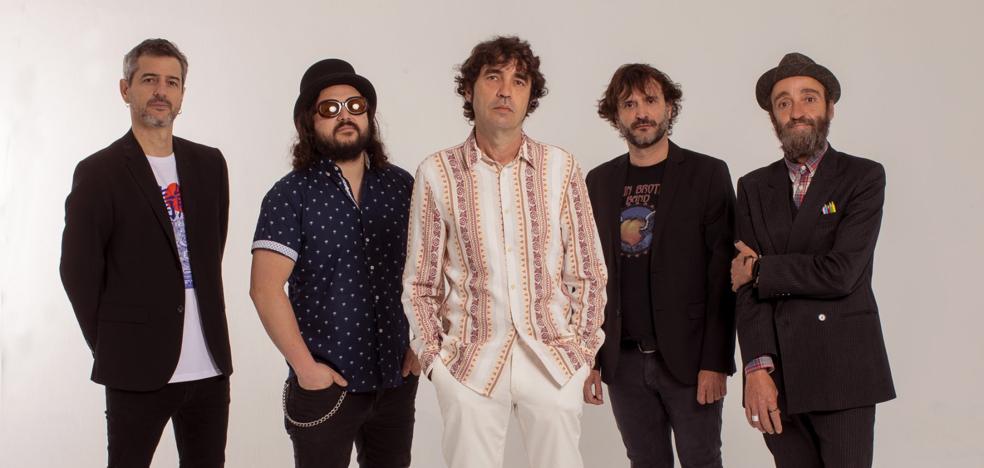 The band has returned just to celebrate the 25th anniversary of their first album and stops at the LPA Beer & Music Festival in the capital of Gran Canaria
May they be fulfilled
25 years since the publication of 'When my guts sound', the first album of the group La Cabra Mecánica, has been the perfect excuse for the members of this formation led by Lichis to have decided to settle a pending account.
«
This reunion has not meant looking back. If I did, I wouldn't be able to move forward. None of us counted on it. The excuse of the 25th anniversary of the first album came up and we saw that we couldn't wait another 25 years because surely we wouldn't be around to play. When The Mechanical Goat said goodbye, many years ago, what
for us it was an end point, for the rest it was an ellipsis. There wasn't a concert in which I was like Lichis and in which people didn't expect it to be like the white label of La Cabra Mecánica. Now, the goodbye is clearer for the others and we are all left with a very good taste in our mouths", assures the singer, composer and producer
Miguel Angel Hernando Trillo, aka Lichis.
This reunion is temporary, he clarifies bluntly. "Knowing it helps us to carry it in a healthy way. If we continued, we would become pillars of salt. When people look for this 'revival' they don't want to listen to a new album by La Cabra Mecánica.
They want to hear the songs they heard at a very particular moment in their lives», explains the singer of a band that is part of the
LPA Beer & Music Festival, which will take place between September 16 and 18 in the Parque Litoral del Rincón, in Las Palmas de Gran Canaria.
the repertoire

On this tour, songs like 'La Lista de la Compra', 'Felicidad' or 'La pot' will play again, along with others from the five albums by La Cabra Mecánica. Lichis acknowledges that the reunion to prepare this tour with occasional stops throughout the national geography was marked by "the freshness" that was generated from the outset. «We realized that the repertoire is easier to understand now than in his time. The moments of success of the group were counted and with very specific themes.
What we did of rapping half singing and the contents of the lyrics you see now in other groups and later styles. We see points of connection with the music that is now part of the forefront in terms of acceptance by the public. We're also reinventing ourselves a bit. I don't sing now the same as before. My voice has been evolving and I have other registers and other things.
We prevent it from looking like a goop, we respect the essence of what it was and we have given it a small layer of varnish... she is an old lady with beautiful dresses", points out who will star in the
concert on Saturday, September 17, starting at 5:00 p.m.
He recognizes that this band had and has a complex fit. «The Goat... was a rare bird within what was called miscegenation. They put us in that label, but we had little or nothing to do with the groups that were emblems of miscegenation, such as Macaco, Manu Chao or Amparanoia.
We were in another sphere and it was very difficult for us to be called from the festivals when it came to fitting in. To this day it continues to happen, but it is a happy coincidence that we left La Cabra Mecánica and other artists, with their own personalities, such as El Kanka, Muerdo or Antílopez, among others, have caught a bit of that loose thread and have kept it current », he comments proudly.
The fusion of styles with their own voice and the lyrics with substance and commitment of La Cabra Mecánica were the result of
"The inspiration". "We did what we wanted to do. We never thought if we were anticipating things or not. In my head there was always a reinvention of a thread before me, which had to do with what Martirio and Kiko Veneno and Gabinete Caligari did together.
The search for a Spanish pop, understanding as Spanish also someone who does not feel Spanish but lives in Spain. Things that unite us within a more or less imposed reality, with which we may or may not agree, but which is in our DNA.
A solo career open to trying things and with an "exclusive but not exclusive" audience

Lichis attends this newspaper by phone when he takes a break in the recording studio, where he finalizes details for this temporary tour with La Cabra Mecánica, for his solo career and for the projects of other musicians in which he works as a producer. «I am very focused on my career as Lichis. I do very different things, all different instruments, I sing in a different way, I move around other places... I keep doing new things and enjoying this reunion with the friends of La Cabra. It is not about a reconciliation with my partner. He already catches me married and since my partner is not jealous, he lets me go out to dinner and take a walk », he points out with a laugh.
Enjoy freedom. «I started as Lychees with my label. Few trusted and did not put money when they saw that it was not a continuation of The Mechanical Goat. But what seemed like a handicap turned into an advantage. I'm not forced to release a record every year. I pull songs when I think I have at least ten that are worth it. My audience is not attracted by an echo. He knows what is coming, he knows my repertoire and he is aware that it is something different. It is a more exclusive audience but not exclusive.
On September 17, La Cabra shares the stage at the LPA Beer & Music Festival with Manu Lafäm, Foxy Mammals, Jimena Amarillo, Embusteros and Maika Makovski.