Luxury 'detox': these are the exclusive vacation centers for celebrities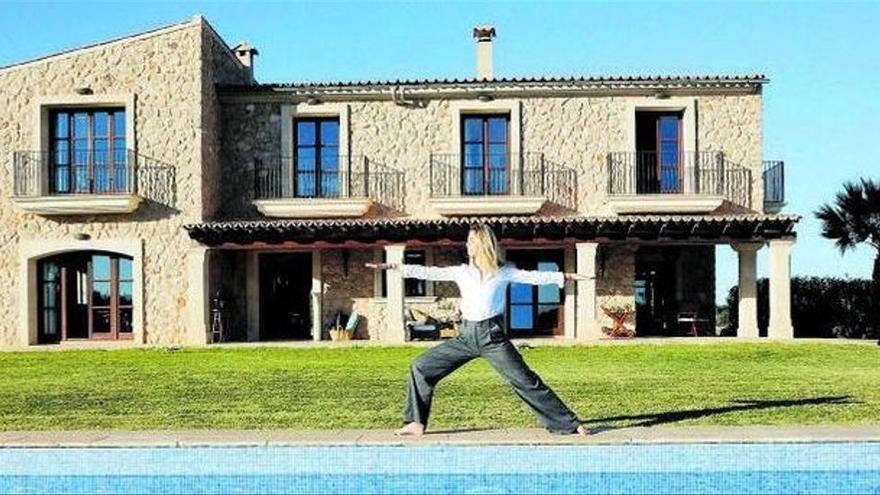 The villa doesn't exactly look like a addiction clinic. It is more like a exclusive holiday center. The rehabilitation center building 'The Balance' stands alone on a large plot in the municipality of Llucmajor. Far and wide there are no other buildings to be seen, only fields. With a private chef, fitness room, and yoga classes, the offering sounds like luxury. Customers of Abdullah Bouladwho runs 'The Balance', are heads of big companies and allegedly also members of the royalty and superstars. Only this type of group can afford that cure. As an example, four weeks in 'The Balance' cost almost 150,000 euros.
To adapt to the clientele, everything has to be exclusive and, above all, anonymous. Boulad does not go into detail about the names of his guests. Not even the exact location of the villa. Talking about the municipality of Llucmajor is enough, he says. Specifically, 'The Balance' exploits three villas in Majorca, in addition to renting some additional ones. When asked how many clients they house annually, the CEO prefers not to reveal it.
Boulad, who founded 'The Balance' in Switzerland four years ago, moved to the island a year ago. As he defends, Mallorca is the perfect place "to offer your clients healing". And she argues it by emphasizing the splendid gastronomy, the beautiful nature and the good weather. In addition, he confesses that he can offer his rehabilitation center much cheaper than in Switzerland. There, to give you an idea, four weeks cost around 400,000 euros. Boulad points out that Mallorca also provides something unique: anonymity. At the Son Sant Joan airport, Boulad asserts, a private plane does not attract attention, so those who do not want to talk about their rehabilitation at home can pretend they were on vacation on the island. "They can say they were in the Beachon a boat, and they can show pictures of it," says Boulad.
The boss visits his clients once or twice a week. More time is spent with the guests than with the respective trainers and therapists. One of them is Jil Moore, yoga instructor, in addition to being responsible for customers. Some, he says, do not feel like doing yoga at first. "Especially the men although my classes are different," she defends. And it is that their sessions are adapted to the client's training. Thus, while some are "very athletic" and want to do a lot of exercise, there are other profiles, such as 70-year-olds whose alcoholism has destroyed their bodies. "If someone can't move well I adapt the yoga class to chair exercises, for example," she says, adding that the ultimate goal is to provide clients with a sense of calm.
Boulad guests may be richBut that doesn't make them enviable. The 60-year-olds with alcohol addiction receive the same treatment as 20-year-olds. And there is everything: eating disorders, drug addictioninsomnia, depressionexhaustion… According to Boulad, addiction usually masks the real problem.
A question occurs to me: does too much money make you sick? "Absolutely," Boulad replies, as he adds, "If it's not channeled properly." A client told him that he wished he hadn't sold his company. Even though he had made her a lot of money, his life changed radically. "After that, his life lacked meaning and he fell into a hole," says Boulad. For others, success becomes a problem: "Especially among young people, who often cannot cope with the pressure from fans and the media."
Moore points out that there is another large group of clients: those who have grown up too wealthy. "These know no borders," he adds. Boulad speaks along the same lines, commenting that there are young people who have only received rewards throughout their lives, now having an impact on a bigger problem: "They are designed for short-term pleasures. They cannot concentrate. They are unable to read a book". And it is that in the words of Boulad, this group has only received praise and rewards, which has led to "intoxication".
The exclusivity embodied in 'The Balance' always has a pale aftertaste. It is a help for people who can afford it. But Boulad sees no dilemma. "They are normal people," he says. People who need to go to therapy to get rid of their addictions or problems. Especially in the case of famous people, which often end in suicide attempts. "Somewhere these customers need you to show them the way out," she says.
A luxury stay
A tour of the village shows what they offer customers. On one side, there is a large bedroom with views of the countryside and the pool that seems taken from youin a room of hotelwith its modern and neutral furniture. This is where clients stay for their entire stay, which lasts at least four weeks. During this time, they must be alone, and they are only allowed the company of pets. But no partners or family. It is the manager, as this figure is called, who assigns the room to each client based on their needs. He is usually of a similar age to that of the guest and is in charge of accompanying and caring for him throughout his stay, helping him to face daily life through different therapies.
A curious fact is that the private chef sleeps in a room close to the client during their entire stay. A fact, according to the company, important to maintain the luxury to which these guests are accustomed, in addition to the high level that clinical rehabilitation embodies. And Boulad points out another relevant fact: food plays a very important role during his recovery. The center follows the so-called holistic approach, which means that the human being must be healed as a whole… and that everything is interrelated. "For example, we now know that gut bacteria influence mood", highlights Boulad. In this way, the chefs prepare their dishes in such a way as to help the patient.
Georg Heindlwho is part of the team of chefs working for 'The Balance', explains his method: "Avocado, for example, is not good for the stomach in case of gastritis, although in general it is very beneficial for the liver". So depending on the diagnosis of each guest, one diet or another is adapted. This chef had previously worked in other renowned kitchens, although he confesses that he has no training in therapy. But he enjoys, he says, the feeling of making a difference with his food by helping his customers.
Other rooms in the villa are the gym, where a personal trainer works with clients, as well as the massage room and the living room. The latter is the most discreet and where they spend most of their time. It consists of two yellow armchairs with blankets. An oriental decoration that invites you to relax. There is also a monkey covering his ears and another covering his eyes. The one who covers his mouth is missing, although here the important thing is to speak. That's why it's not there.
During the first week of their stay, Boulad says, the physical part is worked on, that is, they begin with detoxification. Y Depending on the client's health status, it may require hospitalization in a clinic for a period of time.. During the second and third week, continues the leader of 'The Balance', the main objective is therapy. In this phase, each client is attended by at least two psychotherapists who work on different aspects such as childhood, traumas experienced or addictions themselves. And in the last week, the patient is prepared for his daily life (having a before and after after his therapy), and retaking contact with his relatives.
Boulad admits that his work also has an unpleasant side. Some clients lie when they arrive, hiding their addictions, for example, and some of them are unable to overcome withdrawal symptoms and abandon treatment. "Sometimes I'd like to show these people what they could be without their addiction," says Boulad. Although most overcome it: "And it is very nice to see their evolution. Remember how they arrived the first day and how they are the last". Because in the end, despite the luxury, the private chef, the pool and the glitz, the clients leave satisfied that they are coming home again, to their families, and cured.