Luka Doncic signs 33 points and 18 rebounds and James Harden replies with 50 points | sports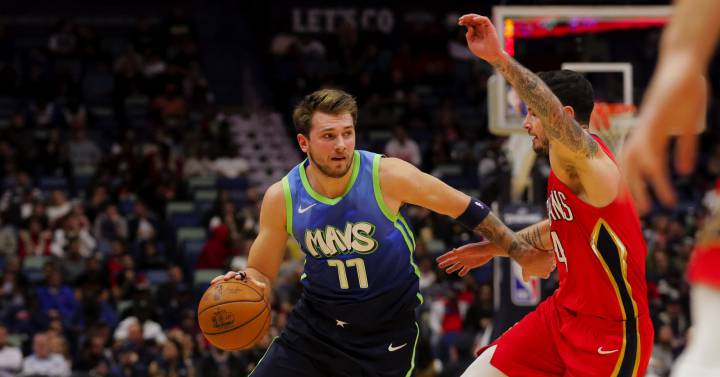 Luka Doncic It exceeds limits game by game, one day and another also refers to some achievements of the legendary and provides arguments for those who defend him as a serious candidate to be the MVP this season. In that context, he returned to be the most prominent in the blunt victory of Dallas in New Orleans (97-118)where the pelicans soon await the premiere of Zion Williamson, injured.
Shortly after, in San Antonio, James harden scored 50 points. They were not enough to avoid the defeat of his team in an intense and very long game that needed two extensions (135-133). The Spurs, who had lost 11 of their last 13 games, sang victory after having accumulated a 22-point disadvantage.
In New Orleans, Doncic beat his record in rebounds in the NBA, with 18, exceeding the 16 he won in a game played April against Phoenix. And he scored 33 points, with a series of 9 of 18 in field shots, with 5 of 12 in triples, and 10 of 13 in free throws, plus 5 assists. All this in just 28 minutes, since Rick Carlisle preferred to give him rest throughout the last quarter.
Doncic becomes the third player in the NBA who has linked more games with at least 20 points, 5 rebounds and 5 assists. He has 16 games without losing those figures, in a run only surpassed by Michael Jordan, with 18 matches in the 1988-1989 season and Russell Westbrook, with 17 twice, in 2014-2015 and 2017-2018.
One of the good news for the Mavericks is that their second unit is performing satisfactorily. Thanks to this, it did not matter that Porzingis stayed at 7 points and Hardaway, at 12. All who left from the bench contributed, with a note for Seth Curry, with 5 triples and 19 points, and for Kleber, with 12 points.
The duel between the Spurs and the Rockets was marathon. Harden added 50 points, but committed two fouls in attack in crucial moments and his percentages in field shots were not good: 11 baskets in 38 throwers, including a 4 of 20 in triples. However, he scored the 22 free throws he made and also contributed 9 rebounds, 6 assists and 4 steals, the same ones he lost. Westbrook accompanied him with a triple double: 19 points, 10 rebounds and 10 assists. Capela added 22 points and 21 rebounds; and Rivers, five triples and 19 points. But it was not enough. The Spurs threw 51 triples and scored 15, with 29% effectiveness.
Lonnie Walker, a player of 20 years and in his second season in the NBA and who only averaged 2.6 points, was the hero of the Spurs. He got 4 triples and 28 points. He was the one who forced the first extension thanks to two triples in the last moments, followed by two shots missed by Harden and one last action in which, with a tie at 115, he committed a foul in attack. The Beard again incurred a lack of attack at the end of the second extension and DeRozan scored two crucial free throws. DeRozan concluded with 23 points and Forbes, with 25, in a game in which LaMarcus Aldridge was injured, injured.
Miami surprised to win, after an extension, on the Toronto court (110-121). Kyle Lowry reappeared, who had not played since November 8 due to an injury to a left hand finger. But Miami won thanks to a notable collective offensive performance. Butler got a triple double, with 22 points, 13 rebounds and 12 assists. Duncan Robinson also scored 22 points, Adebayo, 18; Winslow, 17; and Olynyk, 16.
The Raptors had 23 Powell points; 19 of VanVleet; 12 points and 11 assists of Lowry; 15 points from Siakam; 14 points, 3 rebounds and 2 assists by Marc Gasol and 13 points and 9 rebounds of Serge Ibaka. Norman Powell was able to give the win to the Raptors by scoring a triple that put the 108-107 on the scoreboard with 43 seconds left, set the 108-107. But Butler tied by scoring one of the free throws he threw, after a foul committed by Marc Gasol with 38 seconds left. Paskal Siakam and Butler missed the last two shots that could have prevented an extension in which the Magic were far superior.
The Lakers prevailed in Denver (96-105). Lebron James, with 25 points, 9 assists and 6 rebounds, and Anthony Davis, also with 25 points and 10 rebounds, led his team. Murray, with 22 points, and Millsap, with 21, were the best in the Nuggets. Jokic was discreet, with 13 points, 5 rebounds and 8 assists. AND Juancho Hernangómez He played 12 minutes in which he contributed 4 points and 2 rebounds.
Bradley Beal scored 42 points, but they were not enough for Washington, which lost to Orlando (120-127). Bertans collaborated with 21 points and Isaiah Thomas, with 20, but the Magic asserted the 31 of the French Fournier, the 24 of DJ Augustin, the 20 of Fultz, and the 18 of Aaron Gordon, who also captured 11 rebounds.
You can follow EL PAÍS Sports in Facebook, Twitter or subscribe here to the Newsletter.