Luis Suárez propels Atlético to the title in Eibar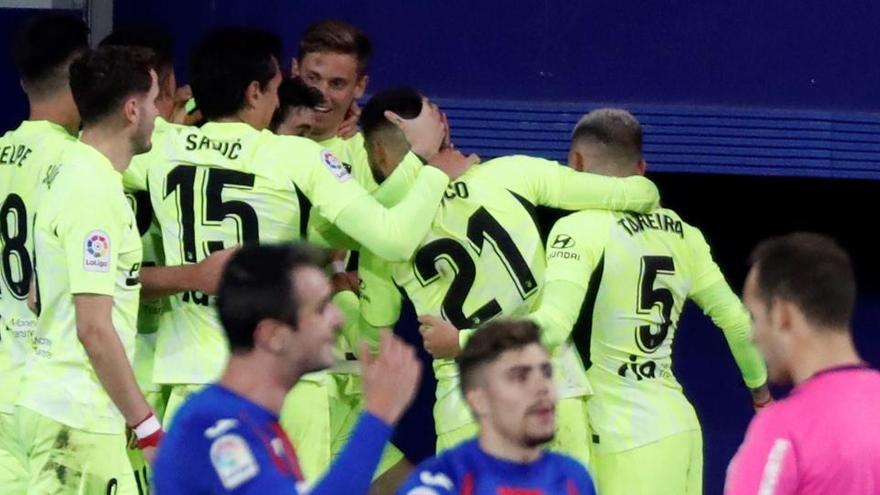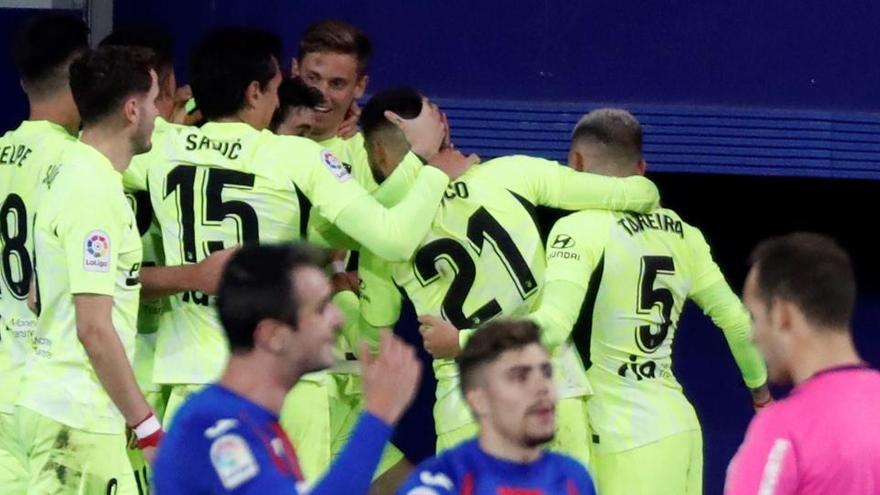 He Atlético de Madrid achieved this Thursday a worked victory by 1-2 and with a comeback before a Eibar made it very difficult for him, although in the end, and thanks to the quality of Luis Suarez, author of the two rojiblancos goals, was able to win a victory that keeps him as the outstanding leader of LaLiga Santander.
It was a game with a few initial scoring minutes, with both teams watching each other and with a lot of mutual respect. Neither Atlético de Madrid nor Eibar dared in these first steps to launch themselves unceremoniously into the attack and Eibar kept their hallmarks intact of pressing very high.
Few times in the beginning, until in minute 9 Yannick Carrasco's in-box takedown on Muto turned into a penalty. The same curiously was thrown by Serbian goalkeeper Marko Dmitrovic masterfully and transformed it in the 11th minute into the first goal for Eibar.
The goal completely broke the schemes that a priori could be expected from the match. Atlético de Madrid wanted to respond quickly, but Dmtrovic stopped a ball that Felipe wanted to head after a free kick.
With the goal advantage, Eibar played comfortable, controlling well the attacks of Atlético de Madrid.
But little by little the mattress set began to get rid of the gun pressure and create more danger. In the 21st minute Súarez almost surprised Dmitrovic with a shot from afar.
Atlético de Madrid went little by little singing and he had a very clear chance in a volley shot after Correa's corner kick that went up by very little.
The Madrid team began to grease their machinery, with control of the ball, but without hitting their offenses, despite their dominance of possession.
Eibar tried to hold the rojiblancos players, but found it more difficult as the minutes ticked by. Even so, he managed to contain Atlético's arreón until well into the first half.
Carrasco was the only player who was in danger with judgment and as a result of his boots the greatest chances came, although none were successful.
Eibar felt comfortable in their containment work and with the score in their favor. But Atlético is the leader for a reason and it showed it in the 39th minute, when he took advantage of a bad clearance by Sergio Álvarez, who hit Llorente's foot and rejected It was picked up by Luis Súarez, who crossed the ball very well out of Dmitrovic's reach.
Eibar did not give up and shortly after a good cross from Inui was headed by Kike García, although the ball went wide. In this way, the break was reached with a goal that left everything to be decided for the second half.
Diego Simeone moved the bench and after the break Torreira replaced Lemar and Joao Felix entered for Correa, in search of a bigger bite. Eibar maintained their philosophy and did not shy away from the leader and the first occasion of this second period was his with a combination between Inui and Kike García.
Another understanding of both players in the 49th minute was even clearer and Kike García sent the ball out although very close to the left post.
Eibar warned that they were not giving up anything and Atlético de Madrid had to withdraw in these opening minutes of the second half. Pozo, in minute 52, had another opportunity in a shot from the edge of the area that went over the crossbar.
Atlético de Madrid did not succeed in this period of the game to get rid of the insistent armory pressure, with few ideas when the game time approached. Only a Vrsaljko cross that Dmitrovic stopped without problems can be counted under Atlético's credit in the first quarter of an hour of the second half.
Eibar did not renounce victory and a free-kick from Arbilla after Felipe's demolition of Exposito went out by centimeters. This local dominance could only be answered by Joao Felix, who showed his quality to star in an attack that died in the Eibar area.
Eibar was very solid against an Atlético de Madrid who did not see where he could sink his teeth into the gunsmith team. In the 67th minute Pablo Bigas headed very well after a corner kick, warning Atlético de Madrid again that they were going for the win.
The colchoneros could only respond in isolated plays such as a Carrasco foul that did not find a finisher. Eibar continued their business with Kike García struggling with the athletic defense. Simeone's men did not have any clear ideas and only isolated plays by Carrasco and Joao Felix carried relative danger.
In minute 82 Luis Suárez escaped from the marking of the armera defense and caused the yellow card and a dangerous free kick that Carrasco took directly in a good position, but his shot went wide in the best opportunity of Atlético de Madrid in the entire second half up to that point.
That play spurred Atlético that shortly after in a combination between Suarez and Joao Felix finished with a shot from the Portuguese that Dmitrovic stopped very well.
The colchoneros' warnings were not in vain and in the 86th minute a play by Suárez ended with a demolition of Arbilla on him inside the area and Melero pointed out the second penalty of the match. Suarez himself launched it a la Panenka and scored the second goal that gave him a victory suffered and that was possible thanks to the great quality of the Uruguayan striker.
1 – Eibar: Dmitrovic; Pozo, Oliveira, Bigas, Arbilla; Diop, Exposito; Sergio Álvarez, Inui, Muto (Enrich, m. 77) and Kike García.
2- Atlético de Madrid: Oblak, Vrsaljko, Savic, Giménez, Felipe, Lemar (Torreira, m. 46), Saúl, Llorente, Carrasco, Correa (Joao Felix, m. 46) and Suárez (Kondogbia, m. 91).
Referee: Mario Melero López (Andalusian Committee). He admonished Felipe of Atlético de Madrid in the 61st minute and in the 90th to Savic of Atlético and in the 81st minute to Arbilla del and in the 90th to Kike García of Eibar.
Goals: 1-0, m.11: Dmtrovic, from a penalty. 1-1 m. 40. Luis Suarez. 1-2, m. 89. Luis Suárez, from a penalty.
Incidents: Match corresponding to the nineteenth round of LaLiga played at the Ipurua stadium behind closed doors. Good temperature in the sixteenth consecutive game that is played without an audience due to Covid-19.