Luis says goodbye to 'Pasapalabra' in the dreaded 'blue chair' after 83 programs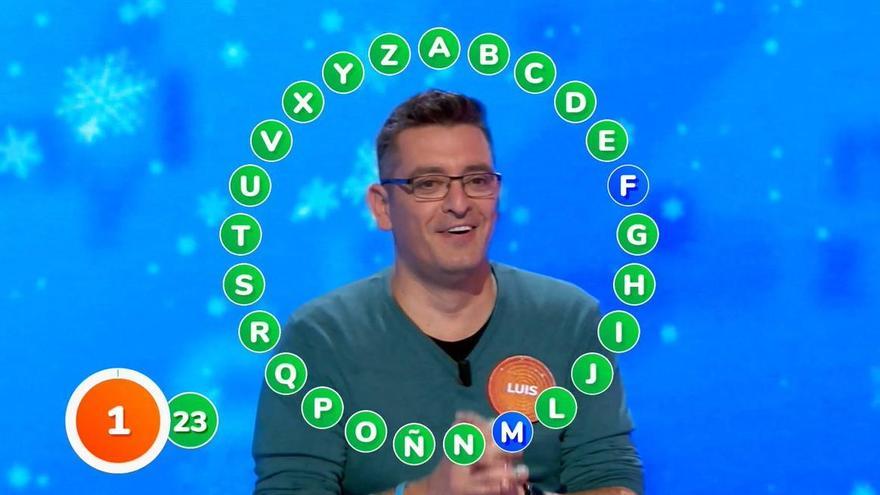 After 83 consecutive programs competing against Pablo Díaz, the contestant Luis de Lama said goodbye to 'Pasapalabra' this Tuesday after being defeated in a long face to face in the first test, 'the blue chair', before the debutant Diego.
The historic duel between Pablo Díaz and Luis de Lama, the oldest of 'Pasapalabra' in its twenty-year history, came to an end this Tuesday after the defeat of a Luis who said goodbye through tears after 83 programs fighting for the long-awaited pot that the Antena 3 program accumulated.
This afternoon the contestants competed for a jackpot of 1,162,000 euros, but Luis, who on Monday lost in the ring to Pablo and had to face the dreaded test of the 'blue chair', was defeated by an inspired Diego, a debutant in the program, who beat him in the initial duel.
'Photosphere', the 'outer layer of the sun formed by gases that emit light', was the word that left the Madrid contestant out of the program. "You are already a great of 'Pasapalabra'", said Roberto Leal, who regretted not being able to hug him to respect the security measures imposed by the covid-19 pandemic.
"Luis is a good person, good with the people around him, good with his family. He is a guy who has really made history on the program ", commented Pablo, also moved by the farewell to his rival, with whom he has shared 83 afternoons of passionate duel.
"Thank you very much to the public that has supported me every day," Luis said through tears, "Thanks to you, Roberto. And Pablo, who is a crack, thanks for being such a good partner." This is how Luis de Lama's career ended, coordinator of the Madrid Civil Guard report teams, who said goodbye this Tuesday when "Pasapalabra" celebrated its 180th program in its new stage on Antena 3.