Luis Sancho (BNP Paribas): "We are very positive with Spain, we will see great activity in the market" | Markets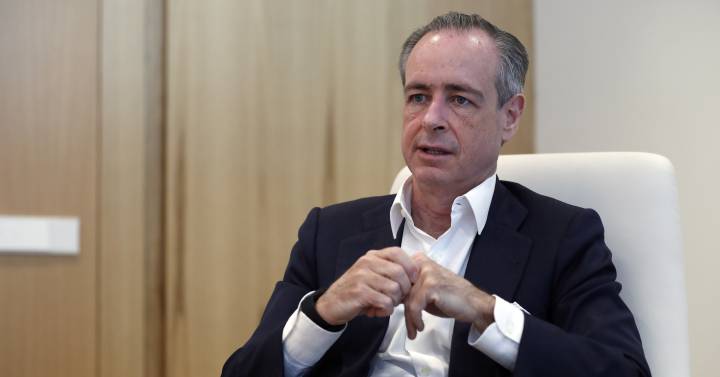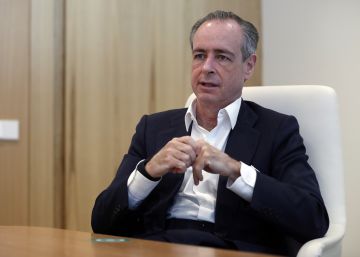 Luis Sancho breathes easy, knowing the job well done since the Covid broke out and that has allowed BNP Paribas, for which he is responsible for Investment and Corporate banking, to pilot the main operations this year in Spain, such as the IFM takeover bid for Naturgy, in which it exhibits the triple role of advisor, guarantor and financier; the macroenhancement of Cellnex; the IPO of Allfunds or the sale by China Three Gorges of 2.5% of EDP. The bank, which has been a leader in equities since January 2020, has accompanied clients through the worst moments of the pandemic and is now being rewarded. The manager, with more than 13 years in the entity, foresees a rapid recovery in Spain and great corporate activity, in which foreign investors are already participating.
How do you evaluate the first year since the pandemic broke out?
In the first moments, when the liquidity crisis hit, we made a very deliberate decision: to turn on the financing tap, while maintaining a strict risk policy, when other banks were withdrawing. This has strengthened relationships, and customers have counted on us. That put us last year at the top of the investment banking rankings in Spain.
Has the worst happened?
We are very optimistic about the Spanish economy, it has always been surprising for good in the recoveries, we will see a great activity in the market. We forecast 6% growth this year and around 5.5% next year, when most of the EU will grow in a range of 4% to 5%.
And are companies in a position to take advantage of this growth?
We have very powerful global champions, such as Cellnex, Inditex, Grifols, Acciona or Iberdrola, and many of them are in the process of inorganic growth. Long-term financing is required and also a lot of capital. We are now seeing a wave of future IPOs of renewable energy companies and we will also see capital increases.
Will there also be defensive capital increases like Amadeus and IAG?
They may be needed, we are seeing how the crisis comes out, and there is a lot of expectation in the dammed demand.
On the IPOs of renewables. There are Opdenergy, Capital Energy, Ecoener, Acciona Energía, Repsol Renovables … Is there a bubble?
What is happening in the Stock Market is what is happening in other green financial instruments: that there is more demand than supply. We are seeing it in the bond market and the same is happening with stocks. Investment and pension funds are looking for equities. There is also more demand than supply, which is why they go public.
Do investors only want green products?
An issuer with a green bond is financed cheaper than with a conventional one at this time. BNP Paribas has been involved in this change for years. The ECB itself is going to include green concepts in the way it lends. We think the first thing you are going to do is force a finer breakdown of the environmental risks and green characteristics of banks and borrowers. The next step, which only grants liquidity to green or sustainable businesses, is more complicated.
What about other traditionally strong sectors in Spain, such as tourism or real estate?
In tourism, a country effort should be made, because this summer the situation is as close to normal as possible. In the real estate market there are two segments. At the promoter, the problem is visibility. It is difficult to resume IPOs now. If I see more activity in the patrimonial area, I think there will be operations, even if they are not very large. The phenomenon of building homes or offices to sign a contract with an investor who will keep them to rent them is going to become widespread. And here size matters.
Last year the purchase of MásMóvil by KKR, Cinven and Providence was closed, with the advice of BNP Paribas, and now there is the IFM takeover for 22.69% of Naturgy. Is Spain once again in the target of foreign investors?
We have always seen interest in Spain. Its strengths, like renewables, are very attractive. There are also opportunities in health, with large companies, an exemplary public health system and a scientific level of the highest in the world. There should be an effort, Spain should lead the recovery. Companies such as Grifols, Almirall or PharmaMar, among others, are attracting investment.
BNP Paribas will integrate 100% of the Exane broker. Because right now?
The objective is to expand its leadership in analysis and distribution and consolidate it also in the primary market: IPOs, capital increases … In this last area, it is currently in the top 4 in Europe as a global coordinator.
One of the key issues now is restructuring. Is BNP Paribas in a troubled company?
No. We work with 120 companies, we have a defensive customer base, we are not having difficulties. We are strict when it comes to onboarding clients, half a dozen each year. They have to pass many filters: financial structure, business quality, management… And operations too. When BNP Paribas is in financing it is a quality certificate. At the same time, we are also extremely agile when it comes to approving transactions with our long-time clients.
Are the government's measures to curb the crisis adequate?
We will know in a few months, it is still too early to know if they have been adequate as a whole. Of course, liquidity for companies has been important.
The merger of Bankia and CaixaBank has already taken place and that of Unicaja and Liberbank is in progress. There will be more?
A merger is a very easy lever to generate results in banking. At a time when revenues are limited, margins are still very compressed and growing in commissions is not easy, one way to improve profits is to reduce expenses. And a merger allows this.