Luis Enrique: "This team has shown that it performs under pressure"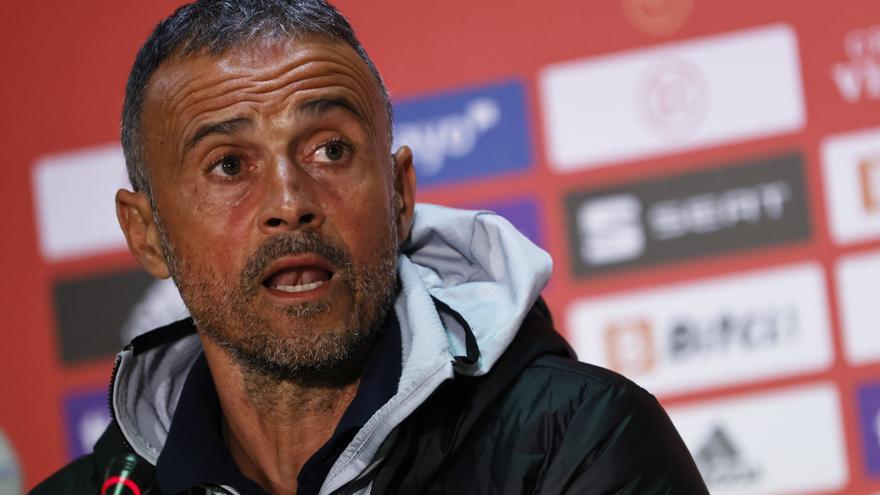 The national soccer coach Luis Enrique Martinez made it clear that he is not afraid of the pressure they may have this Thursday in his match against Greece, where it is only worth winning, because he has seen "the way of training" of a team that "has always shown that it pays" when the going gets tough.
"I am very lucky because after watching the two training sessions in Las Rozas I am more than optimistic. Because of the way we train I am more than confident and calm when preparing for this match. They have transmitted to me that they are prepared for the difficulties because it is undoubtedly going to be a difficult match"Luis Enrique stressed this Wednesday at a press conference.
The Asturian stressed that he was "born with pressure" and that he has had "the opportunity and the luck to have a profession with pressure from an early age". "I have been holding it since I was 19 when I made my debut with Sporting and I am going. I was very sincere after calling the list, but after seeing the team I feel calm," he reiterated.
"I see you a little worried about the pressure, what is wrong with you?" He smiled at a new question on the subject. "I played 15 years and I've been a coach for 10 or 12 and I tell you what a blessed pressure, the problem is when you are in a team and there is none. This team has always shown that with pressure it paysWithout her we would not be the Spanish team. Doesn't Greece, Sweden or another have it? ", He stressed.
In this sense, he also clarified that the obligation of Spain is to "win every game". "Then the results make the sum of what you have achieved and that will be our merit. Each game has to be won and with our weapons, but there is always pressure, there is not a single match as a coach in which it has not had it," he said the gijonés.
The coach sees "such a great illusion to win these two games" and admitted that he has not sought "as a reference any other match" for his players, while he asked "to be optimistic". "I think that we are going to win both games, there will be time to think about ugly things," he settled when asked about a possible defeat in Athens.
In addition, Luis Enrique pointed out that "There is only one match." "It is against Greece, there is no other possibility and thinking about what happens next makes you lose your mind. You have to have ambition and go for the game from the beginning and try to overcome a rival who defends with many people behind the ball, "he warned about Sunday's duel against Sweden.
The Swedish team will play this Thursday in Georgia before Spain, a situation that the Asturian coach does not give excessive importance to. "I would have preferred to play at the same time, but it does not bring us anything, neither for better nor for worse. We are not interested in that game, it depends on us and we have to be focused on winning our game," he said.
The players, "like airplanes"
Luis Enrique recognized that the players are "in their prime and like airplanes" and he celebrated having "many positive options in attack" despite the casualties he has in the offensive part and in order to disarm "a very well organized team."
"Regarding the first game, the system has changed and thanks to this change he has played good games and achieved good results. I expect Greece to be motivated by its people and for me. it's a very good defensive teamIt was difficult for us to generate them in Granada and it will cost us with the ball and when we do not have it if we do not pressure them well, "he said.
For the selector, the 1-1 of last March was "merit" of his rival. "Now they have more possibilities to play with the ball and they do it well. There is also the possibility that we will lock them back with our game and that is the most difficult phase of the game, but we have more than enough resources collectively and individually to solve these situations, "he said.
"They have a real chance of aspiring to play a play-off and they may try to attack more than normal, but I would sign a match in which I lock him up in his area. The games they played against Sweden were good and the one they lost gave two sticks in the first half. Greece has been improving in this qualifying phase, "remarked Luis Enrique.