Luis Enrique: "There will be surprises before the World Cup"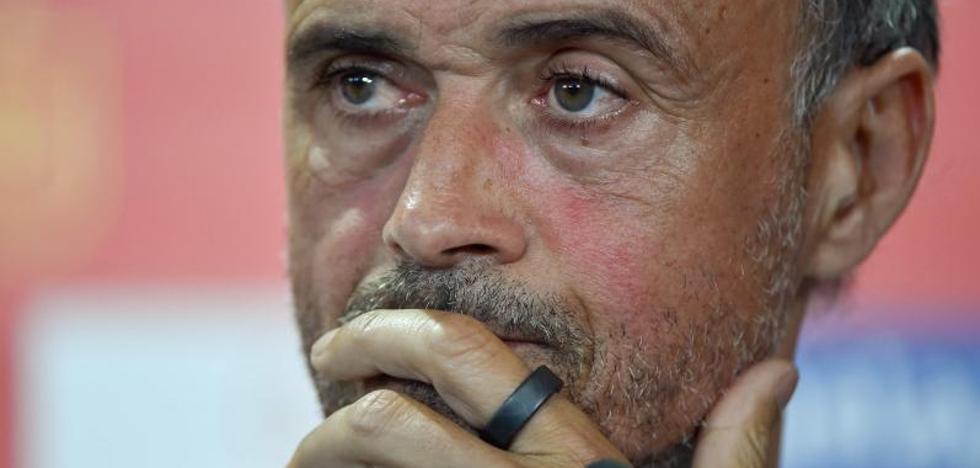 League of Nations
"The players who have given me confidence can come, but they are not stupid and they know that the lists are always open," says the Spanish coach in the preview of the first duel of the League of Nations against Portugal
Luis Enrique has increasingly defined the block with which the Spanish team will go to the Qatar World Cup, but he took advantage of the preview of La Roja's debut in the third edition of the League of Nations against Portugal to make it clear that the group is not, far from it, closed. «It is true that my lists are being predictable, because it is logical. The players who have given me confidence can come, but they are not stupid and they know that the lists are always open. There will be surprises before the World Cup, with young or not so young players who give a very high level », he remarked.
The Asturian coach showed his attraction to a tournament that was born to occupy the space of the inconsequential friendlies of another time, but that has been consolidated by its vibrant level. "It is a competition that, in addition to bringing back very good memories, with a very nice format, motivates us", analyzed Luis Enrique, who assumes the tight schedule that will bring La Roja four games in eleven days without the intention of entering into controversies of any kind. "We only have five FIFA dates and they are placed as they are. I'm not going to get into controversy about whether I like them or not. I focus on what I can control, which is relatively little outside of the selection," he said.
He remarked that Spain's objective is "to try to win this competition, something that he considers to be 'very difficult' due to the high level of the rivals. "I don't think there is any member of group A who wins every game, but our goal is always to aim for the best," he stressed.
Opponents usually focus on the offensive potential of the Spanish team and its combined game, but Luis Enrique highlighted the defensive capabilities of the squad he commands. "It's a team that draws attention for possession of the ball, but we are a top selection defensively," said the player from Gijon. About Portugal, he pointed out that it is a "very well organized" team and valued "the individual quality" that its soccer players have. "You just have to look at the amount that your players move and they come from winning important things," he explained.
He analyzed the situation of Ansu Fati, who returns to La Roja after spending almost the entire season in dry dock. Luis Enrique assumes that he will have to go easy with the Barça winger, but considers that his physical problems have been left behind. «Of Ansu we must forget about his injury. He is recovered, he has been playing for Barça for the last half a month and a half, albeit for a short time. When a player hasn't played for a long time, what he needs is to play », indicated the coach. He made it clear, yes, that these are official matches and he needs the players "to be one hundred percent."
"Busi's thing is exceptional"

He had good words for Marco Asensio, one of the surprises of this call since the Real Madrid footballer has not worn the national jersey for a year and a half. «He is a top player, he has enormous quality. I have always considered that the player who comes is him because he deserves it. The important thing is to be there, training I have seen him very well and we will see when he competes », he commented on the Balearic.
And he was full of praise for the figure of Sergio Busquets, whom he rested in the friendlies against Albania and Iceland, but to whom he will hand over the baton again in the League of Nations and, of course, also in the World Cup. Taste. «The Busi thing is exceptional. Many times criticized in a totally unfair way. He is the one who has played the most minutes. I gave him rest in March. I would also give it in June, but I can't give myself many whims because I want to have it. He is an indispensable and very important player for us », he summed up.
Busquets: "If Real Madrid have won the Champions League it's because they deserved it"

The game against Portugal at the Benito Villamarín will not be one more in Sergio Busquets' career. The pivot will reach 134 international caps with the Spanish team against the Portuguese team, breaking the tie that placed him together with his now coach Xavi Hernández in the third drawer of the historic podium of La Roja. The Barça footballer was satisfied with this milestone, which leaves him behind only Sergio Ramos and Iker Casillas. "His careers have been very long. I have always been enjoying myself, I have been lucky enough to share costumes and time with them and it is an honor to be able to spend them. It is one more figure and each one has to be proud of theirs. I am proud to beat Xavi now », he pointed out.
The captain of La Roja valued the praise that Luis Enrique had given him minutes before. «Very grateful for his confidence and his words, for everything he gives to the group and to me personally. I try to give it back, and I hope this lasts a long time. As for the dosage, it is difficult, at Barça they have always respected my injuries, I have taken great care of myself... and from there the coaches decide », he commented on his return to the national team after missing the friendlies in March .
Four days after Real Madrid won the Decimofourta in Paris, Busquets praised the merits of Carlo Ancelotti's team. "If he has won it, it is because he has deserved it. Regardless of how the qualifiers have gone, perhaps with luck in a game, but if they have won there it is deserved », he highlighted at the end of what has been a very complicated campaign with Barça. «Healthy envy of being able to fight for all competitions, be it Madrid or whatever. You have to congratulate them, I focus on my team and my national team and hopefully we can live those things », he said.