Luis Enrique, on Gavi: "It is the future of the national team"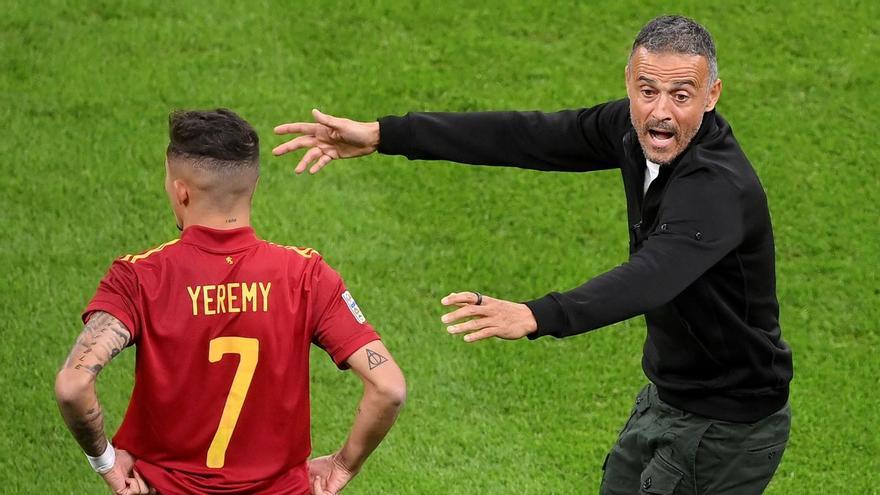 Luis Enrique Martinez, coach of the Spanish soccer team, spoke about the debut of Pablo Martín Páez 'Gavi', who at 17 became the Youngest player from Spain to debut, and who said that plays "as in the backyard of his house".
The coach of the Spanish team praised the game of the midfielder from Barcelona, that against Italy in the semi-finals of the Nations League He started and played at a good level. "We already talked about an unusual case and he is playing like in the backyard of his house. It's nice to see you. He is a player with quality and personality. It is the future of the national team like many other players, "he commented on Spanish Television.
The Spain coach analyzed the clash against Italy and declared that his men disputed "a good" match between two rivals who put their best weapons on the grass. "We have generated a lot of danger again. They have also complicated us, but very happy. With training and a medium it is difficult for the players to identify the game situations we are looking for. They have been very good and with attitude," he said.
"The best, a bit since we've always been here, is to play our game wherever and in whatever competition. Defend by pressing, take risks, be brave and I am privileged because I have a list of 30-40 players who perform, "he added.
Asked if Spain can miss having a nine, he stressed that his team already has them in their own way: "We have nines. We reach the goal in an associative way. Ferran and Oyarzabal have been spectacular. Marcos Alonso, the most common … it is easy to say but we are fulfilling that we reached the top as a team. "
In addition, he made it clear that the failure in Italy's goal was not Pau's. For Luis Enrique it was a chain error for many footballers. "The rival also plays. The players do not depend on mistakes and successes, they depend on attempts. We have had occasions to score more goals, it appears that it is difficult for us to close the game. Now, neither Lukaku nor Mbappe: France or Belgium. The teams are the ones that win. The good players have to say, but they are the teams. The two teams are very good. We are going to try to add titles, "he said.
Ferrán: "I think about the final"
For its part, Ferrán Torres assured that although he has physical discomfort for which he was substituted, "he is already thinking about the final". The Manchester City player was replaced in the 49th minute by Yeremy Pino. Later, in statements to Spanish Television, he clarified that he could play the final: "I'm fine, a little discomfort but already thinking about the final," he said.
Torres stated that everyone in Spain knew that the crash was "very special" because Italy eliminated Luis Enrique's team in the Eurocup semifinals. "What better than to beat them at home in other semifinals. Very happy for the team. With training and perseverance, the results arrive. In the end, the game lasts 90 minutes there may be mistakes and successes, but you have to be constant, we have been and we have won, "he concluded.
Yéremi Pino: "It's the job of a career"
In addition, Yéremi Pino said after his first international match that he had won the award for "a career" work. Yéremi explained how his first days were under Luis Enrique: "I am very proud of the welcome I have had. They have welcomed me very well and I have left with confidence and motivation. It's the job of a career, "he said on Spanish Television.
"We went out for revenge in his field and in his country. We go out for all, we wanted to win and go to the final. Luis Enrique told me that they were unique moments and revenge in his country. It's crazy motivational he gave us. May the best come in the final, whoever it is. We are very prepared, "he concluded.