Luis Enrique: "It is a virtue that Spain does not have an eleven type"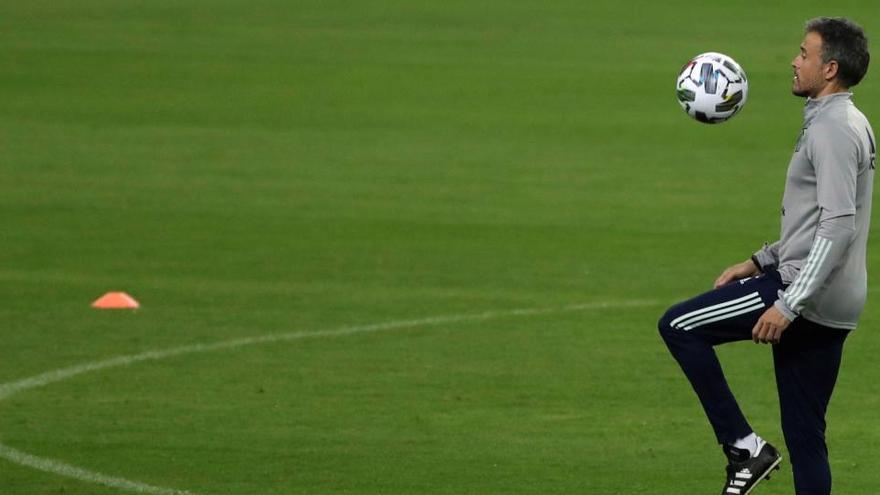 The national soccer coach, Luis Enrique Martinez, stated that It is "a virtue that Spain does not have an eleven type" because "it does not depend on any player", in addition to ensuring that the year 2020 ends with "very good feelings" from his team before facing the European Championship next summer.
"I make a positive balance, without a doubt"Said the Asturian coach in an interview with 'Sef Fútbol' published this Saturday." Beyond the results and that we have been able to qualify for that 'Final Four' in a difficult group, the sensations that the team and the Selection in these three intense months were good, very good I would say ".
In this sense, Luis Enrique believes that the 6-0 win against Germany in the last match played on November 17 was "a result that confirmed" his "diagnoses". "It reaffirms the mentality of the player because the player believes what you are saying to the extent that it is getting results and this I think can be a great reinforcement for the team, "he said." Germany is one of the powers although now in the ranking FIFA not all the way up where it usually is. And for me he will be fighting for the European and the World Cup, "added the Spanish coach, who considers" a virtue "the fact of not having defined a starting eleven or a player who stands out above the rest.
"Right now the group is made up of about 35 players in which it includes many young people with very little experience, but also veterans that squander multiple experiences. And I think that 'mix' can help us. We may not be a team that identifies with an eleven guy, but this, which for some is a problem, for me is not, "said Luis Enrique, 50 years old.
"It is a virtue in these times, we do not depend on any player and regardless of the missing one we are going to find solutions, it is evident that each player has their individual profile and importance within the group, but the fact that there is such a tight schedule -and that it is difficult to arrive fresh at the end of the season- gives us greater possibility to choose from a wide range", said.
Asked about the European Championship, Luis Enrique assured that it will be "difficult every game". "We know what it means to play a great tournament and we want to get rid of the bad taste of the last big events. Our goal is to be ready to win titles again. And for that you have to be brave, daring and you have to go for it all from the beginning; and that is what we are going to try, "added the Gijón.
Regarding the debutants, Luis Enrique recalled a conversation with Luis de la Fuente, the U21 coach. "I already told Luis at the time when they debuted that they would not return. They will not return because what they have done in the lower categories and in their clubs already invites us to bet on them. I especially like (to bet on them) and I have always done so. that I could. The young player brings different things, perhaps in ignorance or inexperience gives you joy and can surprise".
Finally, the national coach recalled that he is "where he wants to be" directing Spain, that he has "a very beautiful and exciting project" and that he hopes to be "up to the job." "I always hesitate to my children, especially the older ones, telling them that their father works as a coach and there is only one in Spain. Of 47 million there is only one and it is me, something good I will have done"Luis Enrique joked.