Luis Enrique: "If the World Cup goes wrong, I'll leave and nothing happens"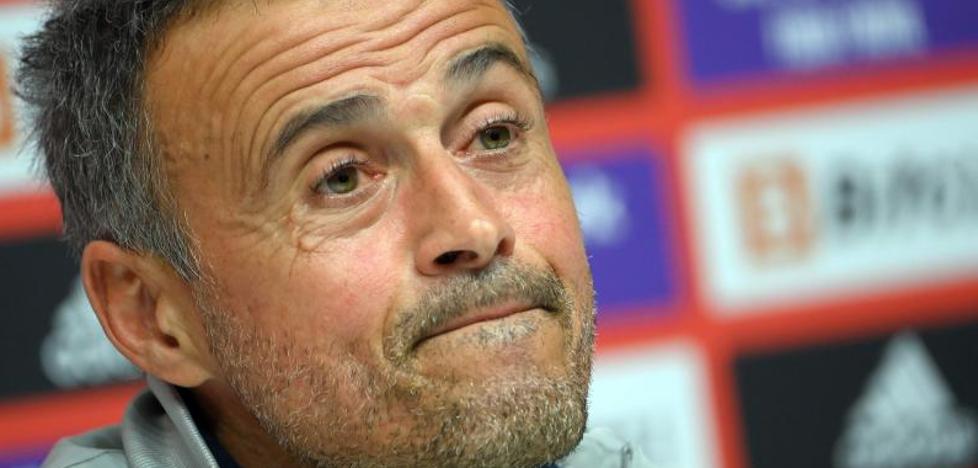 Friendly
The Spanish coach assures that he is happy and feels supported by the Federation, but does not guarantee his continuity beyond Qatar
Luis Enrique is happy and feels supported by the Spanish Football Federation (FEF), but does not guarantee his continuity at the head of La Roja beyond the World Cup in Qatar. "I am delighted in my house. I feel super supported by the Federation and by Molina, who signed me twice, and with the circumstances in which I came, it is something that I will never forget. I have maximum confidence. The only thing is that what is a contract worth if a World Cup comes later and no goals are achieved. It's worth nothing, "said the Asturian coach at the press conference prior to the friendly that will measure Spain against Albania at the RCDE Stadium in Cornellà-El Prat.
The Asturian coach, who sees the national team "in a moment of total growth" with "a compendium of very young and veteran people who can play very good football", recalled that he and Luis Rubiales have met to speak after the World Cup and that the decision, in addition to the personal moment in which he finds himself, will depend on the performance in the World Cup that will be held between November 21 and December 18. "I am in glory now. I have decided to do this for you, because if a shit comes out later in the World Cup, you will be asking for my head », he said in reference to the press. "If it goes wrong, I'll go and nothing happens," added the man from Gijon who, however, was optimistic about the goals he has set for himself. «I mean to compete, ready to fight with the best. I see the selection as a line of improvement », he proclaimed before recalling the great role played by La Roja in the last European Championship. «The World Cup is one more step, it is more complex, but with the personality that these players have, we are going to compete for sure. The rest, we'll see," he specified.
How could it be otherwise, Luis Enrique is pleased to have sealed last November the direct pass of the Spanish team to the appointment that will be played in Asian lands at the end of the year and now have two preparation matches without look out that precipice of the playoffs by which Italy has already fallen. «I have already valued it for a long time, the difficulty of playing the classifications with any rival, because if you do not do your homework you will go to the playoffs, which is preceded by a Machiavellian draw. That is why we are so happy, because there will be some year that we will not be here and that does not mean that we have to beat ourselves up. It has happened to Italy that it is a well-deserved European champion, "recalled the man from Gijón.
A "party" in Catalonia

He reiterated that he does not consider the clashes with Albania and Iceland to be a minor matter, far from it. "The fact that he doesn't want to give him a friendly label is because neither for me nor for the players they are. We have eight games left for the World Cup and it will be an ideal test to see how we solve the ballot against a rival who will surely lock himself in their field. These two games are very important and, from the intensity and rhythm that I have seen the players train, I have no doubt that they have interpreted it », he asserted.
He showed his face again for the group he is putting together, plagued by young people but also with several players who have fought in a thousand battles at the forefront. «Of course it has been worth it, at least for me, because when I make the list I don't think about how old they are, but if they are the best. We have managed to unite, from what I smell in the locker room and see how they coexist, a group of veteran people who are exceptional and humble young people, hungry and wanting to take on the world. I can only say wonders. Each concentration improves the atmosphere that is breathed and for me, as a coach, it is very satisfying to experience this, "said Luis Enrique.
Lastly, he expressed his satisfaction at the fact that the team returned to Catalonia 18 years later. «I think it will be a party and I hope that we are at the level for people to enjoy an event like this. They are 18 years old and we face it with great enthusiasm and with great desire that the Spanish fans can enjoy their team and a land as beautiful as the Catalan one », he concluded.