Luis Enrique defends Eric García: "He is a spectacular player"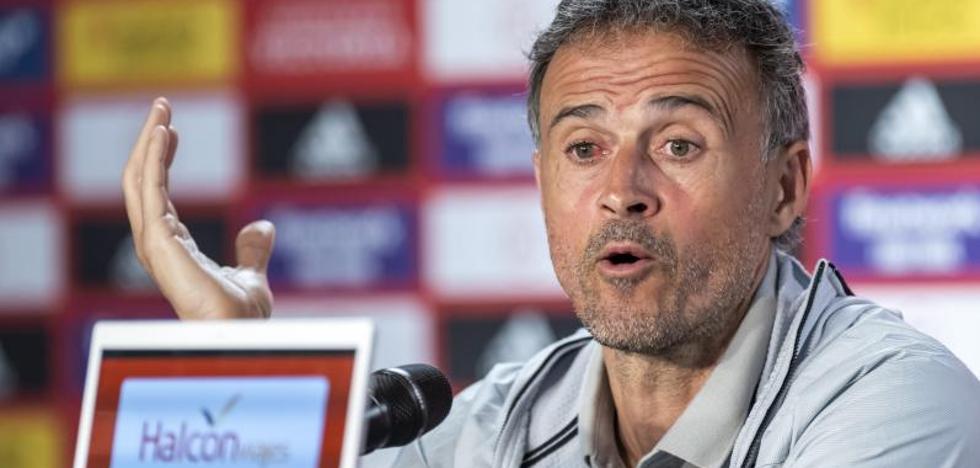 League of Nations
"If I saw two or three better ones in his position, I wouldn't come, but I don't see them," says the Spanish coach after the criticism received by the Catalan center-back
Luis Enrique maintains his faith in Eric García intact, despite the criticism that the Barça footballer was subjected to again as a result of the match played by the Spanish team against the Czech Republic on Sunday, marked by defensive imbalances. "If you are a professional soccer player you have to be prepared for everything. It is also true that there are players who make journalists very horny", analyzed the coach of La Roja, who described the Catalan center-back as "a spectacular player", with "great conditions", who does not even cross his mind leave out of the national team. "Eric is the first to know that if I saw two or three better players in his position, I wouldn't come, but I don't see them," he emphasized.
The Asturian coach acknowledged that he did not like the defensive performance of his pupils in Prague, but stressed that these failures were a joint responsibility. "It is the game in which the strikers have pressed the worst. It's our worst defensive game. The rival only generates three chances for us, but they are very clear. If our strikers don't press well, everything else suffers. Individually we are not that good in duels, but collectively yes. This is not about the fact that when we lose, the fault lies with the defenders and when we win, the strikers who score goals are good, "Luis Enrique reviewed.
"It was a complicated game, but the team did a lot more than the rival to win," said the coach about the duel with the Czech team, which left Spain without much more room for error in the League of Nations, after having also drawn on the first day of the tournament against Portugal. "This is a very short competition. The first two results have not been what we expected and what we deserved and it is clear that we need to score and win the game to be in the next 'final four'", he added in reference to the urgency with which Spain will jump to the Stade on Thursday de Genève to face Switzerland.
Praise for Switzerland

Luis Enrique showed his appreciation for the style of the team led by Murat Yakin. «The first game they did not deserve to lose. They could even have won, but conceded two goals on hardly acceptable throw-ins. The game of Portugal, what I have seen, they lead 0-1 in a play in which a goal was annulled and could have changed the result. I like Switzerland. I liked Petkovic's Switzerland and I like this one. She is very well worked, she knows how to play back, but she also presses high and has the necessary pace to complicate your life », he warned about the Swiss.
The coach from Gijón stressed that these are complicated dates for the internationals. "They have their fellow vacationers working here," he recalled. But he insisted that he has at his disposal "such a special group" that he has not seen "even a hint of apathy. On the contrary, maximum predisposition. It is a very easy group to get along with, "said the helmsman of La Roja. He showed his satisfaction with the performance that his players have offered in the first two Nations League games. "I liked the vast majority of the players," he said at a press conference in which he downplayed the fact that around a dozen internationals have their future up in the air as the expiration dates of their contracts are near. . "I don't even know which ten players are out of contract. And if so, how lucky they are, because they will be able to decide their future, "said Luis Enrique. "I see people hyper-focused and hyper-prepared," he added.
He had good words for Gavi again when asked if he reminded him of a footballer. «Pedri does seem to have a style like Iniesta, that he dances. You don't know Gavi. When he has more presence in the area, his header arrives and jumps well... It's still a project, he has to keep growing, but I don't see a player from the past who can be assimilated", he said of the midfielder of the Barca.
And he hinted again that it will be difficult for Ansu Fati to have minutes in this window. «A lot of tact, a lot of calm. This is taken as a reward at the end of the season to relive and listen to the premises that we have in the selection. He is improving in what it is to enter into training dynamics and have competition rhythm, but in Ansu's case there is no rush. The level and quality of the player is beyond any doubt », he resolved on the Barça winger.