Luis Bordón's new heart is still strong: "I'm perfect"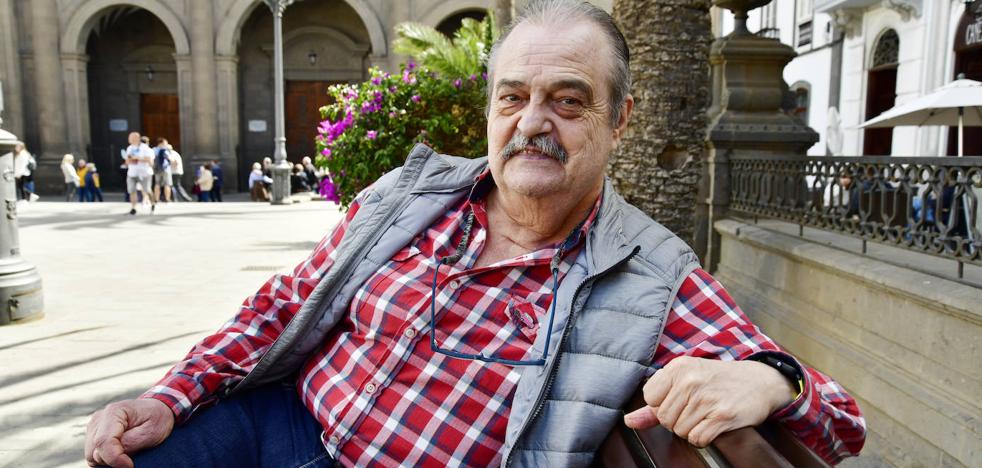 Since his historic heart transplant in 2019, the pioneering program of the Doctor Negrín hospital has saved another 39 people in the archipelago.
Luis Bordón, 65, from Gran Canaria, savors every moment intensely. He knows that these are moments taken from the inexorable end that awaited him if he had not undergone a
heart transplant, the first performed in the Canary Islands.
This operation, performed in the Heart Transplant Unit of the
Hospital Doctor Negrinwas the one that changed his luck two years, four months and six days ago.
Since then, this transplant program
has saved the lives of 39 other people that they did not have to leave the archipelago to wait for months for a compatible heart to appear on the mainland.
"If they hadn't operated on me here, I don't know if I would have been able to go to Madrid. It is more likely that I would have gone to another place, "says this Vegueta resident with sarcasm and crudeness in equal parts. And it is that
his heart problems were already making his life literally impossible. "I had been carrying the disease for a long time. I had my first
r heart attack in Fuerteventura at the age of 30. In the last year before the transplant, I was in the hospital day in and day out. They admitted me and the next afternoon I was out, and in the morning, I was admitted again... A barbaric thing », he recalls.
The third heart attack, in 2019, was definitive. "They were doing tests on me and it hit me. His heart was fried. When he started up, they transplanted me », explains Bordón about his life before the change of direction that set course towards a forgotten tranquility. "It was all very fast. They were doing tests on me at the Insular hospital and they called me for a consultation at El Negrín, "recalls the patient.
Historic day for Canarian health

On the afternoon of December 4, after listening to a lot of medical terminology, they told him: "this is ready. The last word is yours. And right there I said yes. I was not afraid of the transplant. knew that
it was the last chance», Bordón comments that only a few days before he had been struck down by a heart attack in a shopping center.
Now, luckily, he is fine. He only has visits every four to five months and a catheterization every four years to closely check how his heart is working. "I don't have any symptoms of what I had.
I'm perfect», says Bordón, who must be very careful of viruses and bacteria because, like most transplant recipients, he takes an immunosuppressant to avoid a rejection reaction to the organ.
Also, for health, avoid suffering from the drift that the world is taking. «The war makes me very sad and I try not to get too involved or document myself too much. Whatever happens. My heart is not for that. It's your turn to enjoy », he says about his main mission together with that of
to thank the gesture of the donor's family that gave him the opportunity to live. "Luckily, people have become aware of the need to donate and that a body can save many lives," he stresses.
Other cases

Luis Bordón's experience is not the only one, but it is a pioneer in the Canary Islands. «
There are 40 stories, each person has their reason for living. There are beautiful, more exciting or heroic ones, but he is the first", explains the person in charge of the Heart Failure Unit of Doctor Negrín, Antonio García.
The only thing that the 40 people who have undergone surgery share is that they live in the Canary Islands, they are around 60 years old and that they had a transplant as their last option before death. "Some are very aware of it. They are people who
without a transplant, they would have a survival of less than one year. In addition, his quality of life, with constant hospitalizations, is greatly diminished, "says the doctor for whom having the heart transplant program in the Canary Islands underway is a great relief.
a successful program

Only so far this year, seven people have undergone a heart transplant at Doctor Negrín. "We have already had 40. We are well above the expectations we had when the program was presented," says García about
a project in which the cardiology units of the four major Canarian hospitals work in coordination for Save lives. "That is the key to the success of the program. Rarely have I seen teamwork at the Canary Islands level in which they all go together, "says García.
Patient types

It is this coordination that benefits heart patients from all over the islands. "Patients access in different circumstances. There are those who come walking from their house, they are
selective transplantsand other people are in a very delicate situation, supported by machines to keep them alive,
they are urgently intervened». In fact,
sometimes, they almost resurrect them. «Some -reports- have arrived in cardiac arrest. They have been reanimated and transplanted. As an example, he cites a patient from Tenerife who had a heart attack, lost consciousness, woke up a month later in Gran Canaria and with a different heart. Until now, three of the transplanted people have been urgently, although in seven cases they were intervened because they were very serious.
Only one person of the 40 intervened has died from an intestinal thrombosis. The rest is fine, despite the fact that some have been seriously ill due to covid.
The truth is that, according to García, «
there are many people working in this program" and "his greatest satisfaction is seeing how patients have improved». In that, Luis Bordón is paradigmatic.